We've updated our Privacy Policy.
By continuing to use this site, you are agreeing to the new Privacy Policy.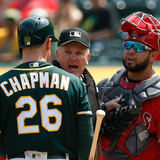 Thanks to allegations of sign stealing, Wednesday's series finale between the Los Angeles Angels and Oakland Athletics got rather testy.In the second inning, Angels catcher Juan Graterol and A's outfielder Mark Canha had a heated exchange, but that was broken up by home plate umpire Mike Everitt before anything got out of hand. Later, Graterol had an exchange with Oakland third baseman...
NEW YORK (AP) Mark Canha began Tuesday with 12 at-bats, seven of which were strikeouts, and an .083 batting average. ''He is definitely the guy that is getting the short end of the stick here,'' Oakland manager Bob Melvin said before batting practice. ''It's just been a tough go for him more than anybody else as far as at-bats.'' Given a chance, Canha came through and gave the...
Tuesday night wasn't billed as a pitcher's duel, but that's what the fans at Yankee Stadium got. And after six innings, it was a battle of the bullpens. Normally, such late-inning affairs fall in favor of the Yankees. However, in an occurrence as rare as finding a unicorn, the Yankees bullpen was outpitched on Tuesday. Oakland's relievers combined for 5 1/3 innings and only allowed...
LIKE WHAT YOU SEE?
GET THE DAILY NEWSLETTER:
Mark Canha went from being a relatively obscure Rule 5 acquisition by the Oakland Athletics to a productive middle-of-the-order type thanks to his impressive play over the past few months.  Obtained from the Miami Marlins prior to the season, the A's (who had admired him from afar) snatched him up once he became available. The gamble has paid off, as Canha currently leads all AL...
The Oakland Athletics stormed back from a 4-1 deficit in the eighth inning on Tuesday night in front of a sell-out crowd as a spirited effort against the Los Angeles Dodgers resulted in a dramatic 5-4 win in ten innings.With Dodgers hitting coach Mark McGwire on-hand for his bobblehead night, the A's - a mystifying and confusing team in 2015 due to their last-place standing, superb...
  For most of Friday night, the Oakland Athletics looked lost. Even after Mark Canha ''ambushed'' the Texas Rangers' bullpen for a home run on the first pitch of the eighth inning, the A's still trailed by four. But their at-bat didn't end until Canha's single drove in the seventh run. Oakland went on to win 7-5. ''If you get behind them, they don't get out of their swings,'' Texas...
Mark Canha is having quite a first few weeks in the Major Leagues. The Oakland A's oufielder/DH clubbed his first career home run last Friday after very nearly hitting a grand slam for his first hit a few days earlier. When asked about his hits after a game, the 26-year-old San Jose native quoted lines from the classic baseball movie "Bull Durham" in deadpan fashion, prompting one...
Oakland A's first baseman/left fielder Mark Canha is off to a fine start to the 2015 season. Through the year's first week and a half, he's hitting a solid .333/.353/.515, and leads all rookies with 11 hits. This is obviously a teeny tiny sample, and we all know better than to read too much into seven games. […]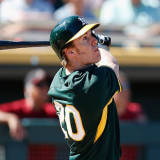 By Larry Brown Oakland A's rookie Mark Canha had a heck of a debut on Wednesday night. Not only did he crush the ball by going 3-for-5 with a pair of doubles and four RBIs in a 10-0 win over the Texas Rangers, but he also went viral for his awesome postgame interview. Canha, who apparently is well-schooled when it comes to his baseball movie education, cited Crash Davis' cliche...
Oakland Athletics rookie first baseman Mark Canha made his MLB debut Wednesday night with a stellar 3 for 5 performance and four RBI. He also came to the big show prepared with lines memorized from "Bull Durham" to aid him with interviews. Asked about how his big night earned him a start in Thursday's game (video above), Canha responds, "I'm just trying to help the ball club and...
MORE STORIES >>
Athletics News

Delivered to your inbox

You'll also receive Yardbarker's daily Top 10, featuring the best sports stories from around the web. Customize your newsletter to get articles on your favorite sports and teams. And the best part? It's free!