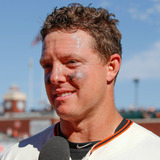 The Giants have announced a new one-year deal with catcher Nick Hundley, as Alex Pavlovic of NBC Sports Bay Area was among those to tweet. Financial terms are not yet known. The Giants have announced a new one-year deal with catcher Nick Hundley, as Alex Pavlovic of NBC Sports Bay Area was among those to tweet. He receives a $2.5 million guarantee in the pact, Henry Schulman of the...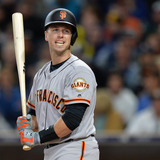 The San Francisco Giants are likely to be without the services of Buster Posey for at least 10 days. Alex Pavlovic of NBC Sports Bay Area is reporting that a DL stint is "likey" for Posey, after he was hit in the head with a pitch in Monday's home opener. Pavlovic added that while he's not on the 40-man roster, catcher Tim Federowicz is in the ballpark ahead of Tuesday's game.While...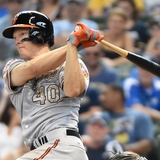 Tweet +1 Like Share Pin Reddit The Colorado Rockies have made quite a few moves to improve their bullpen this offseason, acquiring veteran relief pitchers Chad Qualls, Jason...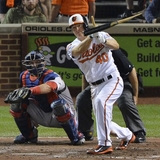 The Colorado Rockies signed Nick Hundley in the offseason with very little fanfare. The catcher is known for his light bat and good defense. What fans didn't realize they would get with Hundley is a winning attitude. The Rockies catcher has been no slouch at the plate, as he showed by drilling the game winning home run on Tuesday night at a freezing Coors Field to give the Rockies...
The addition of catcher Nick Hundley may not jump off the paper, but he was exactly what the Colorado Rockies were looking for. In need of a veteran catcher to manage a young staff and develop a young Wilin Rosario, Hundley will have immediate impacts on the Rockies. Rosario's troubles behind the plate have been well documented. Still young, Rosario has time to grow and develop into...
The Baltimore Orioles could look to add an arm like Marlins' closer Steve Cishek to their bullpen   The trade deadline is finally in sight and all of the speculation and rumors will be proven true or false within the next week. There are rumors surrounding just about every team, whether they are going to be dealing their players, or acquiring new ones. For the Baltimore Orioles,...
The Padres have announced that they've traded longtime catcher Nick Hundley and cash to the Baltimore Orioles for lefty relief pitcher Troy Patton. Patton comes to the Padres with an unimpressive 8.10 ERA in 2014, which is quite a bit higher than his 3.28 career average. The 5.31 FIP and 4.73 SIERA are disconcerting. Career numbers of 3.94 FIP and 3.57 SIERA lead me to believe Patton...
The San Diego Padres have struck a deal with the Baltimore Orioles in trading catcher Nick Hundley for left-handed pitcher Troy Patton. The announcement came Saturday morning from the Padres twitter feed. Hundley will be sent along with cash considerations to Baltimore as well. Hundley, a 30-year old veteran and 2nd round draft pick by the Padres in the 2005 MLB Amateur Player draft...
Jeff Sanders of the North County Times has reported via twitter: #Padres C Nick Hundley on his way back. Eddy Rodriguez optioned out. After struggling for months at the major league level (.166/.226/.259) the popular catcher was demoted to AAA.  In 13 games for the T-Padres Nick Hundley is hitting .190/.252/.262.  11 total bases including one double and a triple in 42 PCL at-bats...
Press Release provided by the San Diego Padres Media Department.PEORIA, Ariz. – The San Diego Padres today announced that they have agreed to terms with catcher Nick Hundley on a contract through the 2014 season with a club option for 2015. Executive Vice President/General Manager Josh Byrnes made the announcement."Nick has developed into one of our club's core players," said Byrnes...
MORE STORIES >>
Giants News

Delivered to your inbox

You'll also receive Yardbarker's daily Top 10, featuring the best sports stories from around the web. Customize your newsletter to get articles on your favorite sports and teams. And the best part? It's free!