We've updated our Privacy Policy.
By continuing to use this site, you are agreeing to the new Privacy Policy.
With just one week remaining until the Arizona Diamondbacks host the Colorado Rockies on March 29 at Chase Field to open up the 2018 season, manager Torey Lovullo has a decision to make. Who will throw the first pitch? Right-hander Zack Greinke, who has started the last two season openers, will not do the honors next Thursday night at 7:10 p.m. The 34-year-old Greinke has dealt with...
Zack Greinke made significant strides toward getting back to his routine Wednesday, pitching four innings and throwing 60 pitches in a "B" game. He gave up an unearned run on two hits and three walks while striking out three.
Diamondbacks ace Zack Greinke said his injured groin was "pretty good at the moment" after he threw 60 pitches in an intrasquad game Wednesday.
LIKE WHAT YOU SEE?
GET THE DAILY NEWSLETTER:
Diamondbacks ace Zack Greinke will not start the season's first game for Arizona. While the headline may sound alarms for some, the D-backs don't seem too concerned with their realigned rotation. In fact, quirks of the schedule could be used to the team's advantage. Zack Greinke is...
Zack Greinke, who's dealing with groin tightness, won't be the opening-day starter for the Arizona Diamondbacks. Manager Torey Lovullo said he's not ready to name the starter for March 29.
Zack Greinke was all smiles and laughter as he walked off the bullpen mound and into the clubhouse with catcher Alix Avila after a 40-pitch bullpen session that put him back on track to start the season in the D-backs' rotation.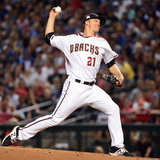 Maybe there is something to the Zack Greinke trade rumors.Though reports of a potential deal to the Texas Rangers may be dead, one interesting thing to note is that Fan Rag Sports' Jon Heyman says the Diamondbacks may be willing to eat some of the money owed to Greinke. That report is in contrast to Heyman's Fan Rag colleague Robert Murray, who said that the Diamondbacks weren't...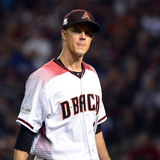 Zack Greinke's name has come up in trade rumors this week, but it doesn't sound like there's much to them.On Tuesday, reports were saying that the Texas Rangers were interested in Greinke. Then it was reported that other teams like the Philadelphia Phillies and New York Yankees were also interested in Greinke.However, it sounds like the Arizona Diamondbacks are not interested in...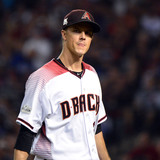 The Texas Rangers are looking to upgrade their starting pitching in the offseason. One pitcher they're reportedly looking at is Zack Greinke."Two major-league sources said Tuesday night that the Texas Rangers have been in contact with the Arizona Diamondbacks about a swap of star right-hander Zack Greinke," Jeff Wilson of the Star-Telegram reported. "One of the sources said that...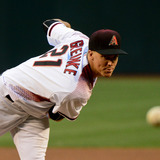 Arizona Diamondbacks ace Zack Greinke is one of the most dominant pitchers in MLB right now — with a 6-2 record and 2.82 ERA — and it looks like he now has another "out" pitch to add to his arsenal.Greinke pitched another gem in Monday night's 5-1 win, going 8 2/3 innings and completely shutting down the White Sox hitters, who often look lost at the plate. Some of the swings and...
MORE STORIES >>
Diamondbacks News

Delivered to your inbox

You'll also receive Yardbarker's daily Top 10, featuring the best sports stories from around the web. Customize your newsletter to get articles on your favorite sports and teams. And the best part? It's free!