Darrell Wallace Jr. sits down with Kenny Wallace to talk about driving for the King in his rookie year and being only the second African-American driver to be full-time in the Cup Series.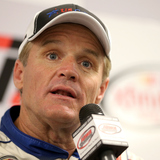 Racecar drivers are often asked how they pee while driving, but very few ever have to contend with questions about what happens when the other side comes a-knockin. Kenny Wallace, however, knows what it's like to drive in a race with soiled pants, and he is not afraid to talk about it. Wallace was a guest on the "Morning Men with Evan Cohen and Mike Babchik" on Mad Dog Sports radio...
Credit: Brett Moist/NKP Posted By: Brian Eberly – Follow at @beberly18 August 1, 2015 When the checkered flag fell on Saturday night's NASCAR XFINITY Series U.S. Cellular 250 at Iowa Speedway, it marked the end of the NASCAR national series career of one of the most entertaining personalities in the sport. After 904 starts across the NASCAR national series, the 51-year-old Kenny...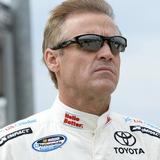 Credit: Brett Moist/NKP Posted By: Brian Eberly – Follow at @beberly18 July 31, 2015 All good things must come to an end, so the saying goes. This weekend at Iowa Speedway Kenny Wallace makes his final start as the three-time Most Popular Driver officially retires from NASCAR national series competition. A career that began with a 1988 Busch Grand National Series race at Martinsville...
All Kenny Wallace wanted in life was to matter. The youngest of NASCAR's famous Wallace brothers has been a central part of NASCAR since 1988, and is poised to make his milestone 900th-career NASCAR start in Saturday's Nationwide Series race at Chicagoland Speedway. "When I was in St. Louis growing up as a kid, to know I was able to race 900 NASCAR races is a dream come true,"...
Mike Wallace can't remember a year he didn't have to race his way into the Daytona 500 with a good showing in the Gatorade Duel 150-mile qualifying races. Michael McDowell is a respectable 1-for-2 in successfully earning a 500 spot via the qualifier and likes his chances in Thursday's race. And Robby Gordon bristles when even asked it. "Why do you have to bring up a sore subject...
Kenny Wallace will give it a go at The Great American Race - and he's got help to do it. American Ethanol will sponsor Wallace as he attempts to qualify for the 2012 Daytona 500 (Feb. 26 live on FOX). The SPEED TV analyst will enter the Great American Race behind the wheel of the No. 09 Toyota for Robby Benton's RAB Racing. American Ethanol is also expected to sponsor Wallace...
Rusty Wallace is a man of his word. In September, the former NASCAR champion and current team owner warned if there wasn't enough money to run his Nationwide Series program, he'd put the shop in mothballs. Unfortunately, that day has come. Rusty Wallace Inc. is expected to shut its doors next Friday, sources told FOXSports.com. RWI fielded the Nos. 62 and 66 Toyotas in the Nationwide...
MORE STORIES >>
NASCAR News

Delivered to your inbox

You'll also receive Yardbarker's daily Top 10, featuring the best sports stories from around the web. Customize your newsletter to get articles on your favorite sports and teams. And the best part? It's free!