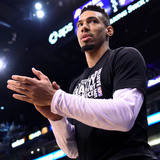 It was a quiet trade deadline in San Antonio, which is nothing new for the Spurs, who rarely shake up their roster in February. The team's inactivity on Thursday was just fine with veterans like Tony Parker, who said prior to this year's deadline that they'd be happy if the team stood pat, counting on Kawhi Leonard to be the major late-season addition."I think it is always good to...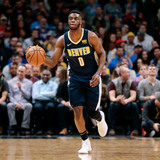 The Denver Nuggets picked up the veteran point guard depth they were seeking by acquiring Devin Harris in a three-way trade that also saw the Dallas Mavericks acquire Doug McDermott and the New York Knicks get Emmanuel Mudiay.Denver has been chasing a veteran point guard almost all season since they waived Jameer Nelson in October. Harris will fill the backup point guard spot behind...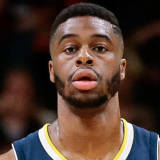 The Denver Nuggets have reportedly traded Emmanuel Mudiay to the New York Knicks as part of a three-team trade.According to ESPN's Adrian Wojnarowski, Mudiay is heading to the Knicks with fellow point guard Devin Harris going to Denver. The third team, the Dallas Mavericks, are getting Doug McDermott. The Nuggets will also get a future second-round pick in the deal, according to...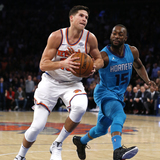 The (6-4) New York Knicks are one of the most surprising teams that have proved analysts wrong during the 2017-18 season so far, and suddenly former team president Phil Jackson isn't looking to be as clueless as he was made out to be.New York fought back from a 15-point deficit to defeat Charlotte on Tuesday night, and the team has now come back to win from 15+ points down in consecutive...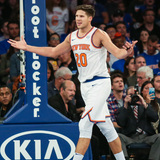 Suns forward Josh Jackson received an rookie initiation of sorts playing in his first career game at Madison Square Garden on Friday night.Knicks forward Doug McDermott wanted to make sure Jackson's first trip to the Garden was a memorable one, and he appeared to have succeeded.McDermott cut to the basket on one particular play, and received a nice pass on his way to the hoop. He...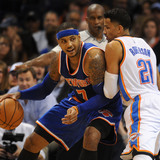 In the blink of an eye, the melodrama in New York came to a screeching halt.All it took was an expanded list of teams released Friday night, including the Cavaliers and Thunder, for the Knicks to finally get rid of Carmelo Anthony. The disgruntled star forward had stubbornly refused to waive his no-trade clause for anyone besides the Rockets all summer.Moving on from Anthony was...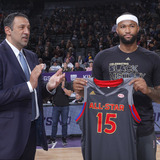 Monday night, the first televised NBA Awards show takes place. Finally, some two months after the end of the 2016-17 NBA regular season, we'll find out who takes home MVP, Rookie of the Year, Executive of the Year, Sixth Man, Coach of the Year, Defensive Player of the Year and more. However, the annual honors bestowed on players, coaches and executives alike leave something to be...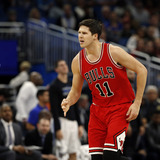 The Chicago Bulls are trying to add another draft pick by dealing from depth, according to a report.Michael Scotto of Basketball Insiders reported Monday that the Bulls are shopping forward Doug McDermott and center Robin Lopez in hopes that someone will give up a first-round selection for one of them.The Bulls do have their own first-round pick, and would also be owed the Sacramento...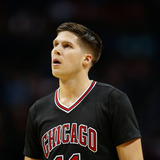 When we hear about concussions in sports, they generally are in relation to NFL players. That doesn't mean they're limited to football, though, and one NBA player got a reminder of how nasty they can be. Chicago Bulls forward Doug McDermott has suffered two concussions this season, and he detailed the scary side effects he's dealt with. That includes some that still linger nearly...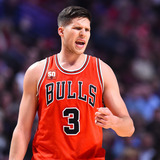 Doug McDermott is in concussion protocol for the second time this season after he landed hard following a dunk attempt on Saturday night. The Chicago Bulls forward was going up for a dunk in the fourth quarter against the Wizards when he was met by Washington's Markieff Morris. McDermott fell to the floor and landed hard, hitting his head. Bulls' Doug McDermott pulled down out...
MORE STORIES >>
Mavericks News

Delivered to your inbox

You'll also receive Yardbarker's daily Top 10, featuring the best sports stories from around the web. Customize your newsletter to get articles on your favorite sports and teams. And the best part? It's free!