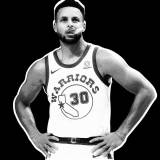 Happy belated 30th birthday to the greatest shooter in NBA history.On Wednesday, Steph Curry turned the big 3-0, and to celebrate three decades of Wardell the Warriors threw their captain a surprise party. Curry arrived to the event in style, only to see both Steve Kerr and Klay Thompson show off their best dad dance moves once he got there. The team may have actually gone a little...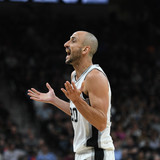 This particular season has been one of the most underwhelming for the Spurs since before the Tim Duncan era, and while the team hasn't gone out and said it publicly, it does appear that they're rebuilding a bit.Both Tony Parker and Manu Ginobili could be playing in their final seasons in the league, and the Spurs have been giving younger guys minutes, in preparation for life after...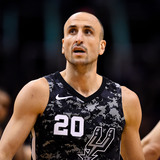 Manu Ginóbili knows it hasn't been an easy road for the San Antonio Spurs this season. But there's still just one goal in mind: reaching the playoffs."Halfway through the season we were aiming for the third spot. Now we are aiming for the playoffs."But head coach Gregg Popovich isn't in the business of making excuses."Quit your crying and just play. That's what we've done. Nobody...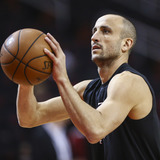 Manu Ginóbili is 40 years old, and has spent his entire 16-year NBA career with the San Antonio Spurs. Meanwhile, his Spurs are 27-14, and 5.5 games behind the Golden State Warriors. This is due at least in part to their road struggles, they're currently posting a 9-12 mark when away. However, this has nothing to do with Ginóbili's performance, and more specifically, his performance...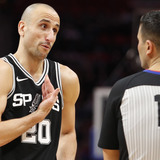 Spurs veteran guard Manu Ginobili has played in the league for so long that even his mistakes turn into successful endeavors, apparently.The 15-year-veteran was involved in a funny sequence of events during Tuesday night's game, when a pass intended for LaMarcus Aldridge sailed over the big man's head — right into the basket.Ginobili appeared to be aware that his shot went through...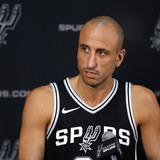 A terrorist attack in New York City's Lower Manhattan killed eight people on Tuesday, injuring scores more. Sayfullo Habibullaevic Saipov of Uzbekistan is said to be the man behind the truck attack that also left five Argentinians dead.In speaking up about the attack on Wednesday, fellow Argentian Manu Ginobili had a whole heck of a lot to say."I don't know any of (the victims from...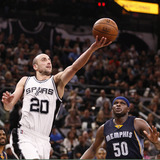 We knew Manu Ginobili was going to play at least one more season in the NBA. He announced that intention earlier in the summer. But until Thursday, it was not guaranteed that it would be with the San Antonio Spurs.We can now put that to rest.According to The Vertical's Shams Charania, the Spurs have re-signed the long-time guard to a two-year, $5 million contract.Ginobili, 40, has...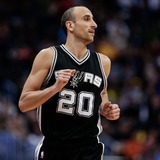 Manu Ginobili still feels he has another good year of basketball left in him at age 40.Adrian Wojnarowski of ESPN reports that Ginobili is finalizing a deal with the San Antonio Spurs to return for a 16th NBA season.Many believed Ginobili would play just one more year after he signed a one-year deal last offseason following Tim Duncan's retirement. The three-time NBA All-Star has...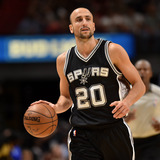 It sure looks like future Hall of Famer Manu Ginobili will be returning to the San Antonio Spurs for a 16th season. According to ESPN's Adrian Wojnarowski, the two sides are finalizing a deal that will bring him back to the only city he's called home during a championship-winning career. Ginobili, 39, averaged 7.5 points and shot a solid 39 percent from three-point range last season...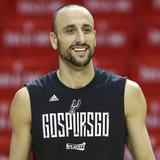 There was a time when no one wanted to watch the San Antonio Spurs play basketball. Ironically, this was also the same period of time when the other 29 teams in the Association were playing the ugliest basketball in the league's history. Before we allowed the science behind efficiency to smugly insert itself into the conversation about what makes good basketball, we relied on antiquated...
MORE STORIES >>
Spurs News

Delivered to your inbox

You'll also receive Yardbarker's daily Top 10, featuring the best sports stories from around the web. Customize your newsletter to get articles on your favorite sports and teams. And the best part? It's free!