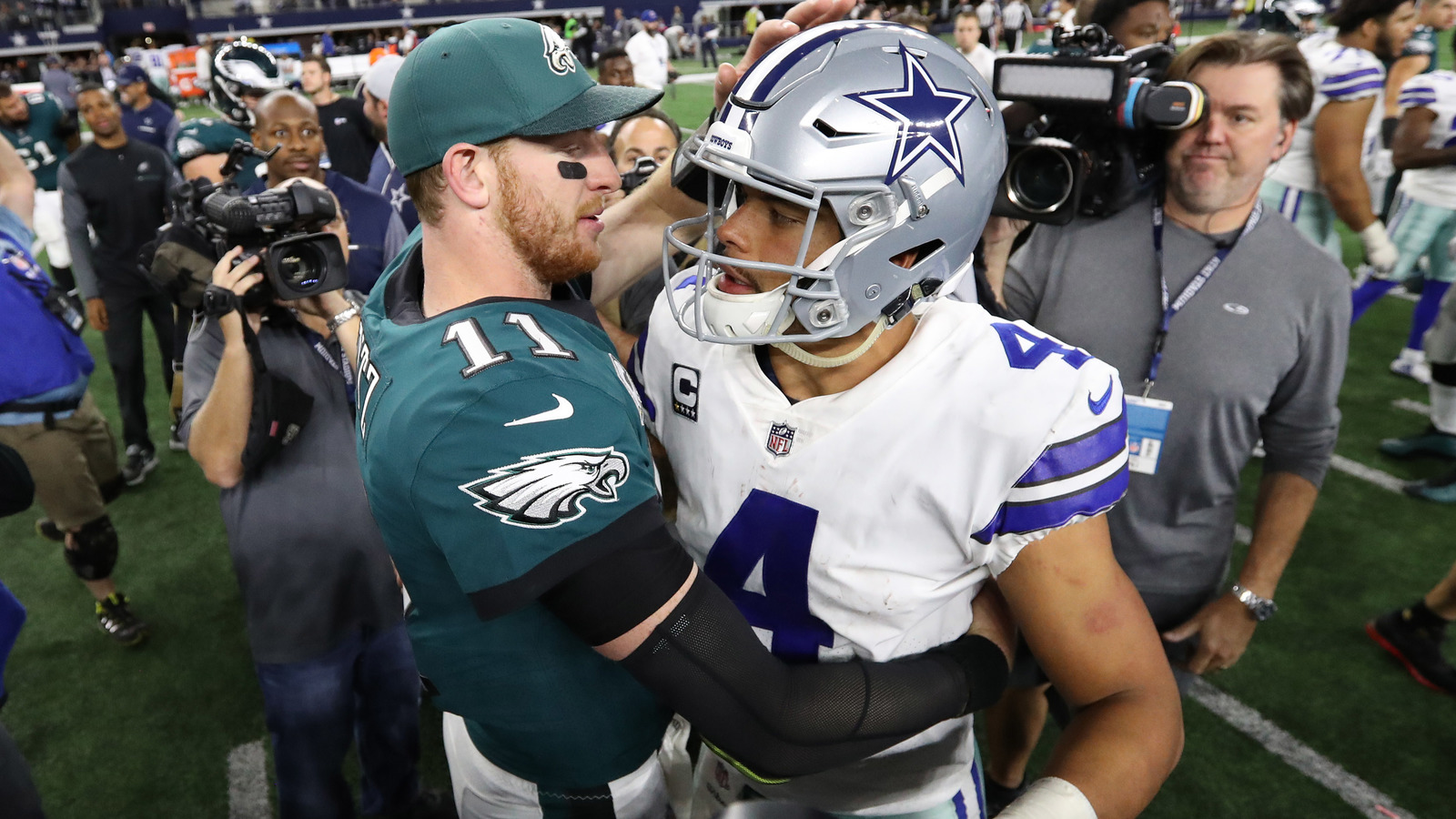 Nov 19, 2017; Arlington, TX, USA; Philadelphia Eagles quarterback Carson Wentz (11) meets with Dallas Cowboys quarterback Dak Prescott (4) after the game at AT&T Stadium. 
Matthew Emmons-USA TODAY Sports
Week 11 saw plenty of surprises and several big disappointments as the playoff race truly heats up. Playoff contenders are separating from each other, with some teams looking a bit worse for wear as they come up against each other.
So who was a letdown in Week 11? Here are 15 big disappointments.
Dallas Cowboys in the second half
They say it's not about how you start but how you finish. And the Dallas Cowboys could not have finished Sunday's game any worse. Dallas went into halftime leading their division rivals 9-7. After that, they gave up 30 unanswered points as the wheels completely fell off. The Cowboys allowed touchdown drives of 75, 90 and 85 yards. They punted twice on their possessions in between Philly's big scoring drives. Then they gave up a strip sack that was returned for a touchdown as the game turned into a laugher. As if that weren't enough, their first decent drive of the half ended with an interception in the end zone. This marks two straight embarrassing defeats for Dallas without Ezekiel Elliott.
Sean McDermott, coach, Bills
The easiest thing to do would be to list Nathan Peterman and his five first half interceptions on here and be done with it, but frankly, that would be unfair to Peterman. He wasn't ready and he shouldn't have started — especially over Tyrod Taylor, who had done nothing to lose his starting job. But McDermott decided to make the change, and he watched as Peterman was picked off five times in one half as the Los Angeles Chargers essentially had the Bills buried by halftime.
This is on the coach. It's his job to know his players and put them in the best situation to win. Now, he's put the rookie Peterman into an awful spot, dented his confidence, and left Taylor wondering what McDermott saw in him to make him the inferior option. It is an enormous self-inflicted error that has only served to muddy the waters — especially when he was left with no choice but to put Taylor right back in after the nightmarish first half.
Cooper Kupp, WR, Rams
This is not a day Kupp will want to remember. On paper, his game looked fine — six catches and 64 yards. However, he failed on one key play that arguably turned the entire game. Late in the first half, he fumbled the ball away at the Minnesota 1-yard line, taking three sure points off the board and possibly seven. That would have given the Rams the lead in a difficult road game. Later in the game, Kupp let a third down pass go through his hands. Had he made the grab, the Rams would have been in field goal range. His mistakes were costly and helped prevent the Rams from seizing momentum in what was once a close game.
Washington Redskins
Washington had a 15-point lead over the New Orleans Saints with three minutes left in the fourth quarter and managed to lose in overtime. The culprits were a series of big plays by Drew Brees, including an unlikely Alvin Kamara touchdown that the Redskins nearly dealt with, a two-point conversion, and an inexplicable Kirk Cousins intentional grounding penalty that took Washington out of range for a potentially game-winning field goal. Safety DeAngelo Hall had particular struggles, as Pro Football Focus says he missed three of his eight tackles and allowed catches on all four passes his way. Washington's season faced long odds no matter what — but this collapse means it's really over.
Alex Smith, QB, Chiefs
What happened here? The Chiefs haven't been themselves for a while now, but this is definitely the low point of their season — an overtime loss to a New York Giants team that looked to be in open meltdown during the week. Smith threw for 230 yards, but no touchdowns, and he was picked off twice. Early in the season, it looked like the red-hot Chiefs — and Smith in particular — had silenced their doubters. They're back now after this 1-4 stretch.
Connor Barth, K, Bears
The lowly Bears looked all set up to take the Detroit Lions into overtime in what was a must-win game for Detroit. An unlikely Mitchell Trubisky 19-yard scramble on fourth down extended the game with seconds left. The play set the Bears up for a 46-yard field goal. Though that's not a chip shot, it's well within Connor Barth's range. The snap was good, the hold was good, but the kick was shanked very wide right, never threatening the uprights. The Lions escaped with the win — and Barth could only wonder why his kick had gone so wrong.
Amari Cooper, WR, Raiders
We'll talk more about the rest of the Oakland offense later — they weren't exactly great — but Cooper was a huge letdown on Sunday. While he caught one touchdown, it was meaningless and came late in the game. His entire body of work was simply poor — only three catches for 28 yards. Oakland struggled as a whole on Sunday, but Cooper seemed to be completely missing. That has been a consistent issue for him all season.
Jay Cutler, QB, Dolphins
Cutler's day ended prematurely by a possible concussion, which has nothing to do with him making this list. Rather, it was his play before he was knocked out of the contest that was concerting. Cutler threw three interceptions on just 12 pass attempts in the first half. His six completions were only good for 83 yards. Cutler seems to be getting worse as the season goes on, and now he may be out for a little while. That's still bad news for Miami considering he's a lot better than Matt Moore no matter what.
Kai Forbath, K, Vikings
The Vikings should feel fortunate that Forbath's bad day didn't end up mattering much. He missed twice — from 39 and 48 — when Minnesota was still tied 7-7 with the Los Angeles Rams. The game could have gone either way at that point, and there must have been a sinking feeling for Vikings fans watching them leave points on the field like that. Minnesota ended up pulling away in the second half and winning, but Forbath probably has some worries about his performance.
Brett Hundley, QB, Packers
Expectations are never going to be high for Hundley as he fills in for Aaron Rodgers, but getting shut out at home simply does not happen to the Green Bay Packers, no matter who is under center for them. There are still weapons on this team, but Hundley didn't seem to have any clue how to take advantage to them. He threw three interceptions as he was locked up by the Baltimore Ravens' defense. It's hard to see what the alternative is at this point unless they change their stance and sign a new quarterback, but the fact is Hundley is not getting it done for Green Bay.
Todd Gurley, RB, Rams
Gurley scored the Rams' lone touchdown in their 24-7 loss to the Minnesota Vikings, but that was about the only thing that went right for him on Sunday. He only racked up 37 yards on 15 carries, as the Viking defense pretty much stuffed any attempts to get him going. He didn't have a huge say in the passing game either — three catches for 19 yards. Gurley's inability to get it going was a big reason why the Rams lost big.
Rob Gronkowski, TE, Patriots
Sunday was a fine day for the Patriots, but not so much for Gronkowski, who was quiet in the 33-8 victory. He was only targeted three times by Tom Brady. And while Gronk did catch all three of his targets, the 36 yard return — with no touchdowns — may come as a personal disappointment, not to mention for his fantasy owners. It's only a hiccup for Gronk, though, so there's no reason to be alarmed. This could have just been a byproduct of the Pats making Brandin Cooks a big part of their gameplan and the result of him splitting some targets with tight end addition Martellus Bennett.
Adrian Peterson, RB, Cardinals
That magic Peterson seemed to rediscover after being traded to Arizona appears to have worn off quickly. Perhaps the injury to Carson Palmer and subsequent collapse of Arizona's passing threat has something to do with that, but 26 yards on 14 carries is simply not going to do it. He was completely stuffed on an ill-advised fourth down play late in the game that allowed Houston to run away with the win. Peterson had little room to maneuver, and the protection — or lack thereof — was hardly his fault. Still, Peterson appears pretty well bottled up in Arizona's backfield.
Oakland Raiders
The most alarming thing for the Raiders wasn't really the score — they got blown out 33-8 by the New England Patriots, which was bad, but not entirely unpredictable. It was the manner of the defeat. Oakland often looked like they couldn't be bothered to put up a fight anymore, with the exception of Johnny Holton, who showed a bit too much fight. Derek Carr was underwhelming, while the defense had no answer for Tom Brady. A disappointing season keeps getting worse.
Dede Westbrook, Jaguars
Okay, let's be fair here. Expectations for Westbrook, a fourth-round pick making his NFL debut on Sunday against the Cleveland Browns, were modest at most among the general public. The man himself, however, expected a 200-yard receiving game — ambitious, to be sure.
As Adam Schefter wryly noted, Westbrook fell a bit short of his goal. Sorry, Dede. Better luck next week.
PLAYERS:
Drew Brees
,
Alvin Kamara
,
DeAngelo Hall
,
Jay Cutler
,
Matt Moore
,
Aaron Rodgers
,
Tom Brady
,
Carson Palmer
,
Dede Westbrook
,
Adam Schefter
TEAMS:
New Orleans Saints
,
Washington Redskins
,
Miami Dolphins
,
Green Bay Packers
,
New England Patriots
,
Arizona Cardinals
,
Jacksonville Jaguars
,
Dallas Cowboys
,
Detroit Lions
,
Baltimore Ravens
,
Minnesota Vikings
,
Oakland Raiders
,
Cleveland Browns
,
Los Angeles Chargers
,
New York Giants
,
Los Angeles Rams
MORE FROM YARDBARKER:
QUIZ: Name the two players from every NFL team who have combined for the most touchdowns
How many of the NFL's most prolific touchdown combinations can you name in eight minutes?
Good luck!
CLUE: TEAM / # OF TOUCHDOWNS / POSITION.
* record comes from previous franchise name/city. The Pittsburgh Steelers have two combinations which share the franchise record.
MORE FROM YARDBARKER
NFL News

Delivered to your inbox

You'll also receive Yardbarker's daily Top 10, featuring the best sports stories from around the web. Customize your newsletter to get articles on your favorite sports and teams. And the best part? It's free!