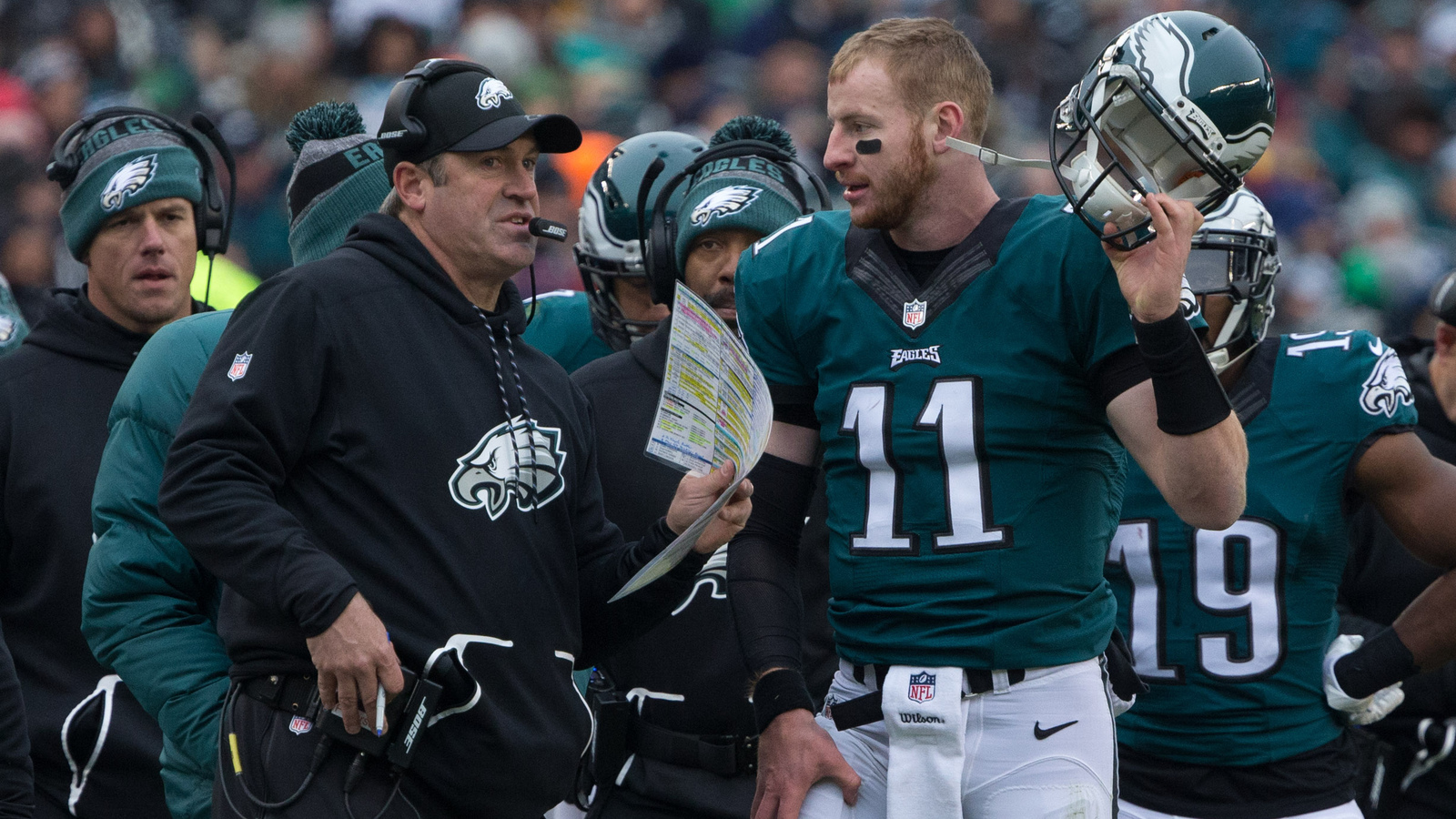 Can Eagles quarterback Carson Wentz and head coach Doug Pederson lead the team to an NFC East title?
Bill Streicher-USA TODAY Sports
Over the next few weeks as part of our NFL preview series, we'll be taking a good look at each division in the league. Having tackled the AFC East, North, South and West, it's on to the NFC. And just like we did with the AFC, we're starting out East.
The Cowboys completely dominated the NFC East last year. But, that doesn't guarantee the same result this season. Nobody saw them coming after going 4-12 in 2015. This year, however, the division is wide open. So who will come out on top?
1. Philadelphia Eagles
This could be the year everything comes together for the Eagles. It all starts with their defense, which boasts one of the best front sevens in the league. Fletcher Cox and Brandon Graham both return. Quality players like interior linemen Timmy Jernigan, veteran rusher Chris Long and versatile rookie Derek Barnett round out what's looking like a devastating line with a ton of depth. This allows speedy, aggressive linebackers like Jordan Hicks and Mychal Kendricks to thrive.
The front office in Philadelphia clearly sees an opportunity to take a big step forward in Carson Wentz's sophomore campaign. The Eagles brought a sizable group of veterans into the fold, including LeGarrette Blount in the backfield. He certainly won't be scoring 18 touchdowns again, but he still provides a powerful element to their offense that wasn't there last year. Alshon Jeffery and Torrey Smith will also be a refreshing change on the outside.
Overall, it's hard to find a weakness on this Eagles team. Their offensive line is ranked No. 1 heading into the season by Pro Football Focus. And the secondary has been boosted with recent additions Ronald Darby and Corey Graham. It's certainly not the popular opinion, but the Eagles have the talent to snag the division title.
2. New York Giants
As long as Odell Beckham Jr. and Eli Manning are still suiting up in East Rutherford, the Giants have a good chance at competing for a division title. Now, they have a 6-foot-4 veteran running mate in Brandon Marshall and a mammoth rookie pass catcher in Evan Engram. When New York lines up in the shotgun on third and long, opposing defenses will be have their minds twisted trying to go through pre-snap assignments.
The big problem remains in the running game. Despite having multiple free agents available (Adrian Peterson, Eddie Lacy, Latavius Murray,), the Giants will roll with the same backfield they had last season. One which finished bottom five in the league in rushing yards per game. Paul Perkins still has a slim chance of taking the role of an every-down back, but Shane Vereen and Orleans Darkwa still loom in his shadow. If the offensive line shows the slightest bit of decline, the Giants will be dealing with a major flaw once again.
No matter how the offense performs, the defense is capable of carrying them. Last year, the G-Men allowed the fewest touchdowns in the NFL. And, they also had the league's best red-zone defense. Free agent additions like Olivier Vernon, Damon Harrison and Janoris Jenkins proved to be worth the money. Meanwhile, homegrown talent like Landon Collins and Eli Apple stepped up in a major way. Nine of 11 starters will return this season and are hungry to become one of the league's best.
With an aging Manning and an inconsistent running game, the ceiling for New York isn't sky-high. However, they still have enough talent to snag a wild card spot.
3. Dallas Cowboys
Let's start off by making one thing clear: it's extremely difficult to follow up an elite season with another dominant record the following year. The Panthers and Cardinals were perfect examples of this in 2016. Carolina dropped from 15 wins to 6. Arizona fell from 13 to 7. With everything that's happened in Dallas this offseason, they're certainly a regression candidate.
Ezekiel Elliott's six-game suspension is by far the biggest hurdle the Cowboys will need to jump. He lived up to every expectation of him as a rookie and was expected to see even more touches this year after leading the NFL in carries in 2016. Darren McFadden and Alfred Morris should fill in nicely behind a stellar offensive line, though. Plus, the running threat of Dak Prescott adds a lot of value for a run-first team mentality.
The defense is what Dallas should be worried sick about, however. Rod Marinelli got the most out of his talent every year since becoming the defensive coordinator, helping the Cowboys allow the fewest rushing yards of any team last season. Moving forward, the secondary looks extremely weak after the departures of Brandon Carr, Morris Claiborne, Barry Church and JJ Wilcox. They'll depend a lot on Nolan Carroll, who had only one interception last year with the Eagles. The front seven, featuring rookie edge rusher Taco Charlton and linebacker Jaylon Smith returning from injury, will have to take another step forward.
With a first-place schedule and shallow depth, Dallas is a prime candidate to fall out of the NFC playoff picture.
4. Washington Redskins
It's yet another make-or-break year for Kirk Cousins and company. The quarterback couldn't come to an agreement on a long-term deal this offseason, so now he'll look to have a huge performance this season before possibly moving on to a new franchise (San Francisco, anyone?) next year. He's got new weapons to throw to after the departures of DeSean Jackson and Pierre Garcon. Enter Terrelle Pryor, who broke out in Cleveland and is ready to take on a full role as a No. 1 option. 2015 first-rounder Josh Doctson is poised to make an impact as well, barring good health.
Cousins has a borderline elite offensive line to depend on, which has a lot of continuity. All five starters are returning from last season. They are also headed into the fourth year of Jay Gruden's offense. This particular unit allowed Cousins the protection to throw for the second-most passing yards in football last year. Expect that to continue, but the running game is still in question. Rob Kelley, rookie Samaje Perine and pass-catching specialist Chris Thompson aren't exactly a lethal trio.
The defense will need to step up if Washington has any hopes of sneaking into the playoffs. They ranked 28th in the league in terms of yards allowed per game last year. And that came after adding Josh Norman to the secondary. Maybe a change back to a 4-3 scheme will be the breath of fresh air the unit needs. However, that's far from a guarantee. They'll hope free agent Zach Brown can be a force at linebacker and will look for Ryan Kerrigan and Junior Galette to be dynamic pass rushers.
In a tough division, it's hard to see Washington winning more than 8 games.
MORE FROM YARDBARKER:
QUIZ: Name every Philadelphia Eagles defensive Pro Bowler since 1960
39 Philadelphia Eagles have made the Pro Bowl as defensive players in the history of NFL franchise since 1960. How many of these defensive power-players can you name?
Clue: Number of Pro Bowls-Position/Years active with team
MORE FROM YARDBARKER
NFL News

Delivered to your inbox

You'll also receive Yardbarker's daily Top 10, featuring the best sports stories from around the web. Customize your newsletter to get articles on your favorite sports and teams. And the best part? It's free!