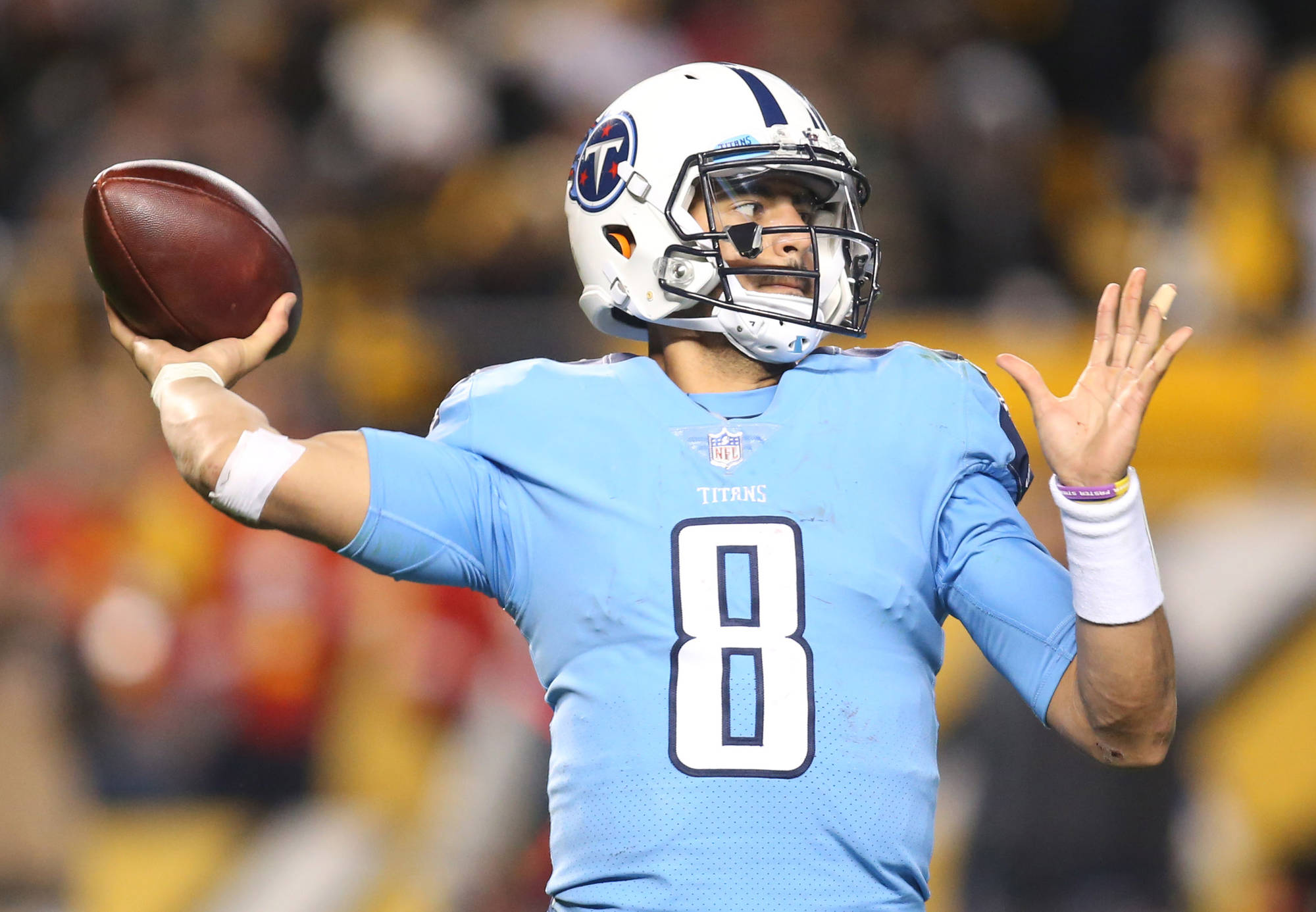 Can Mariota turn it around this week?
Charles LeClaire-USA TODAY Sports
NFL Week 12 delivers 16 sets of games now that each team has had its bye. Playoffs are in the cards for some franchises which have already left their competition in the dust. On the flip side, other teams are only competing to save a little face.
The Dallas Cowboys hope to shed their losing funk hosting a Los Angeles Chargers squad that absolutely destroyed its opponent last week.
Meanwhile out west, two smoking-hot NFC teams will square off in a game that should see running backs make a huge impact.
As all 16 games play out, there should be no shortage of surprises and upsets. But who will sizzle and fizzle in Week 12? We've got answers.
Stud: Marcus Mariota, quarterback, Tennessee Titans
Forget Mariota's last four-interception performance. Instead, embrace his Week 12 matchup at the home of the Indianapolis Colts. The third-year quarterback is primed for success against a Colts defense that has given up the third-most passing yards. Plus, Mariota's chances for having a clean game against a depleted Colts secondary are huge. The Colts have managed just eight interceptions all season.
Titans fans should sit back and enjoy while keeping in mind the Colts are generously giving up a league-high 28 points per game.
Dud: DeAndre Hopkins, wide receiver, Houston Texans
It pains us to label Hopkins as one of our duds for this week. But, Hopkins and the Texans will be on the road against the Baltimore Ravens whose no-fly zones should prove troublesome. This is a Ravens defense that just held Green Bay Packers No. 1 wideout Jordy Nelson to two catches his last game. Even scarier is that the Ravens completely shut out the Packers.
Just imagine what Baltimore's defense has in store for quarterback Tom Savage this week. Sadly, Hopkins looks to be the guy who will suffer the collateral damage.
Stud: Joey Bosa, defensive end, Los Angeles Chargers
Bosa and the Chargers next head to Dallas to take on a Cowboys franchise that has turned into a hot mess. The Cowboys offense is just not the same minus its best running back and offensive lineman. Bosa will swoop in and take advantage. He faces quarterback Dak Prescott, who has taken 12 sacks in his last two games. Even worse, Prescott turned the ball over four times last week. Bosa arrives to Dallas fresh off of forcing a fumble and tallying a sack. He is on a roll, and the Cowboys will be at his mercy.
Dud: Ameer Abdullah, running back, Detroit Lions
Those waiting for Abdullah to have a breakout performance or perhaps just score in Week 12 will need to be patient. Abdullah and the Lions host the Minnesota Vikings, whose defense has given up only three running back rushing touchdowns all season. The chances of Abdullah scoring in this environment are not ideal. Plus, Minnesota is yielding only 3.3 yards per carry. This is the same defense that just held Los Angeles Rams running back Todd Gurley to a mere 37 yards on 15 attempts.
Stud: T.Y. Hilton, wide receiver, Indianapolis Colts
We like Hilton this week returning rested from his bye. He and the Colts host the Titans, who could not do a darn thing to stop Pittsburgh Steelers wide receiver Antonio Brown in their last game. Brown sliced and diced the Titans defense, turning 10 catches into 144 yards and three touchdowns. Hilton can be lightning in a bottle when the right matchup falls into his lap. Hilton should score against a Titans defense that has given up 21 receiving touchdowns on the season. Only two other teams have allowed more.
Dud: Mitch Trubisky, quarterback, Chicago Bears
We are not just targeting Trubisky here because he is a rookie. Unfortunately, Trubisky has a scary road game at Philadelphia this week. The Eagles are Trubisky's nightmare come true. This is a defense that just created four turnovers against Dallas' Prescott last week. When it comes to sacks, the Eagles tie for the fourth-most (29) in the league. And, if Trubisky thinks he is going to score his fifth passing touchdown of the year, the Eagles have allowed only 14  in 10 games. Not likely.
Stud: Mark Ingram, running back, New Orleans Saints
It does not take much for Ingram to go off these days and explode for 100-plus rushing yards and/or post multiple scores. But, it is worth pointing out the 27-year-old running back has a better-than-usual chance to pile up both the yards and scores against the Rams this week. The Saints head out west to Los Angeles to face a Rams defense giving up 123.3 rushing yards per game at a pace of 4.5 yards per carry. Fantasy football-wise, the Rams have allowed the third-most points to their opposing running backs. Ingram, and his partner in crime Alvin Kamara, are going to run wild in LA.
Dud: Amari Cooper, wide receiver, Oakland Raiders
This Week 12 matchup in Oakland when the Raiders host the Denver Broncos just has sadness written all over it. As both lagging AFC West teams fight for a win, we see Cooper coming out as a big loser. Surely, Cooper will be challenged by the likes of cornerbacks Aqib Talib and Chris Harris. Cooper has the ability to be a game-changer but the Broncos, in desperation mode, need their defense to go all out. Plus, Derek Carr's struggles have done little to help out Cooper these days.
Stud: Russell Wilson, quarterback, Seattle Seahawks
Wilson at times looks like a one-man show. He does it all and should have a monster of a performance when the Seahawks head to Levi's Stadium to play the San Francisco 49ers. Serving as the team's lead running back, Wilson should find excellent success running against a 49ers defense giving up 135.5 rushing yards on average per game. This is the second-highest in the league. Through the air, the 49ers rank 23rd in yards allowed per game. They have also given up 18 passing touchdowns. It is practically fool-proof that Wilson is going to deliver the spoils this week -- though we may have just jinxed him.
Dud: Jonathan Stewart, running back, Carolina Panthers
Prior to his bye, Stewart rushed for a season-best 110 yards in Week 10. But, don't expect a repeat performance from Stewart in this tilt when he and the Panthers hit the road to face the New York Jets. Over their past three games, the Jets have allowed opposing running backs to rush for only 76 yards on average with no rushing touchdowns. Since Stewart has to share the limelight with fellow back Christian McCaffrey and quarterback Cam Newton, we don't see him on the right side of a stunning performance.
Stud: Samaje Perine, running back, Washington Redskins
With two of Washington's running backs now injured and out for the season, the Oklahoma rookie suddenly has a lot of appeal. Perine received 23 carries in his last game amounting to 117 yards and one rushing touchdown. He is going to be up for a big workload moving forward and has an especially inviting matchup at home against the New York Giants. The Giants are surrendering the third-most rushing yards per game at a pace of 4.4 yards per carry. Perine should thrive considering he managed a swift 5.09 yards per attempt in his last outing.
Dud: DeSean Jackson, wide receiver, Tampa Bay Buccaneers
Jackson is on a roll after scoring his third touchdown of the season last week against the Miami Dolphins. But, on the road against the Atlanta Falcons, Jackson might fail to grace the end zone. Over their last four games, the Falcons have given up only two wide receiving touchdowns and just nine receptions per game on average. This matchup will be anything but an easy one for quarterback Ryan Fitzpatrick as he tries to connect with Jackson and put points on the board.
Stud: Vontaze Burfict, linebacker, Cincinnati Bengals
Burfict and the Bengals will look to build on last week's win when they host the only winless team in the league. When the Cleveland Browns come to town, Burfict should work his magic. It is hard not to envision Burfict having a field day against rookie quarterback DeShone Kizer and his offense. Burfict led the Bengals with 11 solo tackles when he competed against the Denver Broncos in his last game. The veteran linebacker also had one sack and one forced fumble. Viewing Burfict in action this week against Kizer should be similar to watching candy be stolen from a baby.
Dud: Devante Adams, wide receiver, Green Bay Packers
After getting shut out at home by the Baltimore Ravens, Adams and the Packers will travel to Pittsburgh to endure more shame from the Steelers. We target Adams here directly, because the Steelers are likely not going to allow him to tally up the 126 yards he did in his last game. Though Adams has clearly surpassed wideout Jordy Nelson as a favorite of quarterback Brett Hundley, we must also note that the Steelers are allowing only 19.3 receptions on average per game. This represents the fifth-fewest in the league.
Stud: Dion Lewis, running back, New England Patriots
Lewis has been productive enough as of late to earn him some love. After tallying 14 total touches for 88 yards and one touchdown, Lewis is on tap for another grand performance. He will face the bumbling Miami Dolphins at home this week. Over their last four games, the Dolphins have allowed opposing running backs to rush for 4.6 yards per carry. This is the perfect recipe for Lewis to continue moving the ball down the field.
Dud: Todd Gurley, running back, Los Angeles Rams 
Gurley and his high-flying Rams hit a wall when they played a tough Minnesota Vikings team last week. The Vikings held the Rams to only one score, which was run in by Gurley. This week, Gurley and the Rams will have another challenging matchup on their hands when the New Orleans Saints come to town. Over their last four games, the Saints have given up only two rushing scores to their opposing running backs and just 82.5 rushing yards per game. Expectations for Gurley to bust out some big plays should be tempered.
Stud: Calais Campbell, defensive end, Jacksonville Jaguars
Campbell stands an excellent chance of adding to his 11.5 league-leading sacks when he and the Jaguars take on the Arizona Cardinals. On the road, Campbell should be jumping for joy at the thought of antagonizing his former team now that he is a heavy contributor to "Sacksonville." Campbell is thriving as a Jaguar and he should deliver a winning performance going up against quarterback Blaine Gabbert, who was sacked twice in his debut as a starter last week. Cardinals, you have been warned.
Dud: Tyrod Taylor/Nathan Peterman, quarterback, Buffalo Bills
The Bills are in a state of disarray, and fancy quarterback swaps are not the answer. But, whether we see Taylor and/or Peterman under center, a road trip to play against the Kansas City Chiefs won't be a fun one. After losing four of their last five games, look for Kansas City to hit the Bills where they are weak. The Chiefs can dominate by limiting the Bills' passing game. Opposing quarterbacks have completed only 54.6 percent of their passes facing the Chiefs. Whichever quarterback plays, we predict doom. Plus, the Bills are lacking a clear-cut No. 1 receiver on their roster for said quarterbacks to target.
Stud: Ryan Shazier, linebacker, Pittsburgh Steelers
It is almost not fair that Shazier has such a wonderful matchup on the calendar this week. He and the Steelers host the broken-down Green Bay Packers. This is a Packers unit that failed to score on its home turf last week. From revolving running backs to quarterback Brett Hundley, who has eight turnovers compared to just four scores, the Packers are a disaster. We expect Pittsburgh's top defender to significantly add to his team-high 79 total tackles. And, a fourth interception is not out of the question either for Shazier.
Dud: Nelson Agholor, wide receiver, Philadelphia Eagles
We are never sure when Agholor is going to turn up and deliver a powerful performance. But as of late, Agholor has been pretty quiet. And, we might not see much action out of him at home against the Bears. The Bears are losing more than winning, but their defense has only allowed two wide receiving touchdowns in its last three games. With how much quarterback Carson Wentz spreads the ball around, chances are Agholor sees limited action against one of the league's more challenging passing defenses.
NFL News

Delivered to your inbox

You'll also receive Yardbarker's daily Top 10, featuring the best sports stories from around the web. Customize your newsletter to get articles on your favorite sports and teams. And the best part? It's free!
PLAYERS:
Mitch Trubisky
,
Samaje Perine
,
DeSean Jackson
,
Ryan Fitzpatrick
TEAMS:
Chicago Bears
,
Washington Redskins
,
Tampa Bay Buccaneers
,
Dallas Cowboys
,
Tennessee Titans
,
Indianapolis Colts
,
Houston Texans
,
Baltimore Ravens
,
Detroit Lions
,
Minnesota Vikings
,
Pittsburgh Steelers
,
New Orleans Saints
,
Oakland Raiders
,
Denver Broncos
,
Seattle Seahawks
,
Carolina Panthers
,
Miami Dolphins
,
Atlanta Falcons
,
Cincinnati Bengals
,
Cleveland Browns
,
Jacksonville Jaguars
,
Arizona Cardinals
,
Buffalo Bills
,
Philadelphia Eagles
,
Los Angeles Chargers
,
Green Bay Packers
,
Los Angeles Rams
,
New York Jets
,
New York Giants
,
New England Patriots
,
Kansas City Chiefs
MORE FROM YARDBARKER
NFL News

Delivered to your inbox

You'll also receive Yardbarker's daily Top 10, featuring the best sports stories from around the web. Customize your newsletter to get articles on your favorite sports and teams. And the best part? It's free!