We've updated our Privacy Policy.
By continuing to use this site, you are agreeing to the new Privacy Policy.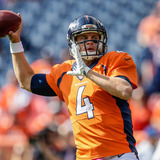 The Seattle Seahawks announced on Monday that they have signed a backup quarterback, and his name is not Colin Kaepernick.After hosting Kaepernick for a visit less than two weeks ago, the Seahawks have decided to bolster their QB depth by signing Austin Davis. In five NFL seasons, Davis has played for four different teams and appeared in just 13 regular season games. The 28-year...
The Seattle Seahawks have signed a backup quarterback, but it's not Colin Kaepernick. Instead, they have brought in veteran Austin Davis. Davis was originally an undrafted free agent out of Southern Mississippi in 2012. He didn't play at all last year and has 10 career starts under his belt. Previously, he's played with the then-St. Louis Rams and Cleveland Browns. In his three seasons...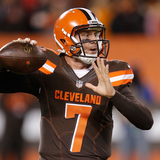 It was confirmed on Wednesday that on Sunday Austin Davis will be the Cleveland Browns' 24th starting quarterback since 1999. Some facts: During that span, 239 quarterbacks have started at least one game. More than 10 percent of the league's starting pivots over the last 17 years have done so at least once as members of the Browns. Three of those quarterbacks have only started...
LIKE WHAT YOU SEE?
GET THE DAILY NEWSLETTER: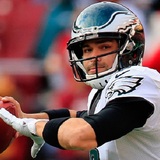 By Ben Haley In the great game of professional football, no position can impact a contest more than the quarterback. The dictator of offensive dynamics, engineers of the aerial pass and architects of the game plan—quarterbacks are the lifeline between a team's success and failure in the NFL. Think of the dollar amounts doled out to these gunslingers as opposed to other positions...
The St Louis Rams need to bounce back in a major way if they want to avoid going 0-2, a spot not a lot of teams like to be in, especially with the Rams strength of schedule. After a 34-6 blowout at home against Minnesota, the only place to go is up for the Rams. The Rams already grim quarterback situation is very much up in the air. Week 1 starter Shaun Hill is said to be a game...
The St. Louis Rams had one of the best drafts in franchise history, using 11 picks to fill necessary  needs at certain positions and adding depth to areas of the team like the secondary and the defensive line. It has been a while since there were legitimate position battles during OTA's and training camp, so this is an exciting time for the Rams and the expectations are high. In...
MORE STORIES >>
Seahawks News

Delivered to your inbox

You'll also receive Yardbarker's daily Top 10, featuring the best sports stories from around the web. Customize your newsletter to get articles on your favorite sports and teams. And the best part? It's free!