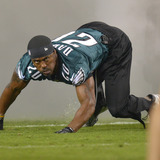 While Eagles defensive coordinator Bill Davis' job may be safe according to head coach Chip Kelly, one former Eagles great feels a change may be needed.Former Philadelphia Eagles safety Brian Dawkins heavily criticized the Eagles' defense Tuesday morning on ESPN 97.5 The Fanatic's "Mike Missanelli Show." "I'm not seeing it on a consistent basis," Dawkins said of the defense's effort...
WHAT A GAL
Planning a wedding is probably one of the most stressful things a bride will ever go through, but Meagan Cusack had no problem piling more onto her plate if it meant creating a memorable experience for her soon-to-be husband. Cusak recently decided to throw her fiance Will Sakellaris a surprise lunch that featured a guest appearance from Philadelphia Eagles legend Brian Dawkins....
After 16 highly successful NFL seasons with the Eagles and Broncos, Brian Dawkins has decided he won't be sticking around for the Peyton Manning era in Denver. Using his Twitter account on Monday morning, Dawkins announced his retirement with a message to the fans that read as follows: "The Lord has blessed me to play in the NFL for 16 years. I would like to thank the Eagles &amp...
After 16 seasons in the NFL, Brian Dawkins is calling it a career. The free agent safety announced his retirement Monday, thanking his teammates and coaches on both the Philadelphia Eagles and Denver Broncos. "The Lord has blessed me to play in the NFL for 16 years," Dawkins wrote on his Twitter account. "I would like to thank the Eagles & the Broncos 4 believing In me. I would...
MORE STORIES >>
NFL News

Delivered to your inbox

You'll also receive Yardbarker's daily Top 10, featuring the best sports stories from around the web. Customize your newsletter to get articles on your favorite sports and teams. And the best part? It's free!