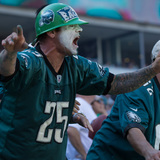 Chris Thompson knows full and well that he will be entering hostile territory on Monday at Lincoln Financial Field.In an appearance this week on ESPN 980, the Washington Redskins running back sounded off on Philadelphia fans before Week 7's game with the Eagles."Philly fans are some of the meanest fans I've ever experienced," Thompson said, according to Dan Steinberg of the Washington...
Redskins running back Chris Thompson finished with three carries, one catch and two touchdowns against the Bears on Saturday.
After the Redskins' 41-21 win over the Bears on Saturday, running back Rob Kelley praised his team's many weapons and versatility.
The Bears' defense is having a rough day today in Chicago. In the first 14 minutes of today's game, Washington has two touchdowns and is threatening to run away with it. Both touchdowns were scored by Chris Thompson, one on a seven-yard run and one on a 17-yard catch. DeSean Jackson already has three catches…
Washington running back Chris Thompson scored a 25-yard rushing touchdown with under two minutes to play and the Redskins defense shut down Carson Wentz in the red zone for a come-from-behind victory on the road that keeps their playoff hopes alive.With a tight end serving as a backup long snapper, the Eagles kicked a field goal with 5:03 remaining to take a 22-21 lead, but the Redskins...
The Latest on Sunday's NFL action (all times Eastern): 10:45 a.m. Cincinnati Bengals linebacker Vontaze Burfict returned to the game against the Washington Redskins at Wembley Stadium after injuring his right knee in the second quarter. Burfict was making a tackle on Redskins running back Chris Thompson, who gained four yards on second-and-8 with 10:35 remaining before halftime...
Prior to the Week 14 matchup against the Chicago Bears, the Washington Redskins went out and signed running back Pierre Thomas.The reason was because of an injury to Chris Thompson, the Redskins' receiving back that played a solid role in Washington's backfield. Thompson was ruled out of Week 14 with a torn labrum.Thomas found a consistent role on the team for the first two weeks...
After missing last Sunday's game against the Chicago Bears, Washington Redskins' running back Chris Thompson has returned to practice.Thompson missed the game due to a torn labrum in his shoulder.According to CSN Washington's Tarik El-Bashir, Thompson took part in individual drills at Wednesday's practice.The 25-year-old Thompson has set career highs in practically every category...
Redskins sign veteran running back Thomas The Redskins announced December 11 they have signed nine-year veteran running back Thomas and placed defensive lineman Stephen Paea on the ... Chris Thompson out against Bears, Jason Hatcher questionable Washington Redskins defensive end Jason Hatcher (97) reacts after making a tackle against Carolina during an NFL game at Bank of America...
The Washington Redskins may be without one of their running backs this Sunday as they take on the Chicago Bears.An MRI revealed that Chris Thompson, the Redskins' receiving back, has a torn labrum.The 25-year-old Thompson has 28 rushing attempts for 197 yards and 34 receptions for 228 yards and a single touchdown in 11 games this year.
MORE STORIES >>
Bears News

Delivered to your inbox

You'll also receive Yardbarker's daily Top 10, featuring the best sports stories from around the web. Customize your newsletter to get articles on your favorite sports and teams. And the best part? It's free!