On Nov. 20, the Denver Broncos announced the firing of offensive coordinator Mike McCoy, with quarterbacks coach Bill Musgrave taking over the position for at least the rest of the season. Musgrave is in his first stint with the Broncos as a coach. He was hired on Jan. 13, 2017 to be the quarterbacks coach after a successful run as the Oakland Raiders offensive coordinator from 2015...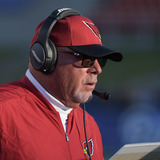 The Chicago Cardinals were a founding member of the NFL in 1920, and the storied franchise history includes a detour in St. Louis before solidifying their status as the Arizona Cardinals. The team has had a league-leading 40 coaches including three Hall of Fame coaches and four Hall of Fame players. Unfortunately, out of all of those coaches, none have lead them to a Super Bowl Victory...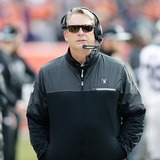 Dating back to their founding in 1960, the Oakland Raiders have had 20 coaches in NFL franchise history. This list includes two Hall of Fame coaches, one Hall of Fame player and two Super Bowl winners. The team appears to be on a positive trajectory and recently ended a playoff drought after not fielding a contender since its last Super Bowl appearance in 2003. How many of the leaders...
December 9, 1991: Nice Spot To Take A Half Off TEMPE, ARIZ. -- Nobody can go through every moment of a 16-game season without a lull. Nobody. To expect the Washington Redskins to be sky-high for the lowly Rams and Cardinals, especially once home field throughout the playoffs was wrapped up, would be absolutely unreasonable. Every great team has these sluggish games, but the win...
MORE STORIES >>
NFL News

Delivered to your inbox

You'll also receive Yardbarker's daily Top 10, featuring the best sports stories from around the web. Customize your newsletter to get articles on your favorite sports and teams. And the best part? It's free!