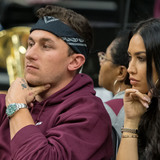 Newly married free agent quarterback Johnny Manziel, who ranks 15th overall in SNIPdaily's Top 100 legends, hit up Cabo for his honeymoon. Manziel and his gorgeous wife Bre Tiesi, were married in a private courthouse ceremony last week.The young couple posted a few video clips to their social media accounts, and both look to be happy and in love. According to TMZ Sports, the Manziels...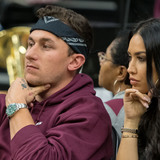 If you're like us and noticed that Johnny Manziel has been wearing what appears to be a wedding ring, then you'd be spot on with your observation.TMZ Sports reported on Wednesday that Manziel and girlfriend Bre Tiesi have indeed gotten married.Manziel proposed to Tiesi last year and the two were engaged in March 2017. Though they did not have a big wedding celebration, TMZ says the...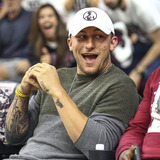 Johnny Manziel is making a return to football soon, but it won't be in the NFL. However, if he has the chance to join the Patriots in the near future, he won't hesitate."I'll go to New England in a heartbeat."Not only does he think there's less pressure in New England, but there's one big reason why he would opt to go there immediately. And unsurprisingly, it's Tom Brady."…you learn...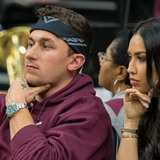 Johnny Manziel is desperate for a return to the NFL, so it should come as no surprise that he would love to join the New England Patriots if given the opportunity.A TMZ cameraman ran into Manziel outside a restaurant in Los Angeles over the weekend and asked the former Heisman Trophy winner whether he would go to New England, which was suggested by an NFL Network analyst.Manziel...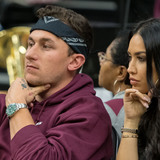 Michael Rapaport isn't gaining a ton of fans these days. Just recently fired by Barstool Sports, the outspoken actor is finding himself in the news for all the wrong reasons.That didn't change on Saturday, when free agent NFL quarterback Johnny Manziel put Rapaport on absolute blast after the actor seemingly made fun of substance abuse and mental health. Saturday's are for 12 Step...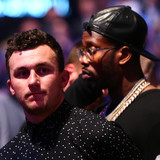 Von Miller wants the Denver Broncos to get QB Kirk Cousins. But in the meantime, he's rooting for Johnny Manziel."I talk to him probably once a week. I believe in him. … want to see him do great."Manziel, of course, is attempting a comeback to the NFL. But he hasn't seen the field since the 2015 season. Numerous off-field issues, including a domestic violence incident, has kept him...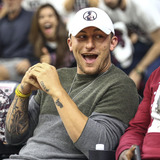 Free agent NFL quarterback Johnny Manziel is not a fan of the Cleveland Browns. He's made this known more than most of us are comfortable with since the team released the former Heisman Winner following the 2015 season.With Manziel attempting a comeback, this has not changed in the least. After posting a photo of himself wearing his old Texas A&M uniform, a commentor attempted...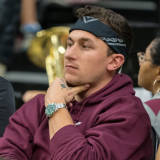 It's "Comeback SZN" for Johnny Manziel, as the former NFL quarterback has been attempting to show that he's worthy of being signed by a team.Manziel recently worked out with another football star who could be a top-five pick in the 2018 NFL Draft. Penn State product Saquon Barkley posted a video on Snapchat showing him training with Manziel, and a dog was in the vicinity as well...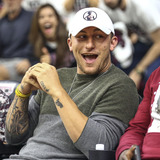 For the first time, Johnny Manziel's ex-girlfriend Colleen Crowley publicly detailed their relationship that transpired during his turbulent time with the Cleveland Browns.In an interview with Sarah Dorn of the New York Post, Crowley recalled Manziel's drug addiction and erratic behavior at the time, and also confirmed that the accusations of abuse were true.Crowley said Manziel...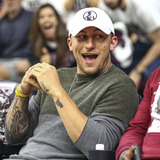 It's officially "Comeback SZN," and former NFL quarterback Johnny Manziel has been attempting to show teams that he's been working out.Manziel looks bigger — certainly moreso than when he was spotted at a pool party in Las Vegas in March 2016 — and it appears he's been building up his arm strength, judging by a video he recently posted of him working out on the field.In the workout...
MORE STORIES >>
NFL News

Delivered to your inbox

You'll also receive Yardbarker's daily Top 10, featuring the best sports stories from around the web. Customize your newsletter to get articles on your favorite sports and teams. And the best part? It's free!