The Titans had Henne in for a visit. Chad Henne will sign with the Kansas City Chiefs according to Mike Garafolo: The Chiefs needed a veteran back-up after trading Alex Smith earlier this offseason. The sky is the limit for Patrick Mahomes, but as Garafolo says, they need a guy that can mentor him and that can step in and play if Mahomes gets injured. The Titans search for a back...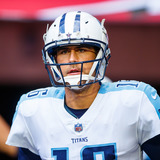 As NFL teams prepare for the start of free agency next week, the league is seeing a ton of player movement. That now includes a Tennessee Titans team that surprised the masses by earning a playoff spot last season.Tennessee announced on Friday that it has released veterans Matt Cassel, Eric Weems and Da'Norris Searcy. Cassel, 35, came to the Titans as Marcus Mariota's primary backup...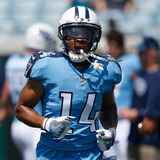 The Titans are making moves this week. Quarterback Matt Cassel and wide receiver Eric Weems have been released, according to a press release from the team. They join running back DeMarco Murray and safety Da'Norris Searcy as recent Titans cap casualties.  Cassell spent two years with the Titans as a backup to Marcus Mariota. He played sparingly and amassed a stat line of 446 yards...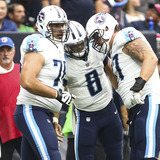 Marcus Mariota will undergo an MRI on his hamstring after leaving Sunday's 57-14 loss to Houston due to an injury.Mariota struggled as a passer going 6 of 10 for 96 yards and two interceptions against the Houston Texans, though he did rush for two scores. He did not return to the game after halftime due to his hamstring and was replaced by Matt Cassel, who was truly awful and threw...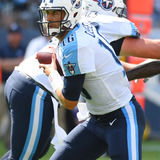 Tennessee Titans backup quarterback Matt Cassel wasn't holding anything back on Saturday against the Carolina Panthers.This is something a Panthers linebacker found out firsthand after Cassel trucked him in the open field. Normally, you'd expect a quarterback, especially a veteran who has a lot of years on him, to just slide here. That wasn't even on Cassel's radar. He lowered his...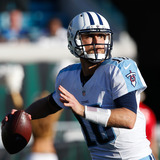 For the Tennessee Titans, it's all about getting Marcus Mariota at 100 percent after he suffered a broken right fibula late last season. Mariota is the Titans' franchise quarterback and needs to be healthy in order for this team to contend for a playoff spot in 2017.With that said, depth behind Mariota is almost equally as important. The former No. 2 overall pick has been injured...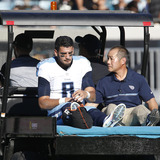 Tennessee Titans fans may be spared from the Matt Cassel Experience to begin the 2017 campaign.In an appearance on 102.5 The Game, Titans head coach Mike Mularkey said quarterback Marcus Mariota is making encouraging progress in his recovery from a fractured fibula and should be ready for the start of next season."I spoke with Marcus this afternoon," Mularkey said, per Josh Alper...
This week, when performance-based pay was distributed to players throughout the NFL, veteran quarterback Matt Cassel received a check for a grand total of $58.73 — or about $30 after taxes. Cash is cash, though, and Cassel needed only to take a single snap in order to earn that money, so he should treat himself. Some ideas… Photo autographed by Matt Cassel (no frame): $54.00 This...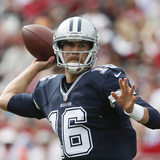 Matt Cassel was replaced by former Boise State star quarterback Kellen Moore on Saturday night, and the Broncos had a bit of fun on Twitter at Cassel's expense. The Dallas Cowboys hosted the New York Jets Saturday night, and Cassel didn't make it out of the first quarter. He looked clueless most of the time he was in the game, was sacked a couple of times when he should have gotten...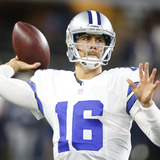 Matt Cassel would "absolutely" like to stay with the Dallas Cowboys for "a long period of time." The veteran quarterback seems to be enjoying his time in Dallas, because he wants to be there long-term, even if it means backing up Tony Romo. Cassel on his future: "We'll cross that bridge when it comes...Would I like to be a Dallas Cowboy for a long period of time? Absolutely....
MORE STORIES >>
Titans News

Delivered to your inbox

You'll also receive Yardbarker's daily Top 10, featuring the best sports stories from around the web. Customize your newsletter to get articles on your favorite sports and teams. And the best part? It's free!