We've updated our Privacy Policy.
By continuing to use this site, you are agreeing to the new Privacy Policy.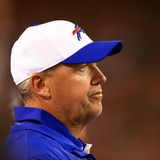 By Mike Batista Buffalo Bills coach Rex Ryan never has been afraid of making bold statements. Those statements are a little more measured now than they were when he was younger and heavier. Ryan told USA Today that this would be his last head coaching job. When he was hired as the Jets head coach in 2009, Ryan said he wouldn't kiss Bill Belichick's rings. Now, he's saying Buffalo...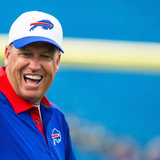 By Mike Batista Reporters always can count on Rex Ryan to fill their notebooks. The Buffalo Bills' head coach had them scribbling away with another bold statement on Tuesday, according to Vic Carucci of The Buffalo News. Rex: "We definitely expect to be in the playoffs. We have a good team." #Bills — Vic Carucci (@viccarucci) August 25, 2015 Ryan's right. The Bills do have...
By Rachel Wold Buffalo Bills head coach Rex Ryan seems to be taking the "go big or go home" approach with his new team this season. When addressing the media on Tuesday, Ryan said he doesn't expect anything less than his team reaching the playoffs. Per Vic Carucci of The Buffalo News, Ryan said: "We definitely expect to be in the playoffs. We have a good team." The Bills...
LIKE WHAT YOU SEE?
GET THE DAILY NEWSLETTER: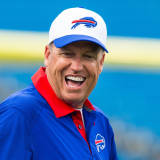 By Jesse Reed Less than a day after Tyrod Taylor appeared to claim the starting quarterback job for the Buffalo Bills, head coach Rex Ryan made it clear he's not close to making a decision. Right in the middle of Ryan's press conference on Friday morning, he announced his decision will absolutely not come before Week 1. "Yeah, I just decided that," Ryan said with a grin (h/t...
By Jason Rowan Rex Ryan clearly is a man of his word as the Buffalo Bills head coach kept an arguably unappetizing promise he made earlier this week by eating a dog biscuit on Thursday in front of the media. Ryan was put on the spot on Wednesday by reporters from Buffalo's WIVB and WGRZ as part of a charitable drive where funds are raised by folks downing doggie treats. The...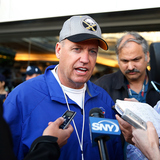 By Rachel Wold MMA fighter Ronda Rousey knocked out Bethe Correia in the first 34 seconds of UFC 190 in Brazil on Saturday, achieving her 11th first-round win in 12 fights. Where does Buffalo Bills head coach Rex Ryan fit into the story? In anticipation of the Bills' first day of padded practice, Ryan attended a viewing party to watch Rousey vs. Correia. Speaking on the fight...
By Jason Rowan Buffalo Bills offensive line coach Aaron Kromer issued a brief statement in response to the team announcing his six-game suspension without pay related to an offseason incident in which he was arrested for misdemeanor battery. What arguably makes his minute-long, prepared-statement somewhat strange is how Kromer refused to apologize for his actions, nor did he express...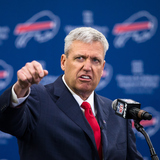 By Steve DelVecchio There was once a time when it seemed like Rex Ryan could be the head coach of the New York Jets until he retired, but things quickly took a turn for the worse. According to Ryan, that may have had something to do with questionable motives from the front office. In an interview with the New York Post on Friday after his first training camp practice with the Buffalo...
By Steve DelVecchio Rex Ryan jumped out of an airplane in Niagara Falls on Friday morning. Don't worry, Bills fans — your football team still has a head coach. Ryan lived to tell the tale. He participated in a tandem parachute jump with U.S. Army "Golden Knights" Parachute Team at the 2015 Thunder of Niagara Airshow. The Bills documented the adventure on their official Twitter...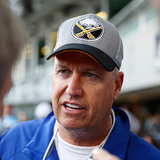 By Jesse Reed Rex Ryan knows how to make an entrance, and he's taking things to a whole new level this weekend. The Buffalo Bills head coach is reportedly participating in the "Thunder of Niagra" air show. Per Aaron Besecker of the Buffalo News, Ryan will be tandem jumping with a member of the Army's Golden Knight parachute team on Friday. This big event hasn't taken place since...
MORE STORIES >>
NFL News

Delivered to your inbox

You'll also receive Yardbarker's daily Top 10, featuring the best sports stories from around the web. Customize your newsletter to get articles on your favorite sports and teams. And the best part? It's free!