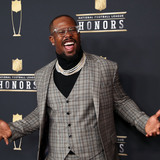 Denver Broncos linebacker Von Miller currently ranks 48th among SNIPdaily's NFL Top 100 for the year. And he obviously knows how to use that popularity for all the right reasons.In a photo captured by TMZ Sports, Miller was spotted near a docked yacht with an abundance of women clad in some pretty sexy beach wear. Hey, it is the NFL's offseason, so why not, right? Miller is probably...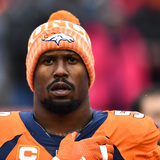 The nickname for the Denver Broncos secondary since 2014 has been the "No Fly Zone." But linebacker Von Miller says the No Fly Zone has been "disbanded" since the departure of cornerback Aqib Talib. Miller said it is time to move on an come up with something else. Talib signed a six-year deal with Broncos in 2014, which would have taken him through the 2019 season. But that came...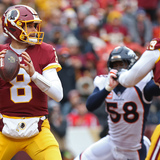 If a potential future teammate publicly confessing his love is a factor in Kirk Cousins' free agency decision, you have to think the Denver Broncos have a good shot at landing the star quarterback.Since it became clear that the Washington Redskins were parting ways with Cousins, no player has been more outspoken in trying to bring Cousins to his team than Von Miller. That continued...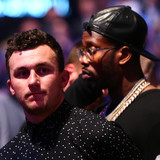 Von Miller wants the Denver Broncos to get QB Kirk Cousins. But in the meantime, he's rooting for Johnny Manziel."I talk to him probably once a week. I believe in him. … want to see him do great."Manziel, of course, is attempting a comeback to the NFL. But he hasn't seen the field since the 2015 season. Numerous off-field issues, including a domestic violence incident, has kept him...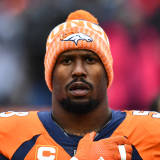 Von Miller continued his aggressive recruitment of Kirk Cousins this week by proclaiming the Denver Broncos would become Super Bowl contenders simply by signing the soon-to-be free agent quarterback.Miller, who has had to qualms about making comments about how the Broncos should bring in Cousins, made his most recent pitch during an appearance Tuesday on ESPN's "First Take.""He's...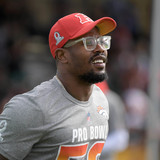 Von Miller still really wants Kirk Cousins on the Denver Broncos.Back near the end of January, Denver's defensive playmaker wouldn't hold anything back when talking about the soon-to-be free agent QB."(Cousins) knows exactly how I feel about Kirk Cousins and what he'd mean to our team. And what he would mean to a lot of other teams. He's the hot quarterback on the market right now...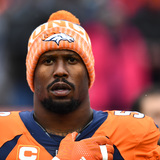 It's no secret that Von Miller has a huge crush on soon-to-be NFL free agent Kirk Cousins. On more than one occasion, Miller has expressed his desire to see Cousins become the newest quarterback of the Denver Broncos.He's even made it clear that Cousins is a cut above the other quarterbacks set to enter the market.Then on Monday, via social media, Miller was at it again professing...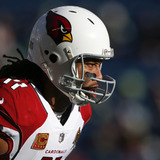 We still don't know for sure if Larry Fitzgerald is going to play for the Arizona Cardinals in 2018. But if he does, it's clear he wants his team to go after Kirk Cousins in free agency.The veteran receiver was a guest on SiriusXM NFL Radio and was asked who he'd like to see at quarterback for the Cards next season, and he replied, "If you're looking at the top free agent quarterbacks...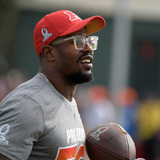 People love to hate the New England Patriots. They love to point at all the times the Patriots have seemingly benefited from questionable calls, and many are convinced New England must have done a deal with the devil because they always seem to get the calls they need to win big games. Just don't count Denver Broncos linebacker Von Miller among that group.Writing for The Players...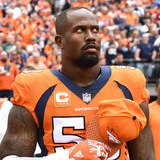 Denver Broncos linebacker Von Miller's decision to kneel during the national anthem before Sunday's game appears to have resulted in him losing an endorsement deal with a local business.Denver-area dealership Phil Long Ford on Monday announced it will not continue its endorsement deal with Miller due to the demonstration.The automobile dealership did clarify in a statement to Denver...
MORE STORIES >>
Broncos News

Delivered to your inbox

You'll also receive Yardbarker's daily Top 10, featuring the best sports stories from around the web. Customize your newsletter to get articles on your favorite sports and teams. And the best part? It's free!