We've updated our Privacy Policy.
By continuing to use this site, you are agreeing to the new Privacy Policy.
Former Chiefs offensive lineman Zach Fulton intends to sign with the Houston Texans after the start of the new league year at 4 p.m. ET on March 14.
The Texans were trying to sign Nate Solder to solidify their offensive line, but Solder will be going to the Giants once free agency opens on Wednesday. They'll make do by adding former Chiefs interior lineman Zach Fulton. The Texans were named as the favorites to land Fulton earlier this week and multiple reports on [more]
A source told Sporting News that Kansas City's Zach Fulton will be leaving the Chiefs for the Texans.
LIKE WHAT YOU SEE?
GET THE DAILY NEWSLETTER: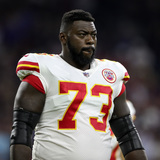 The Texans are expected to sign Chiefs free agent interior lineman Zach Fulton, according to Ian Rapoport of NFL.com (on Twitter). The deal will average roughly $7.5MM per season, though the length of the deal is not currently known.Last year, Fulton appeared in 15 games (12 starts) for the Chiefs, playing primarily at center. Fulton earned an iffy 68.8 overall score from Pro Football...
Since the Texans are fortunate enough to have a quarterback they trust on that cheap rookie contract, they can afford to be more active right now. And it appears they're serious about it. In addition to their previously reported interest in Chiefs guard Zach Fulton, they're working on a few other weak spots. According to [more]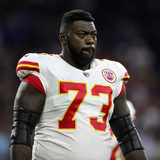 It sounds like this will be a lucrative offseason for free agent offensive linemen. The Texans are the favorites to sign Chiefs free agent Zach Fulton to a multi-year deal worth more than $7MM per year, a source tells Ian Rapoport of NFL.com (on Twitter). Rapoport cautions that other teams are still in the mix, so while the Texans are the likely landing spot for Fulton, it is not...
Zach Fulton had just one goal in his debut at center -- don't screw up.It was easier said than done for the converted guard, who found out he'd be snapping on the Chiefs' first-team this week."As long as the play kept going, I knew I did a good job," Fulton told Blair Kerkhoff of the Kansas City Star. "Overall, I think it went pretty well."He's not wrong in that regard. Fulton was...
You know its the offseason when your team's big uglies start goofing off like this.This video, posted by tandem bike-riders Zach Fulton, Jeff Allen, Mitch Morse, and Eric Kush, is certainly offseason-worthy. It's also pretty impressive that such large Chiefs linemen can balance a two-man bike with such grace.https://instagram.com/p/4XzjjuwaSM/?taken-by=zachfulton72https://twitter...
Many draftniks thought the Chiefs grabbed their center of the future when they selected Mitch Morse in the second round.It never hurts to be prepared, though -- and that's why Andy Reid wants to see former undrafted guard Zach Fulton take some snaps."We rotate a few guys in at that center spot," Reid told Chiefs Digest. "It's an important position. If something happens, if he's not...
Football is officially back. The HOF game officially kicked off the NFL season. Everywhere else in the league, teams prepare for their first preseason games coming up this week. With preseason game number one coming up let us take a look at the winners and losers of the Kansas City Chiefs' training camp so far. Winners: Zach Fulton: Fulton was the Chiefs' sixth-round pick in the...
MORE STORIES >>
Texans News

Delivered to your inbox

You'll also receive Yardbarker's daily Top 10, featuring the best sports stories from around the web. Customize your newsletter to get articles on your favorite sports and teams. And the best part? It's free!