We've updated our Privacy Policy.
By continuing to use this site, you are agreeing to the new Privacy Policy.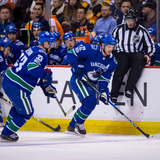 Daniel and Henrik Sedin are no different than any other hockey player who has played all or most of his career with the same team. Despite their age and decreased production, they would like to stay with their club – the Vancouver Canucks – for as long as they'll have them. That's why the report from Sportsnet's Chris Johnston yesterday that the duo would like to return to Vancouver...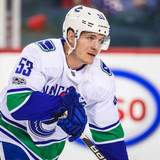 The Vancouver Canucks have been without their top center Bo Horvat since December 5th, after he suffered a broken foot/ankle and was shut down for six weeks. At the end of that game against the Carolina Hurricanes, the Canucks were 14-10-4 and looking like they could potentially compete for a wild card spot in the Western Conference. Since then, the team has gone 4-11-2 and dropped...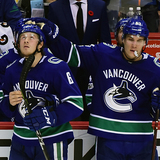 Even before Brock Boeser's hat trick, it was becoming clear that the Vancouver Canucks are headed in a different direction.This is a team that has spent the last few seasons scraping the bottom of the barrel. (Remember when they seemed like they could be competitive, but were really good at blowing leads in the third period?) Now, during a campaign largely viewed as the Sedin Brothers...
LIKE WHAT YOU SEE?
GET THE DAILY NEWSLETTER:
Vancouver Canucks GM Jim Benning joins Sportsnet 650 to discuss the Bo Horvat contract talks, adding veteran help during an obvious rebuild period, and what the team's expectation are heading into this season.
DENVER (AP) Bo Horvat had a goal and an assist, Jacob Markstrom made 29 saves and chipped in with an assist, and the Vancouver Canucks beat the Colorado Avalanche 3-1 on Tuesday night. Sven Baertschi and Matt Bartkowski also had goals for the Canucks, who stopped a four-game winless streak. Vancouver's recent 0-3-1 stretch had dropped them to fifth in the Pacific Division. Francois...
RALEIGH, N.C. (AP) Bo Horvat scored his second goal with 1:35 left in overtime and the Vancouver Canucks beat the Carolina Hurricanes 3-2 on Friday night. Horvat also had two goals against Carolina in a 3-2 win nine days earlier and has scored four of his eight goals this season against the Eastern Conference foe. Linden Vey also scored and Jacob Markstrom made 38 saves for Vancouver...
Last season, nobody expected young Bo Horvat to earn a roster spot with the Vancouver Canucks. But Horvat had an impressive camp, and by November, the then-19-year-old earned a spot with the NHL club and never looked back.Still, that doesn't mean the young center was not impressed at times on the NHL ice. "I actually surprised myself sometimes, especially when I was making those...
BREAKING VANCOUVER NEWS Sportsnet reporting two Canucks rookies will be in opening game lineup. Congrats Bo Horvat & Hunter Shinkaruk. Canucks' first-round picks Horvat and Shinkaruk will start the season in the NHL, reports @JSportsnet — Hockey Central (@SNHockeyCentral) September 27, 2013   We mentioned in a post this AM after the 5-0 win over the Rangers Mike Gillis and John...
Preseason starts tonight 2013 Canucks first round pick Bo Horvat made an impression on Sunday. "We want to play him with a little more speed and give a long evaluation in a lot of different situations and I thought that line played well," said Tortorella. http://www.theprovince.com/sports/Canucks+Notes+Horvat+earns+coach+kudos+with/8915520/story.html Canucks Scrimmage Notes www...
Canucks' First Round Pick (9th Overall) Another NHL draft has come and gone and, as usual, there were sureties, surprises and speculation aplenty. The Colorado Avalanche did what they said they would do and drafted Nathan McKinnon 1st overall, defenseman Seth Jones dropped to 4th overall to the Nashville Predators despite being touted as a potential #1 pick, and numerous trades were...
MORE STORIES >>
Canucks News

Delivered to your inbox

You'll also receive Yardbarker's daily Top 10, featuring the best sports stories from around the web. Customize your newsletter to get articles on your favorite sports and teams. And the best part? It's free!