We've updated our Privacy Policy.
By continuing to use this site, you are agreeing to the new Privacy Policy.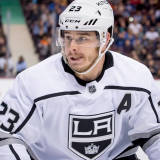 The Department of Player Safety has decided on supplementary discipline for the actions taken in last night's Los Angeles Kings-Pittsburgh Penguins game, with Dustin Brown earning a $10,000 fine for cross-checking Justin Schultz, and Evgeni Malkin receiving a $5,000 fine for a spear delivered on Brown earlier in the game. The Department of Player Safety has decided on supplementary...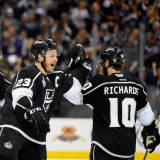 Former Philadelphia Flyers and Los Angeles Kings forward Mike Richards has experienced a fall from grace few professional hockey players of his caliber ever have.Richards, who was a key member of the 2012 and 2014 Stanley Cup-winning Kings teams, was arrested for allegedly carrying painkilling prescription drugs across the United States-Canadian border in June.This, coming off of...
Los Angeles Kings captain Dustin Brown may be a New York native — he hails from Ithaca — but that does not mean that New York Rangers fans have forgiven him, nor will they forget, how he and his teammates dispatched their beloved team with relative ease in five games in the Stanley Cup Finals […] The post Dustin Brown exacts Twitter revenge on troll job by Rangers-loving FedEx guy...
LIKE WHAT YOU SEE?
GET THE DAILY NEWSLETTER:
A FedEx delivery man recently realized that he was delivering a package to Dustin Brown's house, so he just had to say something. But unlike a person who sees a celebrity or athlete in the streets and doesn't know what to say, the FedEx guy had at least some time to think. Yet all he […]
The Los Angeles Kings recently won their second Stanley Cup title in three seasons, and may be on their way to establishing a dynasty. As such, President Obama called captain Dustin Brown to congratulate the team on its recent win, as well as invite the players to the White House. Brown is known for his sense of humor, and he turned it on during the congratulatory phone call. Obama...
Friday's Game 5 double-overtime thriller between the Kings and Rangers was one for the ages. Viewers were treated to a late-night delight that featured goaltenders standing on their heads, pucks clanging off posts and plenty of end-to-end action. The Kings came out on top, 3-2, which marked their second Stanley Cup title in three years. And there's no better way to celebrate than...
Dustin Brown is one of the dynamic offensive threats on the Los Angeles Kings, but he has struggled to say the least this season. Brown only has 3 goals in 15 games so far and only 1 in the last 10 games. Brown has not looked well out there on the ice and Coach Darryl Sutter is still trying to figure out what line Brown can fit best on. Sutter has stated on various occasions that...
NO SHAKE FOR YOU
On Thursday night, former Dodgers manager and beloved Los Angeles sports icon Tommy Lasorda participated in the ceremonial puck drop before the Los Angeles Kings took on the Columbus Blue Jackets. After the 85-year-old Hall of Famer trotted out to center ice to drop the puck as Kings captain Dustin Brown and Blue Jackets alternate captain Jack Johnson assumed the customary position...
MORE STORIES >>
Kings News

Delivered to your inbox

You'll also receive Yardbarker's daily Top 10, featuring the best sports stories from around the web. Customize your newsletter to get articles on your favorite sports and teams. And the best part? It's free!