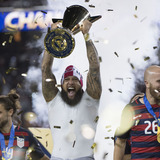 Want more news first thing in the day? Sign up for the Yardbarker Morning Bark newsletter here.Good morning and welcome to the YB Box Score, what we're reading while begrudgingly admit to ourselves Bruce Arena might be onto something with the USMNT. Happy birthday today to Mwadi Mabika, Christopher Dean, Peggy Fleming and Alex Rodriguez. On this date in 1999 Tony Hawk landed the...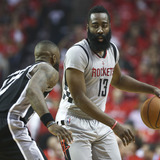 Want more news first thing in the day? Sign up for the Yardbarker Morning Bark newsletter here.Good morning and welcome to the YB Box Score, what we're reading while asking our local dairy to put James Harden's 'MISSING' notification on the side of cartons.Happy birthday today to Steve Smith, Josh Phelps, Jason Kyle and Tony Hawk. On date in 1970 Ernie Banks of the Chicago Cubs hit...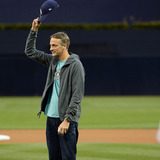 Skateboarding legend Tony Hawk shared a funny story on Twitter Tuesday.Hawk was in Anchorage, Alaska for what appears to be a snowboarding project and apparently had a funny encounter with a TSA agent. Here's how it went: That's good. It's also somewhat understandable why the agent didn't recognize Hawk; he's 48 now and even has a caution note on his Twitter bio saying "I'm old;...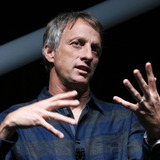 Tony Hawk is without question the most revered, successful and influential skateboarder in history. And even at the ripe "old" age of 48, the icon continues to dazzle with his unparalleled skills. Hawk took to social media to showcase how he managed to nail a 900 — a two-and-a-half aerial spin — on the 17th anniversary of the first time he stuck the revolutionary trick. It took...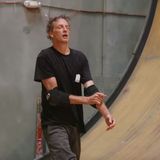 Tony Hawk landing the first 900 at the 1999 X Games was one of the biggest moments in pro skateboarding history, and 17 years later the Birdman can still throw down huge tricks on the vert ramp at the age of 48.In front of his son Spencer, who was there to see the first 900, Hawk nailed what he says is his last 900.
Like a stunt from one of his video game, 47-year-old skateboarding icon Tony Hawk recently took on a horizontal loop -- the first-ever of the kind according to Sony. (We can't verify that.)Admitting to some nerves, Hawk took some spills as he worked to gauge the right speed and angle to navigate down the "vertical spiral sideways loop," but eventually he nailed it.Last year, Hawk...
Universally considered to be among the most influential people to ever ride a skateboard, Tony Hawk, the first skater to ever land a 900, has made his fair share of history during his time in the public eye. Now, the first skateboard Hawk ever rode is making a little history of its own. In an Instagram post Friday, Hawk revealed that his first skateboard is being donated to the...
SKATE OR DIE!
The very first skateboard that Tony Hawk ever owned is going to be enshrined forever in the Smithsonian. The 45-year-old Hawk just posted a photo of his original beat-up skateboard — made by the Bahne skateboard company — and said the the scuffed-up board on which he began kick-flipping his way to fame and fortune will join the rest of the Washington D.C. museum's collection of...
Tony Hawk is arguably the greatest professional skateboarder of all time, but even the greatest make mistakes. That's why the photo you see above — which Hawk posted on his Instagram account earlier this week — has been met with a great deal of backlash. There's nothing wrong with Hawk having fun with his daughter in his private skate park, but some of his 3 million followers were...
MORE STORIES >>
Skateboarding News

Delivered to your inbox

You'll also receive Yardbarker's daily Top 10, featuring the best sports stories from around the web. Customize your newsletter to get articles on your favorite sports and teams. And the best part? It's free!