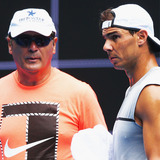 Rafael Nadal's uncle Toni will step down as the coach of the tennis player after the season, the uncle told an Italian magazine in an article publicized over the weekend.Toni Nadal, who has coached Rafa throughout his entire career and helped turn him into a 14-time grand slam champion, feels like he has been marginalized by some of the people on Rafa's team. That includes Carlos...
MADRID (AP) Rafael Nadal has added former player and fellow Spaniard Carlos Moya to his coaching team ahead of the 2017 season. The 14-time Grand Slam champion said in a statement Saturday that Moya will work together with Toni Nadal and Francis Roig. ''To have someone like Carlos, who is not only a friend but also a very important person in my career, is something special,'' Nadal...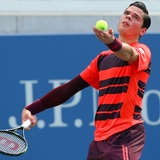 LONDON (AP) Milos Raonic has parted ways with coach Carlos Moya after the Spaniard helped guide the Canadian player through his most successful year on the tour. In a statement on his Facebook account, Raonic thanked Moya for helping ''to get the best out of me'' during a season in which he reached his first Grand Slam final at Wimbledon and moved up to a career high ranking of...
Rafael Nadal halted play during an exhibition match this week so that a woman could find her lost child. Nadal was teaming with Simon Solbas and facing Carlos Moya and John McEnroe at an exhibition in Mallorca at the Rafael Nadal Sports Centre. During the match, Nadal was getting ready to serve but stopped play after hearing a woman searching for her missing child. In this video...
I had a bit of a rough night last night, so I was very happy to find this little twitter gem on my screen at 9:00 am this morning.  Accompanied with this twitpic, Carlos Moya tweeted: Hi everybody, here there's a pic of Carlita and her new tennis teacher Carla, how do you do it?  First Pico, now Rafa!  I'm getting all kinds of jealous.....
Today in his blog Juan Monaco, wrote that he went to see Carlos Moya and his new daughter Carlita while in Madrid.  Pico called Carlita a princess and said she was precious.  Let's say it collectively......Awwww. 
MORE STORIES >>
Tennis News

Delivered to your inbox

You'll also receive Yardbarker's daily Top 10, featuring the best sports stories from around the web. Customize your newsletter to get articles on your favorite sports and teams. And the best part? It's free!