Maria Sharapova's shaky 2018 just hit another bump The five-time Grand Slam champion has withdrawn from next week's Miami Open due to a left forearm injury. Since returning from a 15-month doping sentence, Sharapova has seen mixed results. She made a statement with an impressive first-round upset against Simona Halep at the US Open before...
Five-time Grand Slam champion Maria Sharapova has withdrawn from the Miami Open that begins next week because of a left forearm injury.
A left forearm injury has led to Maria Sharapova withdrawing from the Miami Open.
KEY BISCAYNE, Fla. (AP) — Five-time Grand Slam champion Maria Sharapova has withdrawn from the Miami Open that begins next week because of a left forearm injury. Sharapova announced the decision on Friday. She'll be replaced in the main draw by American Jennifer Brady. Sharapova lost in the first round at Indian Wells last week and in the third round of the Australian Open in January...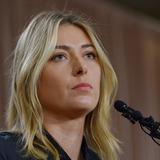 Maria Sharapova will not be participating in the French Open later this month, as the former world No. 1 has been denied a wild card berth to the event.Sharapova did not play well enough in her three tournaments since returning from suspension to quality for the French Open, so she would have needed a free pass. FFT president Bernard Giudicelli Ferrandini announced on Facebook Tuesday...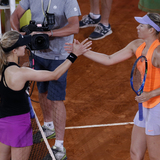 Genie Bouchard says she received more support from her fellow players before her match against Maria Sharapova on Monday than she ever has throughout her career, and it's obvious that had everything to do with the level of disdain toward her opponent.After she defeated Sharapova at the Mutua Madrid Open, Bouchard revealed that she drew added motivation from all the tennis players...
Eugenie Bouchard is not a fan of Maria Sharapova, which we learned on Wednesday. Bouchard brought the heat when talking about Sharapova, in a recent interview with TRT World at the Istanbul Open. The comments came out of nowhere, as it'll still be awhile until Sharapova can play again, even with her suspension having been reduced to 15 months back in October. That didn't stop Bouchard...
Genie Bouchard has drawn a big line in the sand, and she has placed Maria Sharapova on the opposite side.Sharapova is returning to women's tennis following a suspension for her use of the banned substance, Meldonium. She has been met with mixed opinions as she returns to tour, with many being critical of her for using a performance-enhancing substance. Sharapova has pleaded ignorance...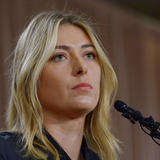 Maria Sharapova claimed victory in arbitration Tuesday when she successfully had her tennis suspension reduced from 24 to 15 months. Now she's going on the offensive and saying that she may have been targeted with her suspension. "I don't want to think that," Sharapova said during an interview with ESPN. "I hate to think that. It's not a great feeling to even consider that. "It...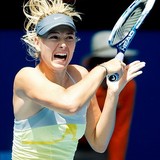 Maria Sharapova's unlucky 2016 has just taken a turn for the worst. The tennis star was caught up in a doping scandal and is barred from competing at the Summer Olympic Games next month in Rio de Janeiro, following the announcement that the Court of Arbitration for Sport had postponed her appeal ruling until September. Sharapova and the International Tennis Federation jointly came...
MORE STORIES >>
Tennis News

Delivered to your inbox

You'll also receive Yardbarker's daily Top 10, featuring the best sports stories from around the web. Customize your newsletter to get articles on your favorite sports and teams. And the best part? It's free!