Found December 08, 2012 on Thoughts from the Dark Side:
 Dear Mr. Allen, I understand why Pryor hasn't been active until late in the season – I really do.  I know you were saddled with him after the Raiders gave up a pick in the 3rd round for him and while he's just the kind of guy that Al Davis liked – big, strong, fast and extremely athletic – he's incredibly unpolished. I know you likely don't think he's the future of the franchise.  I know you're more worried about winning your fourth game than you are developing a young guy like Pryor who you doubt will ever develop into a starting QB.  I know that your coaching seat is hotter right now than you ever imagined it would be in your first season taking over a team that admittedly had a lot of issues before you got there. Look, I understand all that and I sympathize with you –we all have employees, coworkers or superiors that we think only got the job because someone made a mistake when hiring (or in this case drafting) them.  And I have my own reservations about Pryor's future to be honest.  I mean, he lacks accuracy on many of his passes which is really a fundamental necessity for an NFL Quarterback. But at this point you have nothing to lose playing him.  I mean the Raiders are not going to make playoffs this year.  At this point I'm not even sure you could win enough to make it out of the top 10 in the draft.  And does 5-11 really sound that much better to you than 3-13? We know what we have in Carson Palmer: a good leader, a guy that can make all the necessary throws but also throws backbreaking interceptions and isn't good enough to put the team on his back and make up for his surrounding deficiencies. We don't know what we have in Pryor.  You probably feel like you do – after all you see him in practice every day.  I'm sure you feel that you have a pretty good bead on what he can do.  The thing about practice, though, is that you never really know what a guy is going to do until it's a game time situation. There are some guys that look great in practice.  They know their position, they have the athleticism to make plays and they understand their role on the team.  And yet, when the game is on the line they cannot rise to the occasion.  The game grows too big for them. Other players grow with the game.  When the game is close and the final seconds are upon them, these players want the ball – they have the will and desire to win and they find ways to make plays. We don't know which of these players Pryor is, yet.  We can get some sense of how players are in college but we can't really know how players will react at the highest level until they are there, surrounded by their peers.  It's what makes the draft the crapshoot that it is. For example, it looked like JaMarcus Russell was going to be made of sterner stuff than he proved to be.  He had some great victories at LSU and made some fantastic plays to lead his players to victory. Except, as it turns out, that may have had more to do with the players around him and their level of play elevating his than the other way around.  The players' skill levels are much more even in the NFL and sometimes the desire to be great and win is more important than if that player is completely accurate when he throws the ball. As I said, Mr. Allen, I have my doubts about Pryor.  I think he'll probably not prove to be a great return on investment for the Silver & Black and that his struggles with accuracy will make him a fan target instead of a fan-favorite very quickly. But until he gets some time to show his worth we'll never really know. You've indicated you understand this by mentioning the importance of getting Pryor and other young players playing time in order to evaluate them for next year.  You've done a good job with getting more time for many of the young players like Bergstrom, Bilukidi, Streater and Criner.  But for some reason you have resisted letting Pryor get any playing time.  And this with the Raiders having lost their last 6 games by an amazingly bad combined 96 points. There is no better time than now, Mr. Allen.  Put Pryor in, let him get a good amount of time so we know what we have in this young man and so we can appropriately plan for the future of the franchise. Respectfully, Asher Mathews For more Raiders news and analysis, follow Asher on Twitter @AsherMathews
Original Story:
http://www.tfdssports.com/2012-articl...
THE BACKYARD
BEST OF MAXIM
RELATED ARTICLES
Raiders head coach Dennis Allen mentioned he wants to give some of their younger talent including QB Terrelle Pryor and RB Taiwan Jones more work in the coming weeks, per Steve Corkran. Oakland has maintained that they believe Pryor can be a quarterback in the NFL, but there are plenty of questions as to whether or not he's capable of handling the position. Jones, who played...
According to Jason La Canfora of CBS Sports, even though the Oakland Raiders decided to suspend linebacker Rolando McClain instead of releasing him right away after his on the field confrontation with head coach Jim Schwartz, he could still end up getting released. Raiders linebacker Rolando McClain, a 2010 first-round pick, is completing his two-game, team-issued suspension on Sunday...
Raiders fans were killing Carson Palmer on Twitter last night. @ForbesMoney echoed the sentiments of the entire Raiders Nation with this tweet: Is Oakland done wit this ***** carson palmer yet? Can they let my ***** terrelle pryor cook? Lol. How smart do the Bengals look for totally cutting ties with this bum? Accounting for another two turnovers last night, Palmer's horrible...
Oakland Raiders head coach Dennis Allen told the media that he's not concerned with Darren McFadden's ankle after he re-injured it last night. Coach Dennis Allen said he expects RB Darren McFadden to be fine. McFadden reinjured his right ankle Thursday night. — Steve Corkran (@CorkOnTheNFL) December 7, 2012 The good news is that McFadden will have ten days to get ready for...
At 3-10 and in the midst of another disappointing season, the Raiders don't have a lot to lose at this point. That's why Oakland head coach Dennis Allen is thinking about giving second-year quarterback Terrelle Pryor some playing time over their final three games of the season. Allen said the team wants to get Pryor some in-game experience, but made sure not to insinuate that...
Oakland tailback Darren McFadden limped off the field with about six minutes left in the fourth quarter of Thursday night's game against Denver after twisting an ankle.Fantasy Spin:Just another day in the life of Darren McFadden fantasy owners. Living with his injuries is part of the "fun" of owning the oft-injured, slow-healing Raiders' running back.
According to multiple sources, the Oakland Raiders do not fear that the latest ankle injury suffered by running back Darren McFadden is nearly as serious as the one that kept him out for over a month. Still, considering that we are talking about a player as fragile as McFadden, and also considering that the injury did occur to the same ankle that forced him to miss the last four...
GET WELL SOON
Before kickoff on Thursday night, a Raiders fan reportedly jumped from the third level of the Oakland Coliseum and is now hospitalized with serious injuries.
Oakland head coach Dennis Allen insists that Darren McFadden is "fine" after tweaking his ankle late in Thursday night's loss to the Broncos.Fantasy Spin:The Thursday night game gives McFadden plenty of time to rest up before the Raiders' next game a week from Sunday against Kansas City. Unless we hear otherwise, he should be ready to go.
In a game of AFC West rivals, the Denver Broncos came into Oakland searching for their tenth victory. The Oakland Raiders came home desperately in the need of win, and why not against an old foe to get them right back on track. But once again, the Raiders failed to hold on and took another loss 26-13. The Broncos set the stage from the start as they moved quickly down the field...
For more thougts from Brad, follow him on Twitter @jazzhessian Summary A spirited effort by the Raider defense against Peyton Manning and the Broncos proved not to be enough as the Raiders fell again, bringing their record to 3-10. After a rough week for Dennis Allen dealing with the unexpected loss of his father Grady, the Raiders seemed to come into the Thursday night matchup...
Danny & Dano, the hosts of  Sonoma County Sports Fans radio show and podcast were kind enough to invite me back again this week to talk Raiders.  We discussed a number of different topics including the possibility of Jon Gruden coming back to coach the Silver & Black, how much blame Carson Palmer bears for the offenses struggles and what the Raiders should do, at a broad...
Raiders News

Delivered to your inbox

You'll also receive Yardbarker's daily Top 10, featuring the best sports stories from around the web. Customize your newsletter to get articles on your favorite sports and teams. And the best part? It's free!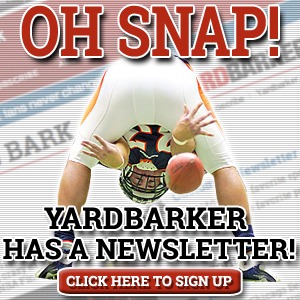 Latest Rumors
Best of Yardbarker

Today's Best Stuff

For Bloggers

Join the Yardbarker Network for more promotion, traffic, and money.

Company Info

Help

What is Yardbarker?

Yardbarker is the largest network of sports blogs and pro athlete blogs on the web. This site is the hub of the Yardbarker Network, where our editors and algorithms curate the best sports content from our network and beyond.