Found November 01, 2012 on The Sports Headquarters:
PLAYERS:
Victor Martinez
,
Bruce Bochy
,
Brian Sabean
,
Matt Cain
,
Buster Posey
,
Hank Aaron
,
Mike Trout
,
Bryce Harper
,
Tim Lincecum
,
Ryan Vogelsong
,
Dontrelle Willis
,
Madison Bumgarner
,
Roy Halladay
,
Cliff Lee
,
Stephen Strasburg
,
Gio Gonzalez
,
Mat Latos
,
Johnny Cueto
,
Barry Zito
,
Jason Schmidt
,
Melky Cabrera
,
Hunter Pence
,
Brandon Crawford
,
Gregor Blanco
,
Marco Scutaro
,
Matt Holliday
,
Brian Wilson
,
Pablo Sandoval
,
Justin Verlander
,
David Ortiz
,
Albert Pujols
TEAMS:
Detroit Tigers
,
San Francisco Giants
,
Los Angeles Angels
,
Baltimore Orioles
,
Boston Red Sox
,
Philadelphia Phillies
,
Washington Nationals
,
Cincinnati Reds
,
St. Louis Cardinals
,
Los Angeles Dodgers
I'm not going to recap the four games of the World Series. If you didn't watch, it's mainly because you're a dolt and do not possess the brain pan to enjoy one of the three best sports in the world today. That's not my fault. The Giants handled the Tigers in four games after being pushed to the brink of elimination in the NLDS by the Reds and again in the NLCS by the Cardinals. After the Tigers made light work of the Yankees in the ALCS, it was almost as if they weren't even ready for the Giants despite the fact that they had a week to prepare. It was as if the two teams were playing completely different sports and it caught the Tigers offguard. Should the Tigers be worried heading into 2013? I don't think so. In the wider spectrum of the American League, they still hold the one of the top hitters and pitchers, which always helps. Plus, even if they lose Delmon Young to free agency, they will get Victor Martinez back. The Tigers could well find themselves back in the World Series next year without adding anyone else to their roster. But the Giants? Yeah, that's a different story all together. The Giants have all the pieces necessary to compete for the next five years – possibly longer. They have built their core through the draft while adding solid pieces via mid-season acquisitions. They've also been fortunate to run into a little bit of luck. But, what the San Francisco Giants have right now seems to be a bit of a perfect storm. It's hard to put any coach ahead of Bruce Bochy right now. It's hard to talk about the best General Manager in the league and leave out Brian Sabean. It's impossible to talk about the best pitchers in the league and leave out Matt Cain. And if you want to talk about the best winner in all of baseball, I would be hard pressed to put anyone above Buster Posey. The 25-year old Posey has played two full seasons at the Major League level thus far in his young career. Both of those times, the Giants have won the World Series. Coincidence? Perhaps. The Giants' 2010 World Series came on the heels of dominant pitching and timely hitting, although Posey hit .300 with a home run and two RBI against the Rangers. This World Series against the Tigers, Posey only managed four hits through the four games, but he hit another home run and drove in three RBI. For my money, Posey was the NL MVP this season. He has already been selected for the Hank Aaron Award in the National League after he led the NL in batting average. He has already won Comeback Player of the Year after his 2011 campaign was cut short due to a gruesome injury. Sure, Mike Trout has the flash. Sure, Bryce Harper has the hype. Give me Buster Posey, I prefer Championships. Outside of the team's success with Posey in the middle of their lineup, their pitching has been stellar during their two World Series runs. First time around, Tim Lincecum was their unquestioned ace. TWO YEARS LATER and Lincecum is pitching out of the bullpen because he cannot be trusted to start a game. Instead, Ryan Vogelsong – someone who was out of baseball during the 2010 season – is spinning gems in the playoffs. That's hats off to their scouting department, their coaching staff, Vogelsong himself… everyone involved. It's hard enough to replace an ace. But to take a guy who hasn't pitched since 2006 and turn him into one of the more consistent starters in all of baseball is almost fake life. That would be equivalent to Dontrelle Willis coming back in 2013 and pitching the Red Sox to the World Series. So unfathomable that it may just happen, because as I've been stressing since September, baseball doesn't make sense anymore. Vogelsong had been out of baseball for five years. Now, after 59 regular season starts, Vogelsong is 27-16 with an ERA hovering around 3. That's remarkable. What's even more outstanding is that he went 3-0 in four playoff starts this postseason. He allowed three earned runs in 24.2 innings pitched. Most importantly, the Giants won all four games he started. Congratulations Ryan Vogelsong. For some reason, your story seemed to lose some of its steam after your 2011 campaign. With this World Series ring, it truly is the ending to one of the more absurd storylines I've ever witnessed in my life. Back to some guys who were actually pitching in 2010, Matt Cain and Madison Bumgarner have emerged as the real deal. Think of how major of a blow it is when a team loses their ace…  Crippling isn't it? Almost a death sentence in the MLB. The Giants lost their former CY Young winner and ace of the 2010 World Series team and may have actually gotten better. That's terrifying. Cain and Bumgarner are a combined 3-0 in four World Series starts. The Giants are a perfect 4-0 in those starts (Cain failed to record a win in Game 4 against the Tigers). Look around the league real quick. Go ahead I'll wait patiently. *Hums Final Jeopardy music* All done? Alright, tell me which rotation you would elect to take two pitchers off of to replace Cain and Bummy? Roy Halladay and Cliff Lee? Yeah let's take two 35 year olds to replace to guys under 27. Great idea. Stephen Strasburg and Gio Gonzalez? Don't get wise with me. Mat Latos and Johnny Cueto? Mat Latos has a cat. Named Cat Latos. That's all that needs to be said on the matter. Another hats off to the Giants' scouting department. If Big Time Timmy Jim ever regains his form, they Giants will have three aces. Again. Regardless of their offense, they'll always have their pitching to fall back on. And their pitching is locked up for a long time. Excellent recognition from Sabean. Speaking of regaining form, how about a standing ovation for Barry Zito huh? 15-8 in the regular season after posting ZERO winning seasons since 2006. 2006 is better known as Zito's last season across the Bay in Oakland. While his 4.15 ERA was still a little higher than the Giants would want for a guy they gave over $100 million to, they'll live with the 15-8 record. They'll especially take the 2-0 record in the playoffs with a 1.69 ERA over 16 innings. The only reason his ERA is that high is because of the 2.2 innings he pitched against Cincinnati in the first round. Take out those two runs (in a game which San Fran won 8-3) and you have Zito yielding ONE run over 13.1 innings pitched in the NLCS and World Series. FUN FACT! In games in which Zito gave up at least one run in the 2012 postseason, the Giants won 8-3. TAKE THAT ELIAS! Zito's performance this postseason almost makes his contract worth every penny. Especially when you factor in Lincecum's inability to start this season. Zito had been utter trash since he joined the Giants and many were quick to call his contract one of the worst in MLB history. Need I remind everyone that Zito essentially replaced Jason Schmidt who was given a rather hefty salary himself from the Los Angeles Dodgers. Zito is a Champion. Schmidt hasn't pitched in the MLB for quite some time. Boom goes the dynamite. Speaking of people who haven't been in the MLB for some time, how much credit belongs to Melky Cabrera? I'm going to go out on a limb here and give him a decent amount of credit. I mean, think about it. If Cabrera had not played so well in the first half of the season, he may not have been selected to the All Star Game. If he had not played in the All Star Game, the National League may not have won home field advantage in the World Series. The only reason Cabrera was able to help win that home field advantage was because he cheated. His cheating led to his eventual suspension, which eventually led to the acquisition of Hunter Pence. Alright, so the Giants got Pence before Cabrera's suspension was announced. Maybe they knew? Maybe? Possibly? Potentially? Alright, that's a reach, and Pence wasn't that stellar in the postseason, so that's a non-point. BUT, the home field advantage is real, and Cabrera played a major role in claiming that for the NL. Since the Giants won the National League penant, they owe some sort of respect to Cabrera's cheating ass. I'm not saying they lose the World Series without home field, but it's certainly an advantage. Hell, that's why it's called home field ADVANTAGE. So I'll give Melky a golf clap and nothing more. Now, I could end with the spectacular defense of Brandon Crawford or Gregor Blanco, but I wont. I could talk about the ridiculous play of Marco Scutaro from the second Matt Holliday took him out on, but I refuse. Because the World Series MVP has yet to be mentioned. Neither has Brian Wilson, but I'll probably just google a picture of him to end with. Yeah, I'll do that. Whoops, I'm typing what I'm thinking. Disregard. Pablo Sandoval essentially ended the World Series with his first at bat. In my estimation, Justin Verlander has been the most dominant pitcher in baseball during the regular season for the past two seasons. Hell, he even has a 6-4 playoff record which is far from terrible. Any time you can get a lead on Verlander, you're doing yourself a massive favor. Had Verlander went out and won Game 1 in San Francisco, the entire structure of the series would have been shifted. It would have been at best 1-1 heading back to Detroit, which is exactly what the Tigers were hoping for going into it. Instead, Pablo Sandoval changed all of that with one crack of the bat. He hit a first inning solo home run off of Verlander to give the Giants the lead and followed that up with a two-run homer in the third inning to make it 4-0. The Giants ended up winning the game 8-3. Sandoval single-handedly won that game with his three home runs and won the MVP off of those three swings. He hit .364 throughout the playoffs with an incredible 1.092 OPS. In the regular season, Sandoval hit 12 total home runs. Four of those home runs came between September 19-21. Prior to his home run on September 19, Sandoval had not homered since July 8th. Not exactly 2004 David Ortiz we're talking about here. Sandoval became a completely different player come October and the Giants leaned heavily on his production. Sure, Scutaro seemed to get a hit every time the Giants needed one, but Sandoval's three home run game was the antithesis of Albert Pujols' three yickety game a year ago. Pujols' came in a blow out. Sandoval's made the game a blow out. And because of it, the Giants got all the momentum they would need. As well as their second World Series title in two seasons. Best of luck to the Dodgers, Diamondbacks, Rockies, and Padres. All of you have made the postseason within the past decade. The NL West has been a revolving door when it comes to sending a representative to the playoffs. But only one of you has been able to get the job done over that time period. The Giants have the youth, the talent, the chemistry, and the hardware behind them. You'll need every bit of that luck I wished you, because San Francisco doesn't need it. All they need is their health and Bruce Bochy's giant 8-1/4 head. A dynasty in the making? No. A dynasty already. Your 2012 World Series Champions: the San Francisco Giants. See you in February, baseball.
Original Story:
http://feedproxy.google.com/~r/TheSpo...
THE BACKYARD
BEST OF MAXIM
RELATED ARTICLES
Yesterday's parade was a success. All the players had a great time, and the fans got to celebrate winning the 2012 World Series with their San Francisco Giants. The only downfall to me was the parade was on Halloween, so I couldn't attend. I went to my kids Halloween parade at school. However, I did get a chance to watch the Giants parade on TV.   Now that the season and parade...
Sergio Romo decided to use the San Francisco Giants World Series championship parade on Wednesday as an opportunity to make a political statement. As you can see from the photo above that Big League Stew shared with us, the Giants reliever proudly rocked a t-shirt that read "I just look illegal" across the front. Romo's parents were originally from Mexico, but he was born and...
Because the Giants won the World Series…
I would like to apologize for not being able to post the last couple of days. I went to game 2 of the World Series on Thursday and then watched games 3 and 4 in Los Angeles, so I had no time to update the site. It sure was nice to see all the Giants fans wearing their gear in Dodgers/Angels territory!   The San Francisco Giants have just won their 2nd World Series within a 3-year...
The Giants trudged along this year in the NL West, getting continually overshadowed by the Dodgers trading for every name player with a pulse and spending money by the truckload. But when the dust settled, the Giants were the division champions, and after a tough month of October, the World Champions. But San Francisco has some key members of the 2012 championship team ready to hit...
If you're a baseball fan, chances are you've come across Batting Stance Guy before. His actual name is Gar Ryness, but he's most famous under his moniker for, as described, immitating the batting stance of just about any Major League Baseball player. He also has a pretty hilarious Twitter account, and has garnered about 20,000 followers on the social...
Everything was going as planned for Bruce Bochy during the Giants' World Series parade. He was seated comfortably in his Rolls Royce, triumphantly showing off the Giant's World Series trophy to fans when suddenly the Rolls runs out of gas. [HOVG] The post Bruce Bochy's Rolls Royce ran out of gas during Giants World Series parade first appeared on No Guts, No Glory.
San Francisco Giants outfielder Hunter Pence was labeled as plenty of things this postseason...an inspirational leader, the lead singer from Spin Doctors and, of course, a crazy eyed meme generator.But if his recent appeance on Conan is any indication...dude is also pretty funny.What a difference a World Series makes, huh?  Last week at this time, the 29-year-old Pence looked like...
Does Tim Lincecum freak you out? Cosby Sweaters grabbed the above of the freak scaring a little boy. **Follow us on Twitter. Subscribe, or Return to BobsBlitz.com.Follow us on Twitter. Subscribe... Full story at Bob's Blitz ~ http://www.bobsblitz.com
A few days ago, the San Francisco Giants swept the Detroit Tigers out of the World Series. It was the 21st World Series sweep in history, out of the 108 played since 1903. (The was no World Series in 1904 or 1994.) When the Tigers swept the Yankees, it was the 19th total LCS sweep, out of 86 total since 1969. Obviously, not all playoff series are created equal. Some are best-of-three...
All Sports News

Delivered to your inbox

You'll also receive Yardbarker's daily Top 10, featuring the best sports stories from around the web. Customize your newsletter to get articles on your favorite sports and teams. And the best part? It's free!
THE HOT 10: Who's Trending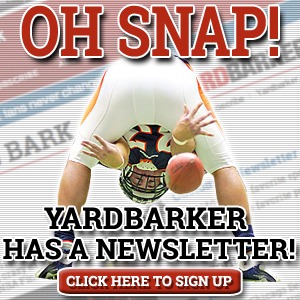 Latest Rumors
Best of Yardbarker

Today's Best Stuff

For Bloggers

Join the Yardbarker Network for more promotion, traffic, and money.

Company Info

Help

What is Yardbarker?

Yardbarker is the largest network of sports blogs and pro athlete blogs on the web. This site is the hub of the Yardbarker Network, where our editors and algorithms curate the best sports content from our network and beyond.