Found February 29, 2012 on SF Giants Nirvana:
PLAYERS:
Eric Surkamp
,
Mike Minor
,
Jake Peavy
,
Alexi Ogando
,
Gavin Floyd
,
James Shields
,
Jonathan Sanchez
,
Barry Zito
TEAMS:
San Francisco Giants
,
Atlanta Braves
,
Chicago White Sox
,
Texas Rangers
,
Tampa Bay Rays
,
Houston Astros
,
Colorado Rockies
,
San Diego Padres
About a week ago, Fangraphs added Dan Szymborski's ZiPS projections to its sortable projections page. Which is nice, because it makes it pretty easy to sort through the various projections. Back when the Giants 2012 ZiPS projections were released, I made brief mention of the fact that Eric Surkamp is projected for an ERA+ of 101 in 142 innings. That's league-average production, and it's a luxury to get that kind of performance out of the fifth spot in a rotation. Anyway, sorting through these projections once again, Surkamp really stuck out. Specifically, ZiPS has Surkamp at 116 strikeouts (7.32 K/9), 59 walks (3.72 BB/9), and 11 homers (0.69 HR/9) in 142.2 innings of work. The walk rate's decent, but nothing special (if anything, it seems a bit uncharacteristically high); the strikeout rate's average, but I suppose that's kind of nice to see, considering how Surkamp struggled to get whiffs in the majors last year. Then there's the home run rate — the one area in which Surkamp stands out as markedly above-average. Put it together, and he's at a 3.65 FIP. Think about that: 3.65. Mike Minor is at 3.65. Matt Moore, the consensus top pitching prospect in baseball, is projected to post a 3.64 FIP. Jake Peavy, Alexi Ogando, and Gavin Floyd are at 3.63. James Shields, who finished third in AL Cy Young voting last season, is at 3.66. There are some caveats, though, and they're important: park and league factors. Surkamp is a National League pitcher with a relatively pitcher-friendly home park, so he has the upper hand here. Bu Having watched Surkamp's six major-league starts in 2011, it's easy to brush off his minor-league performance. He was terrible. He didn't locate the ball, and when he did, he got hit hard. And these weren't even against good offenses: one game against the Houston Astros, two against the San Diego Padres, two against the Colorado Rockies (who, at that point, were just running out mediocre lineups). Nobody in the majors who threw 25+ innings faced easier lineups than Surkamp. Whether it was nerves or fatigue, he looked completely overwhelmed. It was a super-small sample size, of course — I mean, we're talking about 27 innings here. But he didn't pass the eye test either — he simply didn't look like a starter ready to face major-league hitting on a weekly basis. Projections should always be viewed with a healthy dose of skepticism, and in Surkamp's case, I think that's especially true. (It's worth noting that Steamer projection system, one of the better ones out there, has Surkamp at a less sexy 3.94 FIP). It's harder to project a pitching prospect like Surkamp than it is to project an established major-league pitcher. And there seems to be a consensus among scouts that Surkamp profiles as a fifth — maybe fourth — starter; even the most optimistic scouting reports see his upside as a mid-rotation starter. These projections look like they could actually represent his ceiling. But at the same time, there's something to be said for these numbers. It might be easy to forget or ignore, but Surkamp dominated the minor leagues. Across 22 starts in Double-A Richmond last year, his stats were fantastic: 10.43 K/9, 2.78 BB/9, 0.32 HR/9, 2.02 ERA in 142.1 innings. He led the Eastern League in FIP, at 2.37, and around late August, it seemed as though he was completely ready to make the leap to the bigs. The Giants don't have a lot of starting pitching depth, especially with Jonathan Sanchez gone. Surkamp is their sixth starter. Injuries happen all the time, and Spring Training has served as a reminder of that fact (see: Vogelsong, Lincecum). And between injuries, Barry Zito was an absolute trainwreck last year. I wouldn't be surprised if Surkamp starts a lot of games for San Francisco this year, and I also wouldn't be surprised if he handles it well. There seems to have been little mention of him during Spring Training so far (in fact, if I'm not mistaken, his name hasn't come up once on Andrew Baggarly's blog at CSN Bay Area). But he could play a crucial role this season. Don't forget about him.
Original Story:
http://feedproxy.google.com/~r/Splash...
THE BACKYARD
BEST OF MAXIM
RELATED ARTICLES
In 2010, the Giants  were penciling in Aaron Rowand as the center field starter at the beginning of Spring training. Andres Torres was a fourth outfielder at best, after only playing less than 160 games before he played 32. After getting spot starts from various injuries to start the season, Torres stepped up and was named a starting outfielder because of his consistent, aggressive...
Madison Bumgarner could pitch behind Tim Lincecum as the Giants' No. 2 starter to open the season, according to reports released earlier today. The headline, "Bumgarner to be Giants' No. 2 starter?" made uneasy right when I saw it. I know this seems like relative non-news, and normally it wouldn't stir up much more than a "Hm, that's interesting," but this news comes...
2008: I'm working at the Stonestown Giants Dugout Store, otherwise known as the runt of the Dugout litter.  (Seriously, at that moment, we were in the second of five stores I worked at in a three-year career there.)  I was still coming off the high from the 1997 season, believing that it was the first step in a long playoff run.  But then we remembered the Brian Johnson had...
Giants infielder Freddy Sanchez took ground balls at second base and threw to first for the first time since he dislocated his right shoulder on June 10, a significant moment in his rehab.
Madison Bumgarner could be slotted at No. 2 in rotation
Now that the start of the season is within view I thought it would be nice to take a little bit of time and take a look at how the teams in the NL West compare to each other. Yesterday I took a look at the third basemen and today it is time to move on to the short stops, the projections for each player are from the ZIPS projections from Baseball Think Factory and projected...
SCOTTSDALE, Ariz. -- Buster Posey won't play in Saturday's exhibition opener, but isn't concerned that the Giants are taking a cautious approach.
MLB News

Delivered to your inbox

You'll also receive Yardbarker's daily Top 10, featuring the best sports stories from around the web. Customize your newsletter to get articles on your favorite sports and teams. And the best part? It's free!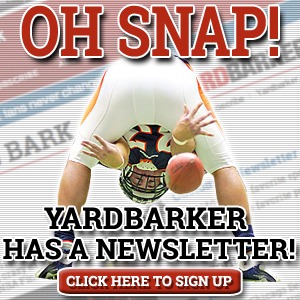 Latest Rumors
Best of Yardbarker

Today's Best Stuff

For Bloggers

Join the Yardbarker Network for more promotion, traffic, and money.

Company Info

Help

What is Yardbarker?

Yardbarker is the largest network of sports blogs and pro athlete blogs on the web. This site is the hub of the Yardbarker Network, where our editors and algorithms curate the best sports content from our network and beyond.