Found April 10, 2013 on Seed Spitters:
PLAYERS:
Tim Lincecum
,
Matt Cain
,
Madison Bumgarner
,
Barry Zito
,
Sergio Romo
,
Hunter Pence
,
Pablo Sandoval
,
Angel Pagan
,
Brandon Belt
,
Buster Posey
,
George Kontos
,
Ryan Vogelsong
TEAMS:
Los Angeles Dodgers
,
San Francisco Giants
Jeff Chiu / AP The Giants are playing good baseball against some decent teams. The Dodgers, Cardinals and Rockies all have had good starts to the season and the Giants have hung in there. I'm not quite sure how. Starting pitching has been weird – for the most part. Jonathan Sanch- I mean, Tim Lincecum wins his first start despite walking seven guys and Matt Cain allows nine runs in an inning after the 'magical' ring ceremony that was almost as long as the game itself. Madison Bumgarner and Barry Zito though, have been spectacular. In the three total starts between them, their line looks like this: 20.2 innings pitched 2 ER, 15 K, 8 BB, 1 HR 3 Wins, 0 losses With the Giants averaging  only 2.7 runs per game in those starts, great pitching was vital for the Giants to win. Granted, the Giants bullpen never surrendered a run in 6 1/3 innings of relief, also contributing to the low-scoring wins. Which brings me to my next point: Sergio Romo is an elite closer. There will be a whole other post on that later. Cain has had a rough two starts. He has yet to win (that so like him) and had a terrible outing against the Cardinals. I expect him regaining control on the mound sometime soon. On the hitting side, the Giants are doing quite well. Hunter Pence has started hitting like Hunter Pence, proving he's not only a pre-game speaker but a pretty darn good-middle-of-the-lineup-hitter. He has three homers so far, has put up an average of .300 and team-leading seventh RBI. Pablo Sandoval has also been a guy hitting the ball well, hitting .345 with a pair of home runs and six RBI. Oh, and he has only struck out once. The only bad? He is fat. Like, really fat. As long as he keeps up his numbers, the weight issue is something I can ignore. Angel Pagan has been a pleasant surprise from the lead-off spot, hitting .364 with five multi-hit games out of the first eight. Keep an eye out for him – his bat is still hot from the playoffs. Brandon Belt has come back after missing the first few games due to an illness. He hasn't done much with the bat but his defense has been stellar. So let's give him that. Alas, there is Buster Posey. The Titan/God/Saint himself is in a little slump to start off the year. That's okay, calm down. He just won the MVP of the National League and had a solid spring. He will be fine. As a unit, the offense is looking great, the bullpen has shut teams down (minus George Kontos) and the starting pitching has been iffy. The team heads to Chicago to take on the Cubs in Wrigley. Ryan Vogelsong will try to bounce back from his mediocre start in the (cold and) windy city.
Original Story:
http://seedspitters.com/2013/04/giant...
THE BACKYARD
BEST OF MAXIM
RELATED ARTICLES
Not too long ago, Tim Lincecum was one of the most dominant pitchers in baseball. His long hair and his unique delivery were on the top of baseball. He won back-to-back NL Cy Young awards, won 2 World Series starts, and was the face of the franchise. He was only 27, right when a pitcher is entering the prime of their careers. Then, last year happened. His regular season was terrible...
While in town to take on the Warriors Thursday night, Kevin Durant paid a visit to the San Francisco Giants game and hung out with the team in the dugout, even posting a photo of himself with pitcher Tim Lincecum on his Instagram – though KD probably won't be heading to batting practice anytime soon – "I didn't hit any ball [in high school]," he joked with reporters...
This morning's rant is for all the owners who took it up the ace on Sunday. It's one thing when your ace is pitching @TEX or @COL but home against Cleveland where David Price gave up 8 ER and 13 baserunners in 5 IP? Ouch. Home against an Ortiz-less Boston offense (RA Dickey - 4.2 IP, 7 ER, 12 baserunners - the first 5 runs coming before an out was recorded)? Damn. Home...
Kevin Durant and the Oklahoma City Thunder are in the San Francisco area this week as they set to take on the Golden State Warriors on Thursday night. On Wednesday, Durant decided to drop by and hang out with Tim Lincecum and the San Francisco Giants. So what's the big takeaway from this photo? If you thought Lincecum looked like a little kid now that he is sporting a new haircut...
By Shawn Ramsey FOXSports.com Records through Monday, April 8. 1 Giants 4-3 Tim Lincecum struggled mightily last season. Hopefully Matt Cain wont follow in his steps after getting tagged with nine earned runs right after receiving their World Series rings. 2 Braves 6-1 5 This team has it all: A great lineup led by the Upton brothers paired with a solid pitching staff that has...
The Rockies have lost eight straight at AT&T Park.It looked like the Colorado Rockies had finally broken through.The Rockies put up five runs in the 2nd inning of Tuesday night's game against Tim Lincecum and the defending World Champion San Francisco Giants. That isn't a typo. The Rockies, who in year's past have scored five runs in an entire three game series at...
Over the last two seasons, Hellickson has finished first in baseball in ERA-FIP; his ERA was 1.50 points lower than his FIP in 2012 and 1.49 points lower in 2011. The second place finishers were Jered Weaver with 0.93 in 2012 and Ricky Romero with 1.28 in 2011. Clearly Hellickson is in a class of his own.The question has been asked over and over again — how does he outperform his...
Well, that was encouraging and troubling all at once. On one hand, you've got the Giants doing the comeback dance and proving that they can get some runs with their offense. On the other hand, the one player who could be either the one who puts the Giants over the top, or the rock who sinks the ship, is struggling quite a bit. After a five-run second inning, the broadcasters started...
MLB News

Delivered to your inbox

You'll also receive Yardbarker's daily Top 10, featuring the best sports stories from around the web. Customize your newsletter to get articles on your favorite sports and teams. And the best part? It's free!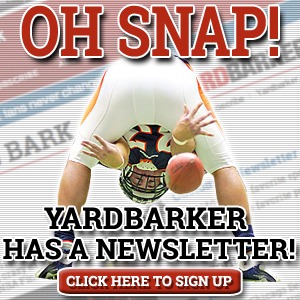 Latest Rumors
Best of Yardbarker

Today's Best Stuff

For Bloggers

Join the Yardbarker Network for more promotion, traffic, and money.

Company Info

Help

What is Yardbarker?

Yardbarker is the largest network of sports blogs and pro athlete blogs on the web. This site is the hub of the Yardbarker Network, where our editors and algorithms curate the best sports content from our network and beyond.