Found October 26, 2012 on SF Giants Nirvana:
Last night, Madison Bumgarner finally found a groove, tossing seven scoreless innings en route to a 2-0 Giants victory. You'll hear a lot — or, scratch that, have probably already heard a lot — about how Bumgarner didn't have his best stuff last night, and I think that's pretty fair to say. Despite the mechanical adjustments he made prior to the outing, his fastball didn't gain any zip, and his slider was certainly not at its best. When Bumgarner is at his best, he's touching 93 with the fastball, and he's throwing the slider with considerably more velocity and movement. But Bumgarner had no trouble shutting the Tigers down yesterday, as he limited them to two hits in total while also racking up eight strikeouts. His last time out, he'd struggled to get the Cardinals to swing and miss at his stuff. In total, he only managed five swinging strikes. Last night, though, Bumgarner more than doubled that, yielding 12 swinging strikes in all. This might, as Jeff Sullivan suggested, have something to do with increased differentiation between his fastball and slider. The charts on Brooks Baseball (10/14, 10/25) make this pretty noticeable. For example, check out the horizontal movement of Bumgarner's pitches plotted against the velocity. In his NLCS start, the pitches were somewhat clustered together, whereas there was a clear distinction in last night's start. I tend to avoid jumping to conclusions based on pitch f/x numbers because it's very easy to get misled, and I'm no expert on this stuff, but I'd have to think this is a pretty good sign. Maybe Bumgarner's stuff was "bad" last night, but if that's the case, it's a testament to how damn good he is. A pitcher can't luck his way into eight strikeouts over seven innings of two-hit ball against one of the better offenses in baseball. Nope. That's not to say that Bumgarner didn't encounter some luck last night — he got away with some mistake pitches, and had some help from the defense — but there was definitely more to it than that. Something was working for Bumgarner, and while it remains to be seen whether he can recapture that magic if he does happen to make another start in this series, Bumgarner was dominant last night. – Bumgarner in the World Series, career: 15 innings, 14 strikeouts, five hits, four walks, 0.00 ERA. – The Giants are two victories away from a championship, by the way.    
Original Story:
http://feedproxy.google.com/~r/Splash...
THE BACKYARD
BEST OF MAXIM
RELATED ARTICLES
RELIEF IN SIGHT
Despite struggling in the regular season, the two-time Cy Young winner has done well coming out of the bullpen in the playoffs, and the Giants might be best suited keeping him there.
MONKEY > KUNG FU PANDA?
The Giants have not lost since a monkey sporting the team's colors was born at the San Francisco Zoo and now the François's langur is viewed as a good luck charm.
Anyone who attends sporting events are already well aware that the cost of parking one's vehicle nearby the stadium is borderline ludicrous and oftentimes highway robbery. Still, as the photo above abundantly illustrates, combining a big-time event like the World Series with limited parking space in an urban area along with an early local start [...]
PERILS OF LIVE TV
It may somehow mean good luck to the San Francisco Giants, but Paul Robins is the one who took it for the team after a bird pooped on the local TV anchor while he and Bethany Crouch were doing a live pre-World Series broadcast outside AT&T Park Thursday. Yes — and Robins is his real name. The Sacramento-based KTXL morning show anchor took a direct hit to his shoulder from...
San Francisco Giants' Madison Bumgarner was looking for a turn- around performance after getting lit up for six runs against the St. Louis Cardinals 12 days ago. He got that, and he came up big. Bumgarner went seven strong innings of 2- hit ball, while striking out eight Tigers batters and holding them scoreless. Detroit Tigers' starting pitcher Doug Fister continued his postseason...
Nothing says "Fall Classic" like a Xavier Nady sighting prior to World Series Game 2. Pic above via @JohnJDevine. Seems like only yesterday Nady was a member of the Goon Squad and inspiration for ridiculous photoshops. Not that he didn't have his moments of personal glory with the Nationals, like that shaving cream pie to the face from Mike Morse after his 100th career...
Good luck charms and the World Series seems to be connected. Last season the Cardinals had a squirrel that randomly ran across the field, the San Francisco Giants seem to have a acquired a baby monkey. The Giants were behind to the Cardinals 3-1  in the NLCS, when the monkey, a François's langur was born at [...]
After hitting only 12 home runs during the regular season, San Francisco Giants third baseman Pablo Sandoval belted out three round-trippers — in his first three at-bats (with the first two coming off Justin Verlander) — Wednesday night in Game 1 of the World Series against the Detroit Tigers, finishing the game 4-4. Saying, "Man, [...]
The bunt just wouldn't go foul, despite the best efforts of the Detroit players who gathered around it and tried to will it across the chalk down the third base line. It couldn't go foul, because that might have ruined the whole aura the San Francisco Giants spent two games creating on their way toward taking command of this World Series. Gregor Blanco thought he had pulled...
Detroit, MI - FOX' New Girl, Zooey Deschanel, will sing the Star-Spangled Banner before game 3 of the World Series tonight at Detroit's Comerica Park. Zooey is a San Francisco Giants fan...When... Full story at Bob's Blitz ~ http://www.bobsblitz.com
The 2012 World Series is one game in, and it was not the start that the Detroit Tigers were expecting against the San Francisco Giants. Sending Justin Verlander to the mound is almost always a must win scenario for the Tigers, especially in a postseason series. Having him go up against Barry Zito seemed to make things even more attractive, as Zito hasn't really been all that playoff...
Tiger Hitters, Not Looking Spry 10) If you are not a Tiger or Giant fan, and are still watching this series, you are, well, me9) This game has 2 runs and 12 hits, and since both of them happened in the second inning, so if didn't tune in early, you really didn't need to tune in at all8) As the Tigers are the first AL team since 1919 to suffer back to back World Series shutouts...
Giants News

Delivered to your inbox

You'll also receive Yardbarker's daily Top 10, featuring the best sports stories from around the web. Customize your newsletter to get articles on your favorite sports and teams. And the best part? It's free!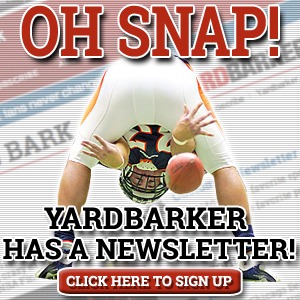 Latest Rumors
Best of Yardbarker

Today's Best Stuff

For Bloggers

Join the Yardbarker Network for more promotion, traffic, and money.

Company Info

Help

What is Yardbarker?

Yardbarker is the largest network of sports blogs and pro athlete blogs on the web. This site is the hub of the Yardbarker Network, where our editors and algorithms curate the best sports content from our network and beyond.