Found June 14, 2012 on isportsweb.com:
Everyone in Chicago knows the value and skill of White Sox team captain Paul Konerko. However, his recent numbers have been attracting the attention of baseball fans and authorities across the country.
Since the Sox are a much smaller market team compared to the crosstown Cubs, national attention is rare and usually negative. Because of this, Konerko's accomplishments are refreshing in more ways than one. Since he is sitting on top (or near the top) of  all of the majors in multiple batting categories, and has had phenomenal seasons the last few years, people are starting to ask the question, "Will Paul Konerko go into the Hall of Fame?"
Now very few people are as big a fan of Paul Konerko as myself. I admire the man both as a player and a team leader. I was at the World Series game when he hit the Grand Slam and will never forget the sound of the sell-out crowd as the ball came off his bat. On and off the field, he has always been a constant professional and the younger players on the team definitely benefit from his influence.
But a few good swings and the right attitude does not necessarily make him a Hall of Fame contender. As much as it pains me to say it, as of right now Paul Konerko will not make the Hall of Fame. Is it within the realm of possibility? Absolutely, but he'll have to keep his uniform on until he turns at least 40. The problem with that is that Konerko has one year left on his contract with the White Sox and he has openly stated that he isn't sure if he wants to keep playing past 2013.
Keep on swingin' Paulie
Relative to other Hall of Fame first basemen, Konerko is similar in some respects and falls short in others. His lifetime average of .284 is decent, but low compared to players such as Jimmie Foxx (.325) and Bill Terry (.341). He also possesses an OBP of .360. That number would need to get closer to .385 or maybe even .400 if he wants to improve his chances.
Considering the previous numbers, the most important (and realistic) lifetime stat that Konerko could improve would have to be home runs. He is currently 47th on the all-time list with 407 bombs. If his other numbers were higher, he might be able to get away with 450 on his career. Given that they aren't, though, he will HAVE to get to 500 in order to be considered. That many home runs will only happen if he plays beyond 2013.
As both a fan of the White Sox and Paul Konerko, I would love to see him get a contract extension. Not to mention that if Sox ever traded Konerko, it would be the worst PR move in the history of the team. It would be great to have a few more seasons with Paulie batting cleanup and he could remain as a very powerful DH should the Sox decide to only use his bat. He'll get a statue at U.S. Cellular and they will probably retire his number as well. The Hall of Fame would just be icing on the cake and it would be amazing to see him get nominated.
As interesting as it is to ponder these scenarios, Konerko has always been a team player and right now, you can be sure that the Hall of Fame is the least of his concerns. The Sox are still strong going into the All-Star break and bringing one more World Series championship to Chicago is the only accolade that matters.
Original Story:
http://isportsweb.com/2012/06/14/paul...
THE BACKYARD
BEST OF MAXIM
RELATED ARTICLES
The White Sox' 2012 season has to be considered a surprise. Comebacks by Dunn and Rios (from the dead), a big season by Konerko and Pierzynski and the emergence of Viciendo have been big factors as has the pitching of Peavy and Sale. But perhaps the biggest surprise has been from the guy setting the table at the top of the lineup, Alejandro De Aza. If you are anything like this...
Surprising performances have fueled the Chicago White Sox's rise to the top of the division. Adam Dunn — who looked finished last season — is off to one of the best starts of his career, Jake Peavy is healthy for the first time in years and AJ Pierzynski has already clubbed eleven home runs. And while those performances were unexpected, there's another player on the White...
Adam Dunn had to persuade Robin Ventura to put him in the lineup Thursday night. Dunn showed his manager that he indeed was healthy enough to play, hitting a three-run homer in the sixth inning of the Chicago White Sox's 5-3 loss to the St. Louis Cardinals. Dunn was scratched from the lineup Wednesday because of a mild ankle sprain. ''He lobbied his way in tonight...
ST. LOUIS Adam Dunn has forgotten about the free fall. It's a new year, he's quick to mention, and the memory of a lost first season in black and silver is best left in the past where it belongs. Now the hulking Chicago White Sox designated hitter is a model of comfort and cool. Why not? He sat near a corner stall in the visitors clubhouse Wednesday at Busch Stadium loving...
White Sox slugger Adam Dunn has been scratched from Chicago's lineup for Wednesday night's game against the St. Louis Cardinals because of a sprained right ankle. Dunn is dealing with only a minor sprain and was removed shortly after the team took the field for batting practice. Dayan Viciedo replaced Dunn, one off the major league leaders with 21 homers. Viciedo was batting...
The Chicago White Sox's rotation problems seem to be headed in the direction of one step forward, two steps back. First, there is the continued problems of right-hander Gavin Floyd, who once again fell on hard times in a 5-3 loss to the St. Louis Cardinals on Thursday. He lasted only 4 2/3 innings, allowing five earned runs on eight hits, walking four and fanning five. Floyd...
Men's Journal's July issue, on stands today, includes a SI like poll of MLB players. Most hated player in baseball: A.J. Pierzynski followed by Arod and Nick Swisher. "(Pierzynski) likes to talk a... Full story at Bob's Blitz ~ http://www.bobsblitz.com
On the field, the news continued to be less than positive for the White Sox, as they traveled to Los Angeles on Friday night and lost to the Dodgers, 7-6, Chicago's third consecutive defeat. Starting pitcher Chris Sale had his first big slip-up of the season, allowing a season-high five earned runs in a no-decision, even with Adam Dunn connecting on his 23rd homer of the year...
JewishBaseballNews.com is reporting that the Chicago White Sox (awesome) drafted Jewish ball player Mitch Glasser in the 39th round. Glasser has been playing at Macalester in St. Paul MN and was one of 12 Division III players selected. Congrats to Glasser and hope to see you in the Bigs. Click HERE to read more about Glasser's playing days and HERE for some draft information.
James Loney scored the go-ahead run on a wild pitch by Matt Thornton in the eighth inning, and the Los Angeles Dodgers beat the Chicago White Sox 7-6 on Friday night in the opener of an interleague series between division leaders. Alex Rios hit his second homer of the game in the top half of the eighth, but the Dodgers went in front again in the bottom half. Loney started the winning...
No perfect games on Thursday. Man, baseball really is going downhill already. Let's get to some trots! Home Run of the Day: Adam Dunn, Chicago White Sox - 24.38 seconds [video] Adam Dunn was dead in the water in 2011. In roughly 500 plate appearances, he hit only 11 home runs. He hadn't had fewer than 38 since 2003 before that. It was hard to believe that such a powerful...
White Sox News

Delivered to your inbox

You'll also receive Yardbarker's daily Top 10, featuring the best sports stories from around the web. Customize your newsletter to get articles on your favorite sports and teams. And the best part? It's free!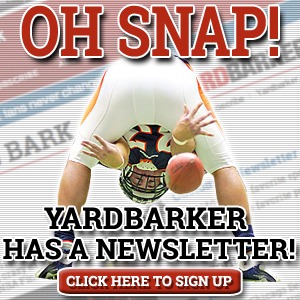 Latest Rumors
Best of Yardbarker

Today's Best Stuff

For Bloggers

Join the Yardbarker Network for more promotion, traffic, and money.

Company Info

Help

What is Yardbarker?

Yardbarker is the largest network of sports blogs and pro athlete blogs on the web. This site is the hub of the Yardbarker Network, where our editors and algorithms curate the best sports content from our network and beyond.