Found October 19, 2012 on IT IS HIGH, IT IS FAR, IT IS caught:
All the newspapers that still publish on pulp give readers today a,"keep or dump" poll for each member of the infamous 2012 Yankees. Here are the people I checked as "keep" :1.   Ichiro - he is a pro with a year left. Too bad he'll never realize his dream of playing in a world series.2.  Martin- he will be a great back-up when Jesus Montero is ready to start at catcher.3.   Soriano- even if MO returns for a season, he'll quickly see that the days of, "big save moments" are gone for him. Someone has to be here when he packs it in. And who, besides Derek, was a more reliable Yankee, and did his job exceptionally wel in 2012?Which is why the Yankees will let him go to Boston.4. Brett Gardner- he can't stay healthy, but he is fast and is not a quitter.5. CC - a solid number 2 or 3 starter.6.  Hughes- if he comes back from back surgery, he might help in the bullpen.7.  Joba - we need amusement and distraction of some sort. He provides it.8.  Hiro...
Original Story:
http://johnsterling.blogspot.com/2012...
THE BACKYARD
BEST OF MAXIM
RELATED ARTICLES
EXCUSES EXCUSES
According to reports, one unidentified Yankees player said the booing by fans during Game 2 of the ALCS at Yankee Stadium "spooked a lot of guys."
If any excuse the Yankees could make for their poor ALCS showing would be off-limits, I would have to think it would be blaming the fans. Nothing New York fans say should surprise the players, no matter how vulgar, inappropriate or unsupportive it may be. According to one anonymous Yankee, it did this year."I really think the booing spooked a lot of guys," the player reportedly...
From Peter Botte:Another offseason, another retirement decision for Andy Pettitte. The 40-year-old lefty hopes to tell the Yankees whether he'll be back in 2013 "one way or another, within a month or so." .... "I came back because I felt like I had some competition left in me and I wanted to help this organization win another championship," Pettitte said. "There's...
George Steinbrenner would have issued a public apology. After leading the league in wins this year, the New York Yankees didn't just lose to Detroit in the AL championship series. They got swept in one of the more humiliating moments in the team's history. The four-game wipeout made headlines - A-Rod's benching, Derek Jeter's injury, Robinson Cano's slump. But...
Alex Rodriguez and Curtis Granderson are still out of New York's starting lineup for Game 4 of the AL championship series, a day after the game was postponed by rain. The Yankees kept their lineup the same as it would have been Wednesday - with Rodriguez on the bench for the third time in nine postseason games. A-Rod is 3 for 23 in these playoffs. Granderson joins him on the...
Imagine the following scenario: 'Disgusted with his dismal performance in the playoffs and diminishing talents; the Yankees look to unload the contract of Alex Rodriguez so they can pursue a new direction.  Unable to afford to offer him the contract he feels he deserves, the Mets are forced to pursue a trade for David Wright.  The New York Teams swap players at their hot corners...
With the Yankees on the verge of postseason elimination, third baseman Alex Rodriguez has become the center of controversy. Manager Joe Girardi decided to bench Rodriguez for game 3 of the ALCS, igniting rumors that he was done in New York, and even rumors that the Yankees were shopping him already.I know Alex Rodriguez's postseason isn't exactly going to script, but isn...
Could the Yankees finally be facing the crossroad that we have discussed for years? After the Tigers bounced them from the 2006 playoffs, many thought the run was over and they needed to rebuild. Joe Torre was able to squeeze a playoff appearance out of the group the following season, but they would miss the postseason in 2008 under Joe Girardi. Brian Cashman signed CC Sabathia and...
With CC Sabathia and the Yankees trailing 2-0 in the fourth inning, and fading fast, Sabathia needed to get out of the inning quickly. After a single by Omar Infante, AL Triple Crown winner Miguel Cabrera stepped in and hit a monstrous homer to left field to double the Tigers lead to 4-0. The Tigers weren't done after Cabrera's homer, though. Sabathia struck out...
I believe our AAA team would have fared better against Detroit than the Yankees.
 As a Red Sox fan, I love anything that has to do with the portrayal of the New York Yankees in a negative light. I am reveling in the fact that they are currently down three games to none to the Detroit Tigers in the ALCS and are just one game away from being swept [...]
MLB News

Delivered to your inbox

You'll also receive Yardbarker's daily Top 10, featuring the best sports stories from around the web. Customize your newsletter to get articles on your favorite sports and teams. And the best part? It's free!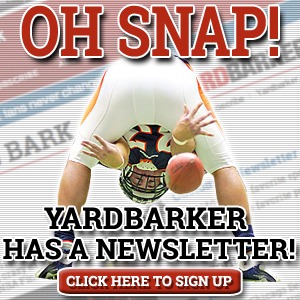 Latest Rumors
Best of Yardbarker

Today's Best Stuff

For Bloggers

Join the Yardbarker Network for more promotion, traffic, and money.

Company Info

Help

What is Yardbarker?

Yardbarker is the largest network of sports blogs and pro athlete blogs on the web. This site is the hub of the Yardbarker Network, where our editors and algorithms curate the best sports content from our network and beyond.