Found December 15, 2012 on The Other Paper:
For any fans wondering if a little something extra came with Kevin Youkilis' one-year, $12 million deal with the Yankees — namely fireworks between the new Yankees third baseman and his old antagonist Joba Chamberlain — don't count on it. Yesterday, it sounded like Youkilis — who had officially become a New York Yankee — had put all the bad blood between the two new teammates and familiar old rivals behind him. "It's not a big deal to me.  If it was that big of a deal, I wouldn't be signing with the Yankees," said Youkilis, who received a voice mail message from Chamberlain and plans to return it.  "A lot of it has been made bigger with the media and fans.  You look at my stats and I have been hit [by a pitch] 99 times.  There have been multiple pitchers who have hit me.  Joba has only hit me once, [last season as a Chicago White Sox].  It's not a big deal.  We are teammates now and we have the same goals of going to spring training and winning." Much was made of Chamberlain's fastballs zipping perilously close to Youk's head during their days as opponents in the Red Sox-Yankees rivalry.  In 2007, Chamberlain threw two times at Youkilis' head and was suspended.  The next season he did it again sending Youkilis to the dirt before he started to charge the mound.  Youkilis' Red Sox teammates restrained him. "It's not a story, it's one of those things people love to talk about," Youkilis said.  "It's a new teammate and we are going to take the field together.  When he goes out there to pitch hopefully I can play great defense behind him." Former Red Sox teammate and one-time Yankee foe Johnny Damon eased his friend's trepidation of what it would be like to jump ship from Red Sox Nation to Yankee Universe. "Johnny said I would love the experience," said Youkilis.  "I never thought I would be on the other side of the rivalry but I felt the New York Yankees were the best fit to try and win another World Series." Yankees fans have got to love this guy already.
Original Story:
http://ihatelupica.blogspot.com/2012/...
THE BACKYARD
BEST OF MAXIM
RELATED ARTICLES
Kevin Youkilis has agreed to sign with the Yankees, which predictably has New York's large Jewish population pretty excited. Youk, who spent his entire career with the Boston Red Sox until being traded to the Chicago White Sox last season, grew up in Cincinnati and is from a Jewish family. He had a Bar Mitzvah, and his father says the ballplayer can even read Hebrew. So how did...
The New York Yankee's Alex Rodriguez or A-Rod if you prefer to call him that, ended last season with a whimper. Then came word that he required hip surgery to get himself back together. It explained a lot of things and the word that a second surgery was required explained even more. A-Rod ran into  video camera's and discussed the notion that 2013 may largely be a wrap for...
So it appears that Ichiro Suzuki will return to the Yankees in 2013.  Reports are circulating that he will receive a two-year deal in the neighborhood of $12 to $13 million.That much money and years for a 39 year old. Sounds like a mistake. The only way it can work is if the second year is not guaranteed. It should be a team option. But I guess that is easier said than done when...
Los Angeles TimesDecember 15, 2012Dear Editors,May I gently suggest to Dodgers fans and Times columnists reveling in the certainty of a World Series in 2013 that history teaches otherwise?Throwing obscene amounts of money at athletes does not guarantee success. Plenty of teams have tried it and failed. Even the Yankees.The real deal with such apparently insane bingeing is not...
  Ichiro returns for 2 more seasons with the Yanks Ichiro turned around his 2012 season when he was traded to the Yankees. He played 95 games on Seattle and his numbers were not impressive (.261 BA/.288 OBP/.353 SLG and only had 28 RBIs). Compare that to his 67 games on the Yankees (.322 BA/.340 OBP/.454 SLG with 27 RBIs) and you have a different story. He was a rejuvenated player...
By now, Alex Rodriguez's hip impingement has been well documented.  Rodriguez will undergo surgery for the impingement in mid-January and is expected to be out 4-6 months.  It is a tough blow to the New York Yankees, but if Rodriguez can come back healthier and closer to his vintage self, the time missed will be well worth the procedure. Rodriguez's mobility was clearly...
Ichiro Suzuki will forever be linked to the Seattle Mariners, but he must have enjoyed playing in New York last season.  After he was traded to the Yankees, Ichiro's numbers improved, and he was able to play in the postseason - something he was only able to do once with the Mariners.  He liked New York so much that he is about to sign for less money than he could otherwise...
The New York Yankees have been hit with an $18.9 million luxury tax by Major League Baseball, the 10th consecutive year they will pay a penalty for their spending. The Yankees finished with a $222.5 million payroll for purposes of the tax, according to figures sent to teams Thursday and obtained by The Associated Press. Following its payroll-shedding trade with the Los Angeles...
In 1989, Biz Markie's Just a Friend was one of the original rap/pop crossover hits to receive major radio airplay.  It's the first song I ever remember listening to where a rapper actually sang as well. For the past several years it was played at Fenway Park every time Kevin Youkilis came up to bat.  The crowd would chant "Yooouuuuk, you got what I need…"  In fact...
Free agent outfielder Nick Swisher is touring the country like a rock star.  In almost every city he stops, he is being wooed and showered with promises.  Maybe it's more like a college recruiting trip than a rock show, but Swisher is definitely the rock star.  He is now visiting the Cleveland Indians as the team tries to land him. According to Paul Hoynes of the Cleveland...
NEW YORK (AP) -- The NHL's lawsuit against its players was assigned to a relatively new federal judge who is a longtime New York Yankees fan and a former federal prosecutor. The sides didn't talk Sunday, the 92nd day of a lockout that is threatening to wipe out an entire NHL season for the second time in nine years. NHL players started voting on whether to have their union...
The Tribe's busy offseason marches on, as Paul Hoynes is reporting that OF Nick Swisher will visit Progressive Field this week: Swisher is the next big outfielder on the free-agent market following Josh Hamilton's signing with the Angels last week. The Indians have been negotiating with him for much of the winter and he's scheduled to visit Progressive Field on Tuesday or Wednesday...
MLB News

Delivered to your inbox

You'll also receive Yardbarker's daily Top 10, featuring the best sports stories from around the web. Customize your newsletter to get articles on your favorite sports and teams. And the best part? It's free!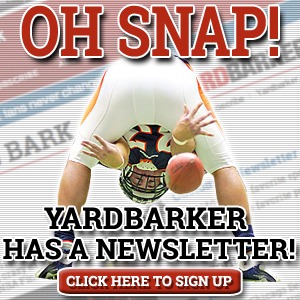 Latest Rumors
Best of Yardbarker

Today's Best Stuff

For Bloggers

Join the Yardbarker Network for more promotion, traffic, and money.

Company Info

Help

What is Yardbarker?

Yardbarker is the largest network of sports blogs and pro athlete blogs on the web. This site is the hub of the Yardbarker Network, where our editors and algorithms curate the best sports content from our network and beyond.