Found September 19, 2012 on Ted's Army:


Toronto's f'in idiot of a shortstop, Yunel Escobar, thought of a brilliant plan to write a homophobic slur in spanish in his eye black on Saturday. As shown in the picture, Escobar had "Tu ere Maricon" under his eyes that can be translated into, well, read on and find out.
The

Toronto Blue Jays

and Major League Baseball have

suspended shortstop Yunel Escobar

for three games without pay after he wore eye black bearing a homophobic slur during a game Saturday.

The team met with the league and the MLB Players Association before agreeing on the punishment, which will cost Escobar more than $92,000. He is making $5 million this season.

Saturday against the Red Sox, Escobar played with the words "tu ere maricon" (sic) written on his eye black. The phrase can be translated to "you are a (gay slur)." Jays season-ticker holder James Greenhalgh captured a photo of the phrase from behind the dugout during the game and posted it on his Twitter account (via Big League Stew), and Monday night, the team and the league both announced they were investigating the incident.
Don't worry, it's was ok for him to do that, he has gay friends.
"I agree with the suspension. I don't have any problem with that. I'm embarrassed," the 29-year-old Cuban said through coach Luis Rivera. I'm sorry for my actions the other day. I don't have anything against homosexuals. I have friends who are gay."
Accepted offensive jokes and slurs due to association. Is that not good enough?
Wouldn't you think before writing those words under your eyes, that someone would eventually find out? Obviously not. There are only 25 TV cameras and a couple dozen photographers in the park during a game.
Dumbass!
(Photo: Tom Szczerbowski/Getty Images)
Original Story:
http://www.tedsarmy.com/blog/2012/09/...
THE BACKYARD
BEST OF MAXIM
RELATED ARTICLES
MLB is investigating Yunel Escobar after it was revealed that the Blue Jays shortstop wore eye black with a homophobic message written on them during Saturday's game. Escobar, who was born in Cuba, had the words "Tu ere maricon" written on his eye black for Saturday's game against the Red Sox. "Tu ere maricon" is Spanish for "you are a ******." Maricon is a commonly...
Toronto Blue Jays shortstop Yunel Escobar, who typically writes messages via eye black on his face, was sporting a homophoic Spanish word that's a derogatory term for a homsexual. During Saturday's game against the Boston Red Sox, Escobar wrote "Tu ere"  under his eyes. However he misspelled the middle word. It is supposed to be spelled "eres," Spanish-language sentence...
In the wake of Yunel Escobar's ignorant and homophobic usage of his eye black, I think it's important that we remember that eye black is not the culprit here. Eye black is still great. Eye black will always be great. Especially, when hot yumps decide to wear it. Yunel Escobar gave eye black a bad name. We immediately repair that name.
Many Red Sox players were outraged by Yunel Escobar's homophobic eye black message. While the controversial eye black message went unnoticed by most Red Sox players on the field, Nick Cafardo said it was inexcusable for the Blue Jays players and coaches to let him out onto the field with that slur written under his eyes. Escobar's off-field issues lead to him to be moved...
The Toronto Blue Jays announced Tuesday a three-game suspension for shortstop Yunel Escobar as a result of a homophobic slur written in Spanish on the eye black he wore during last Saturday's game. The punishment, agreed upon by major league baseball, the team and the players' association, will include a donation to the You Can Play Project and the Gay and Lesbian Alliance...
Yunel Escobar was suspended for three games Tuesday by the Toronto Blue Jays for wearing eye-black displaying a homophobic slur written in Spanish during last Saturday's game against the Boston Red Sox. Pictures posted online showed the Blue Jays shortstop with the message written in his eye-black, a sticker players wear under their eyes to reduce glare from the sun. The slur...
Writing messages on one's eye black is nothing new in professional sports. Plenty of athletes have made statements with their in-game makeup from time to time, from Tim Tebow's bible verses to Mark Herzlich's Batman mask to Bryce Harper's whatever the heck his design is. Toronto Blue Jays shortstop Yunel Escobar appears to have crossed the line with his latest foray...
Toronto Blue Jays shortstop Yunel Escobar is BOLD. Escobar thought it would be a good idea to wear eye black with a gay slur written in Spanish on Saturday when the Blue Jays faced off against the Red Sox. Of course the MLB is investigating. "The Toronto Blue Jays do not support discrimination of any [...]
Blue Jays shortstop Yunel Escobar wore the offensive Spanish phrase "Tu ere maricon" in his eye black Saturday. Yes, we're still shaking our heads and scrunching up our eyes over the complete... Full story at Bob's Blitz ~ http://www.bobsblitz.com
Okay. Toronto Blue Jays shortstop Yunel Escobar will be sitting out the next three games after he was suspended by Major League Baseball for putting a Spanish, homophobic slur in his eye-black for a game this past Saturday. Yeah, that's right, he was suspended for something incredibly stupid. The image was first noticed in a Getty Images photo and yes, it's going...
Ozzie Guillen is not the smartest man on the planet. I'm not the first person to make that observation and I guarantee you I won't even be close to the last as long as he has an audience to speak to. Let us be clear Guillen like everyone else has a right to his feelings and the opportunity to create an environment in his home that he and his family find comfortable (more on...
There won't be any pictures in this post. If you want to see Bryce Harper and other rookies for the Washington Nationals dressed as female gymnasts, sporting just leotards as they board Amtrak, you can Google it. It's out there. If you want to see other rookies dressed as nurses, French maids, or ballerinas in tutus and bedazzled headbands, head to Twitter where respected athletes...
MLB News

Delivered to your inbox

You'll also receive Yardbarker's daily Top 10, featuring the best sports stories from around the web. Customize your newsletter to get articles on your favorite sports and teams. And the best part? It's free!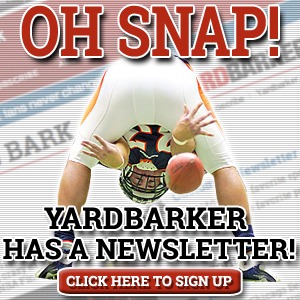 Latest Rumors
Best of Yardbarker

Today's Best Stuff

For Bloggers

Join the Yardbarker Network for more promotion, traffic, and money.

Company Info

Help

What is Yardbarker?

Yardbarker is the largest network of sports blogs and pro athlete blogs on the web. This site is the hub of the Yardbarker Network, where our editors and algorithms curate the best sports content from our network and beyond.