Found January 23, 2013 on hov-mma:
Another season of TUF has started and by now most of you have either, A.) seen the premier on FX or, B.) read the recap of the show on some other website.  But let's recap the important stuff anyway, just for the hell of it. The 2 hour season premier of TUF featured 28 fighters competing  just to make it into the house and fight on a team coached by either Jon "Bones" Jones or Chael Sonnen…and I have to admit that so far I am a little underwhelmed.   For the most part, I was not impressed with the fight footage that aired.  Maybe the best fights were just over too quickly and the rest was filler or the folks in the editing room were a little overzealous; but I found myself a little bored.  Maybe bored is too strong a word.  Disengaged, perhaps.  It could be that a few of the fighters I was hoping would get into the house didn't make it:  Leo Bercier the Native American from Missoula, Montana and Kito Andrews.  They lost by referee stoppage and a decision, respectively.  Other low points?  Clint Hesler beating Fraser Opie by decision – he should have finished the fight.  It was laziness to let it go to a decision.  Josh Shamman and his ridiculous showboating – yelling to the spectators and ridiculous double fisted pounding.  And Bubba McDaniel and his laughable celebratory post fight camera punch – embarrassing. That being said, it was not a total waste of an evening.  There were some very definite high points as well as a few things that should be pointed out to the casual viewer.  First, the Uriah Hall v. Andy Enz fight;  that was a great fight!  I would happily see both of them in the house, but unfortunately only the winner, Uriah Hall, made it in.  Not only was the fight great, but Uriah and Andy both showed incredible respect and sportsmanship after the fight.  The UFC could use more fighters like them.  Jimmy Quinlan and Gilbert Smith also performed well in the prelims. Chael Sonnen was surprisingly enjoyable as well. He was a little overbearing – especially when going on and on about how Jon would be choosing  Bubba McDaniel (who ended up being a 3rd choice pick for Jones), but overall he was fairly subdued in his expected trash talk.  Jon Jones on the other hand, came across as a bit of an immature dick with his behind Chael's back, straight to the cameraman hand signals and eyerolls.  Could it be that this one time UFC golden boy is going to steal the d-bag of the season title out from under Chael Sonnen?  We'll just have to wait and see. I came away from this TUF episode with 3 burning points of interest:  Will Uriah Hall win it all?  Will Jon Jones be a bigger douche than Chael Sonnen?  And what is with the tanning booth goggle lines on Dana White's face?  Reverse raccoon eyes and a thin white stripe across the bridge of his nose is clear evidence that the baldfather has been up to UV no good.  Find out more in next week's, Talking TUF with Denise Tracey.  Or, if you are interested in more mundane facts, read on for a summary of the prelims, the team picks, and the announcement of the first fight pairing. Prelims Adam Cella defeated Jake Heun via submission (armbar) in round 1. Zak Cummings defeated Nik Fekete by TKO (punches) in round 1. Kevin Casey defeated Eldon Sproat via submission (rear-naked choke). Tor Troeng defeated Scott Rosa via submission (rear-naked choke). Clint Hester def. Fraser Opie by decision. Robert McDaniel defeated Ryan Bigler via TKO (punches) in round 2. Josh Samman defeated Leo Bercier via TKO (punches) in round 1. Kelvin Gastelum defeated Kito Andrews by decision. Jimmy Quinlan defeated Mike Persons via TKO (punches) in round 1. Uriah Hall defeated Andy Enz by decision. Luke Barnatt defeated Nicholas Kohring by decision. Dylan Andrews defeated Tim Williams by decision. Collin Hart defeated Mike Jasper via submission (rear-naked choke) in round 1. Team Sonnen:  Luke Barnatt, Uriah Hall, Zak Cummings, Tor Troeng, Jimmy Quinlan, Kevin Casey, Kelvin Gastelum Team Jones:  Clint Hester, Josh Samman, Bubba McDaniel, Gilbert Smith, Collin Hart, Adam Cella, Dylan Andrews. 1st Fight:  Gilbert Smith versus Luke Barnatt
Original Story:
http://www.hov-mma.com/2013/01/talkin...
THE BACKYARD
BEST OF MAXIM
RELATED ARTICLES
The 17th season of the Ultimate Fighting Championship's famed reality television show, The Ultimate Fighter, began on Tuesday with a special two-hour premiere on FX. Twenty-eight middleweight (185 pounds) fighters squared-off in 14 elimination fights, vying for a coveted spot on the series and their chance to win a six-figure contract with the UFC®.   Premiere episode [...]
UFC President Dana White joined several members of the media for a scrum after the UFC 158 kickoff press conference. The UFC head-honcho discussed several interesting topics including Rampage Jackson, the Ronda Rousey Sandy Hook tweet, possibility of the UFC in France and the future of heavyweight fighter Josh Barnett.  Watch the media scrum below: https://www.youtube.com/watch...
March Madness is still a couple of months away, but UFC president Dana White has already formulated an unofficial four-man tournament for the light heavyweight division. On one end of the brackets, Dan Henderson (Pictured) controls his own destiny. According to White, all Hendo needs to do is beat former champ Lyoto Machida at UFC 157 and he punches his ticket to the big dance....
The time for hyping is done, as "The Ultimate Fighter 17″ makes its season debut tonight on FX at 8PM ET. Actually, the hoopla might just be getting started since Chael Sonnen is coaching opposite Jon Jones (Pictured) this season. The long-running reality series makes its move from Fridays to Tuesdays, starting with tonight's two-hour season premiere. Next Tuesday, TUF transitions...
The UFC on FOX 6 Fight Club Q&A featuring UFC light heavyweight champion Jon Jones takes place today and you can watch a live video stream of the proceedings here on BoneSnapper.com. The Q&A takes place at the United Center in Chicago, IL. The Q&A will start at 3 p.m. ET. UFC on FOX 6 [...]
If you were tuned in to UFC on FX 7 over the weekend odds are you were caught with your mouth wide open gawking at the gorgeous ring girls on display. One of said ring girls is Aline Franzoi, a beautiful model/TV personality from Guarulhos, Brazil. Franzoi, 20-years old, was hired by UFC to bring some Brazilian flavor to the event in an effort to showcase local talent. That's...
The UFC 158 press conference takes place today at 10am EST and will feature welterweight kingpin Georges St Pierre and title challenger Nick Diaz. Considering Diaz's absence at the previous presser, many are wondering if the Stockton native will bother to show up at the presser. UFC President Dana White and Canadian director of operations Tom Wright are also expected to attend...
MMA News

Delivered to your inbox

You'll also receive Yardbarker's daily Top 10, featuring the best sports stories from around the web. Customize your newsletter to get articles on your favorite sports and teams. And the best part? It's free!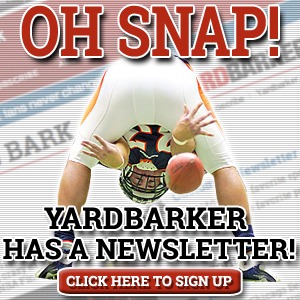 Latest Rumors
Best of Yardbarker

Today's Best Stuff

For Bloggers

Join the Yardbarker Network for more promotion, traffic, and money.

Company Info

Help

What is Yardbarker?

Yardbarker is the largest network of sports blogs and pro athlete blogs on the web. This site is the hub of the Yardbarker Network, where our editors and algorithms curate the best sports content from our network and beyond.