Found December 01, 2012 on Celtics Life:
Here are some more submissions for our contest ending today ( Win a Rondo jersey, Celtics jacket, hat, & $50 gift card ). Feel free to show some love for the submissions you like. Let's go with the "If you don't have nothing nice to say than keep your pie hole shut" though in this comments section. No need to talk smack about others' submissions in order to make your's look better, but it would be cool to get your positive feedback on the ones you like. What are the additional ways to increase my odds of winning? "Liking" us on Facebook is one way: Following us on twitter and Google + is another way: Follow @celticsLife (function() { var po = document.createElement('script'); po.type = 'text/javascript'; po.async = true; po.src = 'https://apis.google.com/js/plusone.js'; var s = document.getElementsByTagName('script')[0]; s.parentNode.insertBefore(po, s); })();...
Original Story:
http://www.celticslife.com/2012/12/ce...
THE BACKYARD
BEST OF MAXIM
RELATED ARTICLES
Celtics.com The Boston Celtics announced today that they have recalled forward Kris Joseph from their NBA Development League affiliate, the Maine Red Claws. Joseph, a 6'7 forward, averaged 25.5 points, 7.5 rebounds, 3.5 assists, 2.0 steals and 1.0 block in two games while on assignment. Kris Joseph will be back in uniform with the C's tonight. The Celtics would have probably...
From ESPN Boston's Chris Forsberg: Celtics officially recall Kris Joseph from Maine.about 4 hours ago via EchofonReplyRetweetFavorite@ESPNForsbergChris ForsbergJoseph hasn't had an extended stay in the D-League, but it's been quite successful so far, as he's averaging 25.5 points and 7.5 rebounds in two games.This move, unfortunately, isn't about Joseph's success. It's...
Rajon Rondo will miss the next two games while serving a suspension Boston Celtics point guard Rajon Rondo was suspended by the NBA on Thursday for his role in an altercation in Wednesday night's game against the Brooklyn Nets. The total number of games was two, which is a slap on the wrist considering Rondo has been suspended twice already this calender year and David Stern has...
The Celtics dancers unveiled their first swimsuit calendar earlier this week. We were invited to the launch party, but due to real life BS (I was moving), I was unable to attend. FML. I'n hoping they'll post high-quality pictures on the team website soon.  
Rondo's 'determined to show I can become a leader' campaign took a hit in many people's eyes when he lost his composure in the game on Wednesday against the Nets.  I do not see it that way, as he showed he can become the emotional leader once the days of Kevin Garnett are over.  Sure he was short fused, but he also displayed unrivaled support for his teammates.  There...
WHO'S THE BOSS
Boston Celtics coach Doc Rivers was asked for his reaction to the punishment handed down to the Spurs, and he was unfazed.
Herald  Nothing soft about C'sNBA roundup: Thunder hold off Jazz 104-96, sweep homestand Courtney Lee lights spark as C's pound Portland David Stern fine Spurs thoughts from Doc RiversDoc Rivers will point in-house to spell guard Celts cruise without Rondo, top Blazers 96-78 Globe  Final, Celtics 96-Trailblazers 78 Jeff Green leads Celtics over Trail Blazers with 19 pointsDanny...
photo via Yahoo NBA The Celtics pasted the Portland Trailblazers at TD Garden tonight, 96-78. Courtney Lee and Jeff Green both stepped-up, and Kevin Garnett was vintage KG. He scored his 10 points on a variety of bank shots, fadeaways and sweet jumpers. Ticket also finished with 5 boards & 4 assists in 23 minutes. Jeff Green was aggressive from the jump and led the C's with...
Rajon Rondo Banned Two Games by League Office   Rajon Rondo has been suspended two games for last night's altercation with Kris Humphries that spilled into the stands. Danny Ainge broke the news during his weekly segment wih 'The Big Show' on WEEI. Earlier today, Rondo defended himself by saying that he was responding to [...]
The story of the day is Greg Popovich's $250K fine for resting his players vs. the Heat. Doc reacts.
First of all this sets up a pretty heated Christmas Day game right off the bat. It should get some good ratings. You have to wonder if the league wanted to set up a rivalry between these two teams for ratings purposes. Yes, I know I'm getting into tinfoil hat areas here, but I can't help but wonder.  In the first outing between the Celtics and the Nets,  Keith Bogans...
Tommy started off in rare fashion with a rant on Rondo's suspension. Tommy is from an era when you stood up for each other and what Rondo did was a nightly occurrence. The whole league has gotten soft. On Rondo's 2 game suspension "Absolutely overkill.For crying out loud he stood up for his teammate.""I'm yelling!I'm really yelling! — Tommy...
Celtics News

Delivered to your inbox

You'll also receive Yardbarker's daily Top 10, featuring the best sports stories from around the web. Customize your newsletter to get articles on your favorite sports and teams. And the best part? It's free!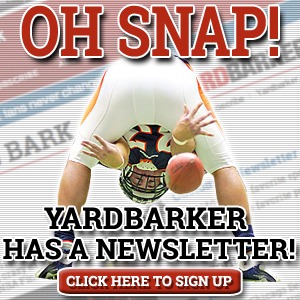 Latest Rumors
Best of Yardbarker

Today's Best Stuff

For Bloggers

Join the Yardbarker Network for more promotion, traffic, and money.

Company Info

Help

What is Yardbarker?

Yardbarker is the largest network of sports blogs and pro athlete blogs on the web. This site is the hub of the Yardbarker Network, where our editors and algorithms curate the best sports content from our network and beyond.