Herald  Celtics-Pistons postgame: Schedules, streaks and challengesCelts mashed in Mich. Rondo stays in to assist cause Globe  Pistons 103, Celtics 83 -Celtics blogCourtney Lee getting accustomed to reserve role for the Celtics Celtics get pounded by the hapless Pistons in worst performance of the seasonCeltics Green  Comments from the Other Side - Pistons 11/18 Rondo Continues Streak but C's Lose to Pistons 103-83The Best of Tommy NBA's Top 10 Plays of the Night CelticsBlog  Celtics final score: Celtics fall flat on faces to Pistons 83-103 Celtics shell-shocked (Deja Vu)Rondo's stat padding - unseemly or no big deal? Celtic Thunder   Kevin Durant's First Triple DoubleRussell Westbrook Posterizes Stephen CurryComments from the Other Side - OKC/Warriors 11/18ESPN  Wilcox a big plus for CelticsNets' Evans warned for Boston flopMaine attraction: Joseph a scrimmage starRapid reaction: Pistons 103, Celtics 83 Out of gas in Motor City Rondo owes rookie for keeping streak alive'Sheed brings 'old school' back to the postLex Nihil Novi   Grampa Celtic Weighs in on Bill LaimbeerHondo, Silas, and Chaney Lead C's Past Rick Barry and the Warriors (72-73)Discombobulated C's Lose to Cellar DwellerAnother Big Game from KG Not Enough as Wolves Drop One to 12-2 Pacers (03-04)CLNS Radio  Game #11 Recap: Celtics Fall Flat in DetroitPistons "Are who we thought they were," Celtics let them off the hookNBA Power Rankings: Week 3 - CLNS RadioKris Joseph: A Little MoJo Goes A Long Way Red's Army  Recap: Celtics embarrassed in worst performance of the seasonYour Morning Dump… Where Rajon Rondo is catching crap for extending the assist streak Celtics.com  Ford Keys to the Game: Pistons 103, Celtics 83CSNNE  Milicic not with Celtics in DetroitRivers understands Lawrence Frank's problems with young PistonsNothing goes right for Celtics in 103-83 lossCeltics-Pistons review: C's are 'dead men walking'Rivers, Celtics help Rondo extend assist streakPierce thinks ankle will be 'all right' with restAmica Game Recap NESN   Dr. Seuss' 'The Grinch' — Or Something Like It — Makes Visit to Parquet Floor at TD Garden Prior to Celtics Game Celtics Live Blog: Rajon Rondo Extends Double-Digit Assist Streak But C's Fall to Pistons 103-83Hoopshype  Nasty tweets Royce White is receiving (very sad) Slam Online   Rajon Rondo Continues to Chase Assist Record Even in Losses Rasheed Wallace, Future NBA Coach?Celtics Hub  Hit, Now Run: Pistons 103, Celtics 83 Dreams of Marcin: Gortat's Fit In Boston Celtics Town  Dissecting the growing trust in the Boston Celtics defenseDetroit Pistons 103, Boston Celtics 83: Boston produces flat performance to finish busy stretch of seasonDoc Rivers admits he told the Boston Celtics to help keep Rajon Rondo's streak alive Celtics Title Town  Rondology: Words of the MasterTerry's the Celtics best against zone defenseRecap: C's fall to the Pistons 103-83 Celtics Morning Joe: C's run out of gas, and were here againThe Good,the Bad,and the Ugly: Game 11 vs the PistonsSI.com   Sixers' Bynum confirms 'setback' in left knee happened while bowlingUSA Today  Rajon Rondo continues 10-assist streak in weird fashion as Celtics loseDetroit News  Pistons rookie Andre Drummond not rattled by Celtics veteran Keven Garnett's talkHoopsworld  Is Courtney Lee Celtics' Surprise Weapon?Can the Celtics Rebound; Does it Matter?WEEI  Doc Rivers with Sean Grande in DetroitSB Nation  NBA Viewing Guide: Week 4, Happy Thanksging y'all [Discuss on CG Forums!]
Original Story:
http://celticsgreen.blogspot.com/2012...
MORE FROM YARDBARKER
NBA News

Delivered to your inbox

You'll also receive Yardbarker's daily Top 10, featuring the best sports stories from around the web. Customize your newsletter to get articles on your favorite sports and teams. And the best part? It's free!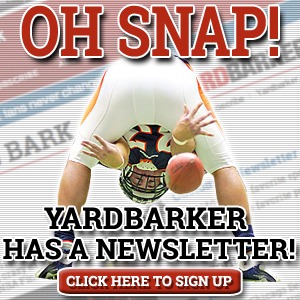 Latest Rumors
Best of Yardbarker

Today's Best Stuff

For Bloggers

Join the Yardbarker Network for more promotion, traffic, and money.

Company Info

Help

What is Yardbarker?

Yardbarker is the largest network of sports blogs and pro athlete blogs on the web. This site is the hub of the Yardbarker Network, where our editors and algorithms curate the best sports content from our network and beyond.