Found May 15, 2012 on NESN.com:
Following Monday night's loss at home, the Celtics find their series with the Philadelphia 76ers tied at one game apiece. Boston now travels to Philadelphia for Game 3 on Wednesday and Game 4 on Friday. Game 2 gave Celtics fans plenty to talk about, including a controversial foul call made against Kevin Garnett in the final seconds of the game. NESN.com's Celtics beat writer Ben Watanabe chatted live on Twitter to answer your questions about Monday night's game, the series moving forward, and why that questionable foul call was the right one. [View the story "NBA Officials Made the Right...
Original Story:
http://www.nesn.com/2012/05/nba-offic...
THE BACKYARD
BEST OF MAXIM
RELATED ARTICLES
Listen to the interview at WEEIKevin Garnett's comments from the interview above, presented with no commentary:"Man, I would die out here if I had to, real talk. I've been doing this for a long time. … When I train in the summer, I train for lack of rest. My intervals are back in 30 seconds, I program my body to recover as quickly as it can. Sometimes it works, sometimes...
Our friends at Project Spurs were kind enough to alert us to a new Tim Duncan interview with Sports Illustrated's Chris Ballard. Ballard's reliable sources claim Duncan hates Garnett: In fact, Duncan hates Kevin Garnett. Hates him the way liberals hate Sean Hannity. This information comes from very reliable sources, who talk about how KG has made a career of trying to...
LL Cool J once said, "Don't call it a come-back. I been here for years, rocking my peers and putting suckas in fear." The same could be said for Kevin Garnett who has had a resurgence in this year's playoffs. It's time for the certifiably insane, chest-pounding, lockdown-defending, 6'11" big man to get the love he deserves; this time, as the best center in the NBA.
Every morning, we compile the links of the day and dump them here... highlighting the big storyline. Because there's nothing quite as satisfying as a good morning dump. "After [Game 2] I came in and just said, 'We're not going to beat anybody -- JV teams or high school teams -- if we were not going to play together," Kevin Garnett said. "We've worked...
   DATELINE: HUMOR! Paul Pierce said it:  "We're gonna ride Kevin Garnett all the way." Hi-yo, Silver, away! The winning Big Ticket has become the "Rocking Horse Winner." Not since Troy has there been such excitement over a giant gift to the fans. As we recall, there were a bunch of men inside the wooden horse, waiting for the chance to come out and show the City of...
The Boston Celtics head into game 3 with the Philadelphia 76ers tonight tied at one game apiece in their 7-game series. They have only themselves to blame after scoring just 11 points in the 3rd quarter of Game 2, but they have to be a little bitter about not getting one last chance to finish off a crazy comeback. Down three with 10 seconds to go, Kevin Garnett was whistled for...
Every morning, we compile the links of the day and dump them here... highlighting the big storyline. Because there's nothing quite as satisfying as a good morning dump. No one can argue that Garnett did, in fact, clear out Andre Iguodala with his arm in an attempt to get Paul Piercefor a potential game-tying 3-pointer. The issue is whether there's a difference between...
Rajon Rondo was once again the catalyst for the Celtics offense on Wednesday night, leading the C's to a big 107-91 victory over the 76ers. The tempo of the game was a big factor in the win, as was the defensive pressure that Rondo, Kevin Garnett and the rest of the Boston squad was able to push on Philadelphia. NESN's Jayme Parker caught up with Gary Washburn of the Boston...
BOSTON -- The Celtics actually committed two key fouls at the end of Game 2. Kevin Garnett's controversial illegal screen drew most of the attention, but a decision by the Celtics a few seconds earlier may have had just as big an impact on the outcome of Boston's 82-81 loss to the Philadelphia 76ers. In a game in which almost nothing seemed to go according to plan, the Sixers...
Many times after basketball games conclude, we prescribe emotions to a team or player just because of the results. When the Los Angeles Lakers came back to defeat the Boston Celtics in Game 7 two seasons ago, we described Kobe Bryant as indomitable because he rebounded a heap of misses and the Lakers prevailed. Partially, our description was true. Bryant surely wanted that game...
When Lavoy Allen's prayer with 0.9 seconds on the shot clock improbably banked through the rim and the refs shortly thereafter declined to call a travel after Evan Turner took approximately 19 steps, I figured this might be Philadelphia's night.Yes, the Celtics responded with a couple threes and made a number of other important plays down the stretch, including Rajon Rondo's...
After two one-point games to begin their Eastern Conference semifinal series, the Celtics blew out the 76ers 107-91 Wednesday night in Philadelphia to take a 2-1 series lead. The Celtics used a 22-6 run in the second quarter to run away from the young Sixers team. Paul Pierce, Kevin Garnett and Rajon Rondo combined to score 74 of the 107 points. Garnett led the team with a game-high...
Celtics News

Delivered to your inbox

You'll also receive Yardbarker's daily Top 10, featuring the best sports stories from around the web. Customize your newsletter to get articles on your favorite sports and teams. And the best part? It's free!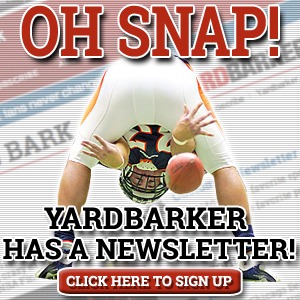 Latest Rumors
Best of Yardbarker

Today's Best Stuff

For Bloggers

Join the Yardbarker Network for more promotion, traffic, and money.

Company Info

Help

What is Yardbarker?

Yardbarker is the largest network of sports blogs and pro athlete blogs on the web. This site is the hub of the Yardbarker Network, where our editors and algorithms curate the best sports content from our network and beyond.