Found December 13, 2013 on Basketball Bicker:
New Raptors forward Patrick Patterson was headed to the cinema for movie night with his mom to see The Hunger Games: Catching Fire when he found out he was being traded from the Sacramento Kings to the Toronto Raptors—a Cali to Canada move. Per Eric Koreen of the National Post (via Eric Freeman of Yahoo! Sports), read firsthand how it all went down: My phone was blowing up left and right — friends, people on the team, my agent is calling me," Patterson said. "I answer it as I'm going into the theatre, and he tells me about the trade and how I've been traded and everything. I'm like, 'Yo, I'll call you back in about 2½ hours, I'm taking my mom into a movie.' So I literally found out like five minutes before the movie. "For those concerned, Patterson did not tell his mother of the news until after the movie, allowing her to properly immerse herself in the dystopia of Panem. [...] "It didn't ruin the movie," Patterson said. "It was a good movie. I couldn't let it ruin the movi
Original Story:
http://feedproxy.google.com/~r/Basket...
THE BACKYARD
BEST OF MAXIM
RELATED ARTICLES
Toronto Raptors: Don't Trade DeMar DeRozan By Mike Elworth Owner and Publisher/Hoopstuff… With the Toronto Raptors starting to rebuild and with them already starting that long process by recently trading Rudy Gay to the Kings and with a lot of Raptors trade rumors floating around, more Raptors could soon be on the move. For now any Raptor besides Jonas Valanciunas could be traded...
But Felton said teams were about to feel the Knicks' wrath? Latest trade scuttle: Raptors trying to construct deal with Knicks that would send Kyle Lowry to New York — Marc Stein (@ESPNSteinLine) December 12, 2013 If talks progress and no other teams jump in, trade would likely have to feature Ray Felton going to Toronto with at least one more player — Marc Stein (@ESPNSteinLine...
The Toronto Raptors and New York Knicks are discussing a trade involving Kyle Lowry. Lowry is on an expiring contract and doesn't figure to be part of the Raptors' long-term plans. Adrian Wojnarowski of Yahoo! reports that the Knicks also had interest in Andre Miller, but are now focusing on dealing for Lowry. Frank Isola of the New York Daily News reports that the Brooklyn Nets...
Greivis Vasquez couldn't help but be excited when he watched his new Toronto Raptors National Basketball Association team beat the Los Angeles Lakers last weekend. It wasn't so much about the win, but about the way that Toronto played — especially the pick-and-roll play of forwards Amir Johnson and Jonas Valanciunas. "The first eight plays were pick and rolls. I...
Inside the Purple Room Presents GM21 Preview: The rumors are heating up as Kyle Lowry maybe the next shoe to drop as he could be shipped off to New York. He would be a subtle upgrade to the current point guard situation as he averages 14.6 points, 6.7 assists and described as a great perimeter defender. On the other hand the Raptors newly acquired temporary back-up point guard Greivis...
Kyle Lowry scored 16 points, Jonas Valancius added 15 points and 11 rebounds, and the Toronto Raptors beat the Chicago Bulls 99-77 Saturday night. DeMar DeRozan scored 15 and Amir Johnson added 14 points and eight rebounds to help the Raptors earn their second win in as many nights after dropping six of seven. They led by 16 early in the third, and pulled away in the fourth after...
The Raptors are rebuilding, and so not surprisingly, just about every player on the roster not tied to the team's long-term plans is available in trade. Kyle Lowry is a skilled point guard that could help many teams, and with an expiring deal for just $6.1 million, he would come at a palatable price. But the Raptors won't just give him away, because they don't have to —...
The Toronto Raptors and New York Knicks are reportedly discussing a trade involving Kyle Lowry. Lowry is on an expiring contract and not presumed to be part of the Raptors' rebuilding plans. Rudy Gay ($17.9 million this season, $19.3 million on a player option next season) was previously dealt last week in 7-player trade to the Kings. According to Marc Stein of ESPN.com: The Raptors...
A slew of new faces will try to help the Toronto Raptors turn around a sluggish stretch. The Philadelphia 76ers would like to begin altering one of their own, and solving their turnover issues could help. The Raptors are expected to have four new additions available Friday night when they attempt to win for the second time in eight tries against the 76ers. Toronto (7-13) may be...
Tweet According to a report from ESPN's Marc Stein, the struggling New York Knicks are in trade discussions to acquire point guard Kyle Lowry from the Toronto Raptors. Per Stein, the trade would involve Raymond Felton and at least one other Knicks player, presumably promising rookie guard Tim Hardaway Jr. New York (6-15) has found it difficult to generate...
The Brooklyn Nets have interest in Kyle Lowry, but have "zero intention" of trading Bojan Bogdanovic or a future first round pick to the Toronto Raptors in any deal for him, according to a source. The Nets gave up multiple future first round picks in their June deal for Kevin Garnett, Paul Pierce and Jason Terry. Bogdanovic was the 31st overall pick in the 2011 NBA Draft...
Awe man the Knicks are a mess. A day after shooting down a trade for Kyle Lowry because he felt Raptors GM Masai Ujiri took  advantage of him before, James Dolan reportedly will consider a trade for Lowry if the team continues to struggle. Frank Isola of the New York Daily News is reporting that Knicks brass are reconsidering after a tough loss to the Celtics on Friday night...
NBA News

Delivered to your inbox

You'll also receive Yardbarker's daily Top 10, featuring the best sports stories from around the web. Customize your newsletter to get articles on your favorite sports and teams. And the best part? It's free!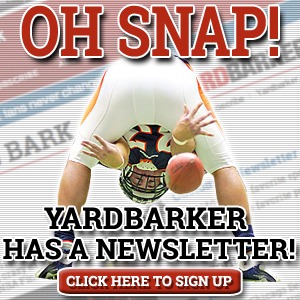 Latest Rumors
Best of Yardbarker

Today's Best Stuff

For Bloggers

Join the Yardbarker Network for more promotion, traffic, and money.

Company Info

Help

What is Yardbarker?

Yardbarker is the largest network of sports blogs and pro athlete blogs on the web. This site is the hub of the Yardbarker Network, where our editors and algorithms curate the best sports content from our network and beyond.