Found November 28, 2012 on Celtics Green ...a boston celtics blog.:
Jared Sullinger has already proved to be a steal in the draft if for nothing else than the fact that he's cracked the regular rotation for a coach who has rarely played rookies regular minutes from the start of the season. Sully has proved to be a very smart player who has a knack for grabbing rebounds. Just what the Celtics needed. He also seems like a nice kid who has been taught the right way in both basketball and life by his coach/father. So, I'm excited to see that the Herald is going to be featuring a blog written by the Celtics' rookie. Posting Up With Sully is going to be a regular feature in the Herald where Sully shares his thoughts with the fans. In today's blog, Sully shares his experiences in his first month in the NBA. It's interesting to read his thoughts as he is learning about life in the NBA. We had one incredible stretch when we played seven games in 10 days, and I had never been through something like that, unless you count AAU ball. It was rough for me because it was my first time doing a stretch like that. I had to find out what works for me, what doesn't work for me, what to eat, what not to eat, should I go with more Gatorade or more water. I had to find my niche to stay comfortable through that stretch. He shares things that he is learning about himself and about the game. He is changing his diet and learning what he needs to eat to be his best on the court. Seems like every player talks about changing their diets and eating differently once they get to the NBA. One thing every player doesn't have is Kevin Garnett's ear, which Sully has the privilege to have on a regular basis. He said in a previous interview that coming into camp, he was determined just not to let KG make him cry. Kevin (Garnett) always gives me good advice and tells me what to do. I can always run to him and ask any question I want, and he'll always give me a straight up answer. The first time I met him I thought he was an intense guy on the court, and then I found out he's intense off the court too. He takes pride in what he does. So far I've loved watching Sully on the court. He fights hard for rebounds and put backs. There's no quit in him when he's under the basket. I love his attitude and his work ethic. It's going to be fun reading his thoughts as he goes through his first season. You can check out the first entry in his blog here. [Discuss on CG Forums!]
Original Story:
http://celticsgreen.blogspot.com/2012...
THE BACKYARD
BEST OF MAXIM
RELATED ARTICLES
Also, I forgot to note, we could have traded Paul Pierce to the Clippers and maybe got some draft pics and prospects. I am just sayin! Comment and debate! Follow Terry P here
Earlier this week Paul Pierce of the Boston Celtics got crossed up by Jameer Nelson, and it was pretty bad. Well, on Wednesday night when the Celtics played the Brooklyn Nets it happened again by Joe Johnson. Check out both of the below videos and which do you think was a better ankle breaker? H/T @alexkennedynba Article found on: Cosby Sweaters
Things got physical in Boston Wednesday night when Kris Humphries committed a hard foul on Kevin Garnett. In response to the foul, Rajon Rondo pushed Humphries which led to a NBA style shoving match. Both Rondo and Humphries were ejected as was Gerald Wallace after receiving his 2nd technical foul of the night. Kevin Garnett also received a technical but remained in the game. After...
Rajon Rondo Banned Two Games by League Office   Rajon Rondo has been suspended two games for last night's altercation with Kris Humphries that spilled into the stands. Danny Ainge broke the news during his weekly segment wih 'The Big Show' on WEEI. Earlier today, Rondo defended himself by saying that he was responding to [...]
Tip: 7:30 PM     Court: TD Garden    Watch it: CSN  Hear it: WEEI Referees: James Capers, Kevin Fehr, Kane Fitzgerald Get your tickets here:  Boston Celtics Tickets The Matchup Record: 8-6 Record: 9-4 At Home: 4-3 On Road: 2-3 Streak: Won 2 Streak: Won 3 Leaders Leaders Buckets: Pierce (20.1 ppg) Buckets: Brook Lopez (19.2 ppg) Boards: Garnett (7.4 rpg...
Call in: 347-215-7771 | Listen Live | Join the CelticsBlog chat   Listen from your mobile device The CLNS Radio Boston Celtics Post Game series continues their season-long initiative to cover every single Boston Celtics game. Tonight, the Celtics square off against the Brooklyn Nets at TD Garden. Your hosts will be Matt Rury, Sean Bakke [...]
The Boston Celtics and the Brooklyn Nets got into a scuffle Wednesday night right before halftime at the Garden. The fight started after Rajon Rondo took offense to a foul by Kris Humphries on Kevin Garnett. Rondo then pushed Humphries into the stands and the fight proceeded in the lapse of the fans. Not sure what the repercussions will be but this certainly cause suspension similar...
At 6 foot 1, 186 pounds, Rajon Rondo isn't the biggest player in the NBA, but he just might be one of the toughest. In tonight's game vs. the Brooklyn Nets, Rondo got into a scuffle with Nets forward Kris Humphries after he Kevin Garnett in the post. The result was a bench-clearing brawl for the ages. Okay maybe it wasn't that wild of a brawl, but if you're the type of person...
Boston Celtics point guard Rajon Rondo was ejected in the second quarter of Wednesday night's game against Brooklyn when he shoved Kris Humphries after the Nets forward knocked Kevin Garnett to the ground with a hard foul. Humphries was given two technical fouls and ejected. Nets forward Gerald Wallace, who joined the fray under the Boston basket, was given one technical, but...
A brawl broke out in Boston on Wednesday night during a game pitting the Celtics versus the Brooklyn Nets.The incident was sparked when Brooklyn's Kris Humphries committed a hard foul on Boston's Kevin Garnett late in the second quarter. Celtics point guard Rajon Rondo took offense and gave Humphries a spirited shove in retaliation. A brief moment of chaos ensued.Both Rondo...
Celtics News

Delivered to your inbox

You'll also receive Yardbarker's daily Top 10, featuring the best sports stories from around the web. Customize your newsletter to get articles on your favorite sports and teams. And the best part? It's free!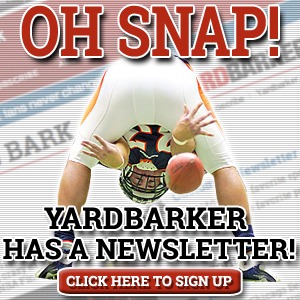 Latest Rumors
Best of Yardbarker

Today's Best Stuff

For Bloggers

Join the Yardbarker Network for more promotion, traffic, and money.

Company Info

Help

What is Yardbarker?

Yardbarker is the largest network of sports blogs and pro athlete blogs on the web. This site is the hub of the Yardbarker Network, where our editors and algorithms curate the best sports content from our network and beyond.