Found February 16, 2013 on Celtics Life:
Year after year we hear the rumors, some years more active than others. Danny Ainge listens to offers and also explores new to his aging roster. And yet, the Celtics continue to prove their doubters wrong. Every spring the Celtics grow to become a contender and enter the playoffs scaring everyone. This year it will be the same story. The Celtics face the injury of a key member of their team but will end up being a candidate to win it all. And I can tell you something. This team deserves another chance to do so. And after that, another chance to look for another ring with the core of Paul Pierce, Rajon Rondo and Kevin Garnett. We know by now that the three of them bleed Celtic green. We know that they play with pinched nerves, torn ligaments and bodies that should be already resting on some beach far away from the NBA courts. These guys have given it all for the Celtics jersey, for us fans and for the tradition and pride of the Boston Garden. Mark my words: they will continue t...
Original Story:
http://www.celticslife.com/2013/02/th...
THE BACKYARD
BEST OF MAXIM
RELATED ARTICLES
Ainge's weekly appearance on "the Big Show" has given us a lot of valuable information about the Celtics difficult week ahead, but one gem that might get lost in all the "what's going to happen next?" talk is his view on Jeff Green's efficiency. Green's performance has confused us often especially early in the season when he'd play great one...
Here's my loose transcription of Doc Rivers appearance this morning on WEEI.  On the timing of the All-Star break: We can go both ways with the break. We're playing well now. But with the body count we have, I couldn't have found a better time. You just kinda coach em… and they kinda play. You have to coach the guys that are playing. You have to get the guys that you expect...
STAYING IN BEANTOWN
Kevin Garnett has been mentioned in trade conversations, but the veteran All-Star forward says he will not waive his no-trade clause.
Kevin Garnett mentioned that he was bringing his family to All Star Weekend with him and he was going to enjoy it because it was going to be his last. That set off a feeding frenzy of the media speculating that he was planning to retire at the end of this season. He sets the record straight about those comments in this interview. I sure wish Rondo was there with him. They'...
Source who would definitely know re: reported Rondo/Howard talks: "nothing. Zero. Nada. Niente. Clear?" So, there's that.50 minutes ago via Mobile Web (M5)ReplyRetweetFavorite@daldridgetntDavid AldridgeUm, whoa. The Celtics and Lakers have reportedly discussed a Dwight Howard-for-Rajon Rondo deal. But it doesn't seem like any trade will actually happen. Read the latest here.
Ken Berger of CBS Sports has this blockbuster report: However, CBSSports.com has learned that the Lakers have engaged in preliminary trade discussions with an unlikely trade partner regarding Howard: their fierce rival, the Boston Celtics. The centerpieces of the possible deal, which hasn't gained any traction, would be Howard and Rajon Rondo. The imagination runs rampant with...
The Dwight Howard era in Los Angeles hasn't exactly started off as expected. There's been nothing but drama, infighting, rumors and a lot of losing too. There's been speculation that the Lakers could try to move Howard, with all of the aforementioned things seemingly likely to keep him from signing an extension with the storied Los Angeles franchise. Those have been...
Sweet Jesus, it's 1 am on a Friday night, yet the rumors keep rolling in. But this time is a little different. This time it's Woj (esteemed Yahoo NBA insider Adrian Wojnarowski). The proposed deal: Kevin Garnett for Clippers PG Eric Bledsoe and C DeAndre Jordan. Here's an excerpt from Woj's article (co-written with Marc Spears) (link). The Boston Celtics and Los...
Just five weeks ago, Carmelo Anthony hated Kevin Garnett.  We all know the story; Anthony and Garnett were going at it in a tightly contested game back on Jan. 8.  It got chippy and the two started jawing and before long, Garnett went below the belt like he normally does and allegedly said that Anthony's wife "tastes like Honey Nut Cheerios." Now I'm not married but if...
Apparently ganging up on Craig Sager with Carmelo Anthony Saturday at All-Star practice wasn't enough. In a sideline interview with Sager during the All-Star game Sunday, KG clowned the TNT reporter's attire (photos) again: "Stop wearing stuff like this when you're doing real interviews. Straight up. You look like a Christmas ornament." – Kevin Garnett to Craig Sager
Although Dwight Howard said the Lakers informed him that he would not be dealt by next week's trade deadline, there are reports that the Celtics and Lakers have had discussions that would sent the soon-to-be free agent to Boston for injured All-Star Rajon Rondo. According to Ken Berger, CBS Sports: CBSSports.com has learned that the Lakers have engaged in preliminary trade discussions...
We can safely assume that Danny Ainge isn't finished looking for roster moves just yet, but according to the Globe's Gary Washburn, the Celtics have signed Terrence Williams, previously of the Nets and Rockets. Terrence Williams signing is a done deal according to #celtics sourceabout 1 hour ago via Twitter for AndroidReplyRetweetFavorite@GwashNBAGlobegary washburnWhen Williams...
Celtics News

Delivered to your inbox

You'll also receive Yardbarker's daily Top 10, featuring the best sports stories from around the web. Customize your newsletter to get articles on your favorite sports and teams. And the best part? It's free!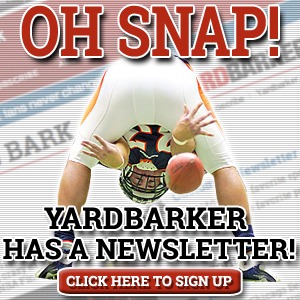 Latest Rumors
Best of Yardbarker

Today's Best Stuff

For Bloggers

Join the Yardbarker Network for more promotion, traffic, and money.

Company Info

Help

What is Yardbarker?

Yardbarker is the largest network of sports blogs and pro athlete blogs on the web. This site is the hub of the Yardbarker Network, where our editors and algorithms curate the best sports content from our network and beyond.