Found November 15, 2011 on Sox and Dawgs:
PLAYERS:
Bill Belichick
,
Andre Carter
,
Mark Sanchez
,
Mark Anderson
,
Kyle Love
,
Vince Wilfork
,
Gerard Warren
,
Rob Ninkovich
,
Tom Brady
,
Rob Gronkowski
,
Chad Ochocinco
,
Dane Fletcher
,
Brandon Spikes
,
Taylor Price
,
Shane Vereen
,
Donald Thomas
,
Ryan Mallett
,
Devin McCourty
,
Sterling Moore
,
Plaxico Burress
,
Brian Waters
,
Sebastian Vollmer
,
James Ihedigbo
,
Bill Parcells
,
Dan Marino
,
Joe Montana
,
Johnny Unitas
,
Drew Brees
,
Tyler Palko
,
Vince Young
,
Michael Vick
,
Rex Grossman
,
John Beck
,
Wes Welker
,
Troy Brown
,
Niko Koutouvides
,
Deion Branch
,
Julian Edelman
,
LaDainian Tomlinson
,
Tedy Bruschi
TEAMS:
New England Patriots
,
New York Jets
,
New Orleans Saints
,
Kansas City Chiefs
,
Philadelphia Eagles
,
Washington Redskins
Yes it's a wondrous day to be a Patriots fan.  The team totally beat down the New York Jets with a rag-tag defense that was nearly ready to call for support from any local high school willing to help. I will say this, when you put a Bill Belichick team on notice, tell them they're no good, they're falling apart, no one believes they can win and anything else you want to add, is when those teams play best.  I don't know what he puts in the Kool-Aid during the week or what he pumps into the HVAC system at Gillette but they always seem to pull it together. I was pretty amazed at the way the defense played.  How they held up in a tight game and even when they were losing more guys during the game they just toughened up.  As the season goes on the defense seems to be getting better. From a football perspective I don't car about yardage allowed on the ground, in the air or even by sea.  The big thing for me is points allowed and the defense is making strides at cutting those numbers ...
Original Story:
http://soxanddawgs.com/nfl/patriots/n...
THE BACKYARD
BEST OF MAXIM
RELATED ARTICLES
New England coach Bill Belichick says he doesn't remember using a vulgar phrase he reportedly uttered coming off the field after the Patriots win over the New York Jets. Belichick said at his regular Monday news conference that ''I don't remember it that way. I don't think we're here to talk about that. If you want to talk about the game, great.''...
Usually the colorful quotes in the Jets-Patriots rivalry are supplied by Rex Ryan, but the roles were reversed after Sunday night's blowout win by New England. As the normally-reserved Patriots coach Bill Belichick walked off the MetLife Stadium field, he threw his arm around his son, Stephen, and added an exclamation mark to the 37-16 victory. "Thirty-seven points on...
I can be honest, going into the Patriots/Jets contest Sunday night I did not have much confidence in my hometown team. Sure, Tom Brady was still under center, but with the offense sputtering the last two weeks and a defense that, while not giving up a lot of points, was more porous than a collander, things were not looking great. Bill Belichick underwent a difficult week with his...
You guys won't believe this… but I'm almost positive Patriots coach Bill Belichick and Jets coach Rex Ryan both used swear words while walking through MetLife Stadium last night within earshot of someone. For Belichick, it was his comments allegedly made on the field after thumping the Jets in a talk with his son. Somehow, the New York Post heard it and reported that he said...
When the Patriots made the bold move to cut DT Albert Haynesworth last week, it led to widespread ripping of coach Bill Belichick. Colleague Karen Guregian was right there doing it, going into great detail on the many Belichick misses. Well today, Karen takes another whack at examining Belichick's offseason. This shows the other side. Yes, there were failures. But the Patriots...
Bill Belichick and Tom Brady have won quite a lot of games for the New England Patriots together, a NFL Super Bowl era-record 117, in fact.  And needless to say, many of those victories have been pretty impressive in magnitude.  That will happen when you win three Super Bowls in four appearances. Yet that's why it's so unlikely—and perhaps fitting—that the latest Belichick...
Head coach Bill Belichick said Tuesday the Patriots will add rookie offensive lineman Marcus Cannon to the active roster by the 4 p.m. deadline. Cannon was diagnosed with non-Hodgkin's lymphoma prior to the NFL draft in the spring. Once considered a second-round prospect, Cannon fell to the Patriots in the fifth round. He started the season on the non-football injury list, which...
Patriots head coach Bill Belichick addresses the media during his press conference at Gillette Stadium on Monday, November 14, 2011.
Bill Belichick may not be the most engaging or forthcoming guy, but those who cover the New England Patriots on a regular basis know exactly what they're going to get from the famously taciturn head coach every week.
By Tim BrittonFOXBORO, Mass. -- One of the stranger aspects of the Patriots' season has been Logan Mankins' difficulty with penalties. The veteran picked up another holding call on Sunday night, and he is tied for the team lead in penalties alongside Rob Gronkowski with six. Head coach Bill Belichick, though, isn't concerned with the yellow flags his left guard is drawing...
DATELINE: HUMOR!   Only Chad Ochocinco could make lemonade from lemons. With a stay in New England that has inspired character assassins and radio blabmeisters to turn violent, Chad continues to thrive in the hot spotlight of the New England Patriots. Ochocinco's latest piece of insanity off the field is guaranteed to put him into the pantheon of Patriot legends whose...
By Brian MacPhersonMarcus Cannon is on the verge of returning to the field. Patriots coach Bill Belichick, who tends to keep pending transactions to himself until they officially are announced, disclosed during a conference call with reporters Tuesday that the rookie offensive lineman will be placed on the Patriots' active roster after six weeks on the physically unable to perform...
NFL News

Delivered to your inbox

You'll also receive Yardbarker's daily Top 10, featuring the best sports stories from around the web. Customize your newsletter to get articles on your favorite sports and teams. And the best part? It's free!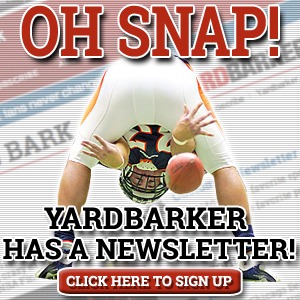 Latest Rumors
Best of Yardbarker

Today's Best Stuff

For Bloggers

Join the Yardbarker Network for more promotion, traffic, and money.

Company Info

Help

What is Yardbarker?

Yardbarker is the largest network of sports blogs and pro athlete blogs on the web. This site is the hub of the Yardbarker Network, where our editors and algorithms curate the best sports content from our network and beyond.