Found November 21, 2012 on The Majors Detroit:
After being being swept in the season series by a Christian Ponder led Minnesota Vikings team and losing is resounding fashion last weekend against Green Bay, the chances that the Lions actually make the playoffs this season are pretty much gone. I believe it was Lloyd Christmas though from Dumb and Dumber who muttered "So you're saying there's a chance" when basically being rejected by Mary "Samsonite" Swanson towards the end of the movie. Which by all account seems like the perfect film and scene to relate to the Lions' 2012 season in general. Now I'm not sure if Ndamukong Suh is aDumb and Dumberfan, let alone a Jim Carey fan but he's certainly not giving up on the year and very much living by Mr. Christmas' motto of there still being a chance that he Lions make it to the playoffs. Suh made his feelings felt in an article by Carlos Monarezz of the Detroit Free Press; "We're still in the race. We made it a lot tougher than we did last year. It's a tough ...
Original Story:
http://themajors.net/detroit/?p=10747
THE BACKYARD
BEST OF MAXIM
RELATED ARTICLES
DETROIT Turkey legs and an Ndamukong Suh foot Thanksgiving traditions. A year ago, Suh the controversial defensive tackle for the Detroit Lions was in the spotlight when he stomped on Green Bay offensive lineman Evan Dietrich-Smith during the annual Thanksgiving Day game at Ford Field. It led to a two-game suspension. This time, Suh kicked Houston quarterback Matt Schaub in...
Ndamukong Suh kicks are gaining a spot on the Thanksgiving menu alongside turkey, stuffing and cranberry sauce. Suh turned heads for the second straight Turkey Day on Thursday by delivering what some believe was an intentional kick to Texans quarterback Matt Schaub's groin. One could argue that Suh didn't mean to dish out the boot, and that it was an accident that resulted from...
LOOKING UP, NOT DOWN
Despite the team sitting at 4-6, Detroit Lions defensive lineman Ndamukong Suh insists he believes the team is still in the hunt for a playoff spot.
Don't look now but we may just have a new Thanksgiving tradition on our hands… more Ndamukong Suh controversy. A year after stomping on the arm of Green Bay's Evan Dietrich-Smith (which for some reason Suh still denies to this day) Suh now allegedly goes for the more sensitive region of the male anatomy. During today's game, Suh was taken down at the line with his legs flailing...
Ndamukong Suh's foot that landed below the belt of Houston quarterback Matt Schaub in Thursday's game will be the subject of a review by the NFL. NFL executive vice president Ray Anderson will examine the evidence from the play and determine next week whether punitive action is needed against the Detroit Lions defensive lineman, NFL.com reported Friday. The incident took...
ACCIDENT OR INTENTIONAL?
Since the Detroit Lions always play on Thanksgiving, I assumed that something Ndamukong Suh-related would hit this site today. In the first quarter of the Texans/Lions game, Suh was attempting to sack Texans quarterback Matt Schaub but didn't get to the quarterback in time. However, Suh (whether intentional or not) decided to kick low and landed a blow right to Matt Schaub...
The left cleat of Detroit Lions defensive tackle Ndamukong Suh connected with Houston Texans quarterback Matt Schaub in his groin area in their Thanksgiving game. It wasn't clear on replays Thursday whether it was intentional. Suh was on his chest, taken down by an offensive lineman, when he extended his left foot below Schaub's belt. Last year on Thanksgiving, Suh was...
The Thanksgiving Day games are under way with the Houston Texans taking on the Detroit Lions in game 1.  The Lions desperately need a victory to stay in playoff contention, and it looks like Ndamukong Suh is up for anything.  Matt Schaub dropped back to pass in the first quarter and Suh rolled over the offensive lineman and accidentally kicked Schaub in his man parts.  Schaub...
In the first quarter of the Houstin Texans game against the Detroit Lions, Ndamukong Suh attempted to sack Matt Schaub. He did not get to the quarterback in time but still knocked Schaub down. Suh (whether intentional or not) decided to kick low and landed a blow right to Matt Schaub's groin <
Dee Troit Foot Ball > It's nice to see Ndamukong Suh keep up the Thanks- giving tradition of kicking an opponent and getting torched in the media > My holiday is not good until I heard the officiating crew express their wishes, or until I see the Lions lose to a suspiciously good team > Jim Nantz and Phil Simms have clearly never seen a QB throw the ball sidearm before...
Detroit Lions SOB Ndamukong Suh kicks Houston Texans QB Matt Schaub in the groin. Animated gif by SB Nation bwo Outside the Boxscore. Suh is heading for big trouble one day. Mark... Full story at Bob's Blitz ~ http://www.bobsblitz.com
NFL News

Delivered to your inbox

You'll also receive Yardbarker's daily Top 10, featuring the best sports stories from around the web. Customize your newsletter to get articles on your favorite sports and teams. And the best part? It's free!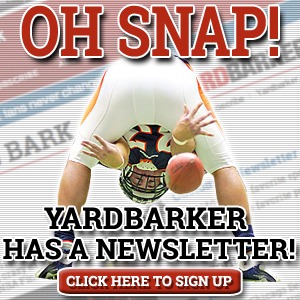 Latest Rumors
Best of Yardbarker

Today's Best Stuff

For Bloggers

Join the Yardbarker Network for more promotion, traffic, and money.

Company Info

Help

What is Yardbarker?

Yardbarker is the largest network of sports blogs and pro athlete blogs on the web. This site is the hub of the Yardbarker Network, where our editors and algorithms curate the best sports content from our network and beyond.