Found August 17, 2012 on The Rangers Tribune:
The Rangers Tribune has come a very long way since its first days of existence in the winter months of 2009, but no leap taken has been as large as the one taken today with the announcement and launch of our "Rangers Tribune 2013" project - a project we worked on with a professional design team for over two weeks to completely perfect.
OUR FOCUS AND PURPOSE:
In doing this for the better part of four seasons now, I've learned a lot as far as what I like to call "the blogging game" goes. There are many ins and outs, and ways to go about delivering content to readers, and if there's one aspect of it all that I've taken in the most, it's what the reader wants and how they want it presented. Remember, I was a reader once, and still am, so I share the same desires as you. 
People often ask me why I began The Rangers Tribune and the assignment of taking on the workload of a writer while also going to school and preparing for the real world. Sadly, most people that ask me that question don't take the whole blogging thing seriously and think I do this as a hobby or a craft. So, to those people, I don't give them a serious answer, because to be quite honest, they don't deserve one. But for the ones who understand the concept of passion, drive and inspiration, I tell them the truth, which consists of the following:
I simply do not want to wait in life to start making a difference in society. This is the real world, right here, me writing this to you. I don't know where the idea comes from that an individual doesn't hit the real world until they graduate college (or high school in some instances). That is a completely absurd and preposterous concept, because you then would basically be deeming 20-25 years of your life "faux" or "inaccurate". I wanted to make a difference as a high school student (now a college student), and I decided to do it in a field where most of my life's passion lies: hockey. 
The reason for me starting up The Rangers Tribune was to change the way both Rangers fans and hockey fans are presented information and opinion. As a reader, I was appalled and disgusted by what I read from the news outlets that clearly are only involved in this for a paycheck, because they lack any sort of passion or emotion, and just go with the flow. Not here. 
The Rangers Tribune provides readers with nothing but thought-provoking raw opinion and factual information; we don't hold anything back, nor do we sugarcoat information just for more site "hits". Oh, and to those out there who measure their success with "hits", you are just as fake as the people who are being paid to do this as a career. You're in it for yourselves, not the fans or readers, so out the window goes your imaginary ego. 
On The Rangers Tribune, we say what we want, do what we want, and give readers what they want without any limitations or delusive purpose. Needless to say, what comes first on this blog is you, the reader, how information and opinion is being presented about your favorite hockey club, and how much thought each of our articles provokes in that mind of yours. We are perfectionists, from the written content to the artistic visuals (majority of the graphics you see on here are designed by myself) to the efficiency of the design. 
NEW BLOG DESIGN:
The objective of "Rangers Tribune 2013" is to more smoothly bring readers information and opinion in a quick and modern manner. Beginning with the main/home page of the site, you see that I have collaborated with the design team to bring you more on your screen at once, preventing the hassle of having to scroll through article text after article text just to see additional headlines. Now you see a handful of headlines in one glimpse, sort of like you would on a news site such as CNN or ESPN, and can access any of them with one click without having to scroll for five minutes.
The main story, or the story with the most relevance and importance at the time, will always appear the largest, while other relevant but less important posts are gridded (in chronological order) below it, as shown in the following diagram:
On the internal pages, everything is self-explanatory for the most part. The article layout is the same as it was on the former design, but we did make some improvements. The first, especially now that we have added to the staff on the blog, is the "author line" under the title. For now on, the name of the author of each article will appear directly after the title, in addition to a picture of that author. Yes, we've taken all precautions to prevent confusion there.
Also, in regard to comments, there is no more annoying button that you must press just to read the comments on an article, or even leave one yourself. They immediately come up at the conclusion of each post.
Note: DISQUS is still the platform we're using for comments, so your existing account or login is perfectly fine. 
BOLSTERED WRITING STAFF:
As announced last week, I have bolstered the writing staff here on The Rangers Tribune. The reason for this is to take some of the workload off of myself and distribute it among five different writers. In return, the blog will see content more frequently and readers will get a variety of opinions all in one place. 
Remember, each writer had to go through a modified interview process and provide a writing sample before they were added to the team, so I can personally assure you that all of the goals I listed above are not only applicable to myself, but to everyone now contributing to The Rangers Tribune. This will be the most solidified blogging team covering the Rangers out there, and you'll see why next week when we begin a new series of posts (to kill the summer time) and each writer begins submitting articles of their own. 
To read more about each individual writer, click here. 
TWITTER
In addition to my personal Twitter account (@NickMontemagno), I have created an account for the blog itself as well, which I urge you to follow at @RangersTribune. I will still be tweeting most breaking news and analysis on my personal Twitter, but the blog's account will be the quickest to receive the latest posts on The Rangers Tribune, especially now that multiple writers are on board. That, in essence, was the reason I created an account solely for the blog, so that everyone's articles are posted in one place. 
I would suggest that you follow both my personal account, as well as the blog's, and of course give the site's other writers a follow too.
WHAT'S TO COME:
A premier reading experience that you will not find anywhere else. As I said, few, if any, are as dedicated to blogging about the Rangers or take the entire thing as seriously as we do on The Rangers Tribune. The point of this project was to take what I've learned from four seasons of blogging and finally perfect it all to give readers what they deserve. 
You'll also see new methods of delivering content as the season goes along (if spoken season exists) as well as the blog branching out and experimenting with new things, aside from just blog posts. 
Nothing is stopping The Rangers Tribune from continuing to establish itself as the greatest New York Rangers blog the Internet will ever see, and we're ecstatic to have you all join us on the journey. Because, unlike some other blogs out there, what the reader takes away and/or gets out of their time here is what we base our success on.
Sincerely,
Nick Montemagno and The Rangers Tribune Staff
**Big time shoutout to the TypePad design team (especially Colleen) for making all of this possible! You guys are the best!!**
Original Story:
http://www.rangerstribune.com/the-ran...
THE BACKYARD
BEST OF MAXIM
RELATED ARTICLES
It's a musings day folks. With little Ranger specific news let's just get into it and talk about anything and everything, ok? What side of the CBA war do you side with? It's hard to link arms with the owners and the league, a league that has come across as incredibly greedy through the media. Are they greedy? Was the last CBA that bad that they had to resort to extreme measures...
By now I'm sure you all have seen something either up on the blog, on Twitter or on Facebook about "Rangers Tribune 2013". If you haven't, well, you have efficiently blocked out my constant clamoring and tweeting about the much-anticipated project, and that is not an easy task to accomplish so I applaud you.  To give a quick rundown, for the past two to three...
Noreau (NYR) The 2012-2013 New York Ranger prospect season got underway on Friday evening when Samuel Noreau (2011 5th) made his season debut for his Baie-Comeau Drakkar as the Drakkar defeated the Chicoutimi Saguenéens 6-1 in their preseason home opener. It is an important season for Noreau who is in the 2nd year of his draft status with the Rangers and needs a big year to earn...
Rick Carpinello of Rangers Report has a press release that states ESPN Radio 98.7 FM in New York and MSG Networks have agreed to a multi-year extension to keep ESPN Radio the broadcast home for the New York Rangers.The station, as you know, has successdully transitioned from AM to FM radio.  Great news especially now that ESPN Radio is on FM, meaning a much clearer and stronger...
John Tortorella spoke with Jim Cerny at Blueshirts United about the Rich Nash acquisition..."We did some homework on Nash---(Brad Richards) knows him a little bit, I talked to other players in the league and to coaches that have coached him---and it is the right fit. And it is the right time of his career to be here. I think he has the hunger to get there and become that go...
If the Rangers tweet to no one, is it worthy of a retweet? NHL fans are preparing for the potential for another lockout, and they're not happy. But you won't see them outside their local arenas with signs protesting. They're taking the protest online and using social media to show their dissatisfaction. In fact, it [...]
 lastwordonsports.com Rangers General Manager Glen Sather made the move that all the Rangers fans wanted to see this off-season, an elite scorer in a Rangers sweater. With the acquisition of Rick Nash from the Columbus Blue Jackets, the Rangers bulked up an offense that was less than stellar last season. The cost to bring Nash to the Rangers was Brandon Dubinsky, Artem Anisimov...
Puck Daddy's series "The Essentials" over at Yahoo! Sports looks at all you need to know about the New York Rangers, from the essential chant (Potvin sucks!), essential game to even the essential player in frachise history which sparked some debate.Player: Mark MessierThis one was hotly contested. Some said Messier, others said Rod Gilbert. Gilbert is definitely worthy...
Via HockeyExpressen, good friend of the blog Edvin L. informs me that if there's a lockout, Rick Nash would join Joe Thornton to play in Switzerland for HC Davos.The pair had played together for Davos during the 2004-05 lockout.Two weeks ago, TheNYRBlog's Adam Herman reported Swedish Elite League team Frolunda is reportedly interested in bringing back favorite son Henrik...
Swedish players have been hinting that they'd be interested in playing for their former teams if there's a lockout for the vast majority of the summer now, but IIHF.com's Szymon Szemberg provides the first concrete evidence that two North American players will avail themselves of European employment options if the NHL season does not start on time: HC Davos, who last night...
(Center Ice) So there won't be any New York Ranger prospects playing at this year's Traverse City prospect tournament now that it's been officially canceled. It was actually canceled back in May when the NHL served their 120 day notice on the NHLPA. The reason I can say that is because that was also the same day when the Vancouver Canucks were forced to cancel their...
Since it's becoming more and more likely that the NHL is headed towards a lockout, we better start acclimating ourselves with the CT Whale. And you can start with their schedule which was released yesterday......Wade Redden? Wade Redden? Seriously guys?...how about putting a promising prospect on there like Hrivik, Bourque or Thomas.Remember to follow me on Twitter & Facebook...
Rangers News

Delivered to your inbox

You'll also receive Yardbarker's daily Top 10, featuring the best sports stories from around the web. Customize your newsletter to get articles on your favorite sports and teams. And the best part? It's free!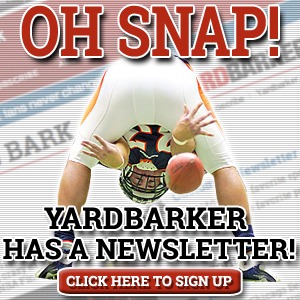 Latest Rumors
The Backyard

Today's Best Stuff

For Bloggers

Join the Yardbarker Network for more promotion, traffic, and money.

Company Info

Help

What is Yardbarker?

Yardbarker is the largest network of sports blogs and pro athlete blogs on the web. This site is the hub of the Yardbarker Network, where our editors and algorithms curate the best sports content from our network and beyond.