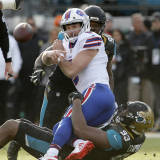 Last year, the NBA created a hotline where players can vent about the officiating. Because the NFL doesn't have a line of their own, it's not unusual for the NBA hotline to field a few misplaced calls from other leagues as players look for any outlet to let go of a little steam. For the playoffs, we've obtained access to the hotline's responses, which are about as authentic as the...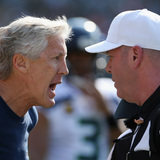 The NFL is back, and we'd like to imagine if the league added a hotline for players, coaches and GMs to call to complain about penalties, get clarification on rules and ask what exactly constitutes a successful catch in the NFL – just like the NBA. Of course, emperor-king Roger Goodell could overturn any phone messages at any time. All responses are about as authentic and real as...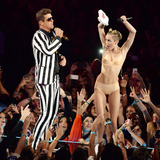 Perhaps more than the Grammys, the Billboard Music Awards, or really any other awards show in the country, the MTV Video Music Awards has a history of getting, well, a bit buck wild. I mean, you wouldn't see Miley Cyrus twerking against Robin Thicke at the Grammys, now would you? But we're getting ahead of ourselves. Here are 20 of the best, weirdest, and wildest VMA moments of all time.
Sure, every awards show has its share of snubs. But for some reason, being snubbed at the VMAs carries a bit more weight. Just ask Kanye West or Beyonce. In that spirit, here are 15 times the VMAs completely missed the mark.
One of the greatest rivalries in all of sports, or Limp Bizkit concert? Those who watch the Red Sox host the Yankees on Friday may find themselves pondering that question. Fenway Park opened its gates for the first time on April 20, 1912, meaning Friday is the 100th birthday of America's most beloved ballpark. The throwback hats you see above are one of the many ways the Red Sox...
Who would have thought former Limp Bizkit singer Fred Durst would have much in common with devout Christian NFL star Tim Tebow? The two dined at Craig's restaurant in West Hollywood on Wednesday night. A source said the unlikely friends met while Tebow was a star quarterback at the University of Florida. "Fred has been a fan of Tim's since he played at Florida," the source said...
MORE STORIES >>
Entertainment News

Delivered to your inbox

You'll also receive Yardbarker's daily Top 10, featuring the best sports stories from around the web. Customize your newsletter to get articles on your favorite sports and teams. And the best part? It's free!