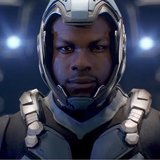 With attendance at theaters decreasing every year, filmgoers are looking for reasons to spend their money for the best experiences possible. Luckily, 2018 promises to bring more bang for the buck as this year's offering of films simply begs viewers to grab their favorite bucket of popcorn and see this list of 20 films on the largest screen possible.
If the story of Moe Berg, an Ivy League graduate-turned-Major Leaguer-turned CIA spy sounds like the plot to a movie…it's because it is. Back in February, shooting started on "The Catcher Was a Spy" with Paul Rudd in the lead role and on Friday, it premiered at the Sundance Film Festival. Sadly, the reviews were, for the most part, less than spectacular. "Fact-based misfire" –...
The Kanas City Chiefs and their fans were treated to a special performance before Sunday's game against the Browns. KC superfan Paul Rudd came out to fire up the crowd. Rudd came out wielding some sort of a hammer and went wild swinging it around. The Chiefs didn't really need the boost, given that they're in great form and the Browns are absolutely terrible. Kansas City probably...
MORE STORIES >>
Entertainment News

Delivered to your inbox

You'll also receive Yardbarker's daily Top 10, featuring the best sports stories from around the web. Customize your newsletter to get articles on your favorite sports and teams. And the best part? It's free!