We've updated our Privacy Policy.
By continuing to use this site, you are agreeing to the new Privacy Policy.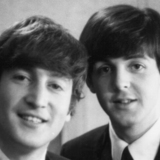 Sixty years ago, on October 18, 1957, Paul McCartney performed for the first time ever with the Quarrymen, John Lennon's band. It was the first time Lennon and McCartney shared the stage, clearly making this one of the most important moments in Beatles history. In celebration of this significant event, here are 25 other memorable moments.
The lead article in this week's column is a little off the wall. Indirectly, it celebrates Yoko Ono: One Woman Show, 1960-1971, which opens today at New York's Museum of Modern Art. Chris Archer was unfamiliar with Ono when I approached him with this idea. That didn't matter, because the 26-year-old Tampa Bay Rays pitcher […]
During the (horrendously gawdawful) Grammy Awards on Sunday night, Yoko Ono was introduced as a "Grammy winner," which prompted more than few people to rant on social media about how she only won those Grammys because of one John Lennon, and that she was the witch who broke up the Beatles.Now, those of you who know me are aware that I am a rather passionate Beatles fan. I know lots...
MORE STORIES >>
Entertainment News

Delivered to your inbox

You'll also receive Yardbarker's daily Top 10, featuring the best sports stories from around the web. Customize your newsletter to get articles on your favorite sports and teams. And the best part? It's free!