We've updated our Privacy Policy.
By continuing to use this site, you are agreeing to the new Privacy Policy.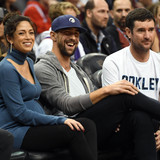 Two celebrities hit up Friday night's Rockets-Suns game at Talking Stick Resort Arena, and it wasn't a very likely pairing.Golfer Bubba Watson and 23-time gold medal winner Michael Phelps were spotted courtside during the game. Was Phelps giving Watson tips on his swimming stroke? Or was Watson helping Phelps improve his golf game? We may never know, but we do know that they were...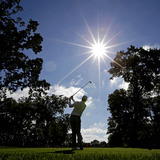 Anyone who has thoughts on golf popularity will say it starts with Tiger Woods' absence. A single man apparently has the power to drive people to pick up or stick with the game. The crazy part here is not only that it's mostly true, but how widely accepted this is.The thing is: That's not quite the whole story.Tiger's greatness at his peak will be impossible to replicate, but the...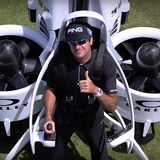 Bubba Watson isn't like most golfers. He never received lessons as a kid, he has one of the most unorthodox swings on tour, and he buttons up his shirt all the way to the top. But what makes him even more unique than any of those facts is that he's thinking outside the box to make golf more appealing.Like designing futuristic "golf carts" with Oakley. You've probably heard of his...
LIKE WHAT YOU SEE?
GET THE DAILY NEWSLETTER: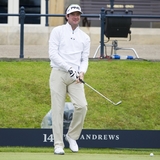 Bubba Watson is changing the way golf is played by flying around in a jetpack that looks like it's straight out of Back To The Future. Watson, a two-time major championship winner, teamed up with Oakley to make a jetpack in hopes of speeding up golf. "Golf is always looking to speed up play and that's what the jetpack is going to do," Watson said in a promotional video. ...
Bubba Watson, who typically struggles at links-style golf — especially at The Open Championship — stepped to the 8th hole at Royal Troon on top of the leaderboard with a 5-under start. Things came undone in a blink of an eye. As has been thoroughly discussed heading into this week's major, the 8th hole — dubbed the "Postage Stamp" hole — has all the potential to wreak havoc on the...
The PGA Tour was scheduled to come to West Virginia for the annual Greenbrier Classic in early July, but the Tour was forced to cancel the event after heavy flooding has devastated the region. A number of small towns in West Virginia have suffered catastrophic damage, and at least 24 people have died according to the Weather Channel.Bubba Watson, who owns a home in Greenbrier County...
This week, the U.S. Open Tournament takes place at Oakmont Country Club, arguably one of the toughest courses on tour. However, Bubba Watson is trying to show everyone that it's not that hard to work your way out of the rough at the course. Just days ahead of the first round of the tournament, Watson took to the rough just off one of the greens during a practice round. He got out...
Everything you've all been waiting for… Bubbamojis!!! #bubbamoji #urwelcome https://t.co/EkOs9mg06i pic.twitter.com/e9NkFRvtCo — bubba watson (@bubbawatson) April 5, 2016 Social media has had many fun and interesting ways to express yourself and one of those things has been emojis. Well, Bubba Watson, who has a whopping 1.53 million followers on Twitter announced his own emojis...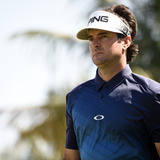 Bubba Watson is not one of the more well-liked players on the PGA Tour, and a lot of that might have to do with him being misunderstood. Sharyn Alfonsi of "60 Minutes" recently profiled Watson, and what she discovered is that the 37-year-old could be the most anxious Masters champion in golf history. Watson and his caddie Ted Scott opened up about Bubba's fears, and there are plenty...
MORE STORIES >>
Golf News

Delivered to your inbox

You'll also receive Yardbarker's daily Top 10, featuring the best sports stories from around the web. Customize your newsletter to get articles on your favorite sports and teams. And the best part? It's free!