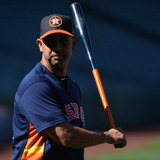 The Washington Nationals have reportedly registered their interest in the offseason's hottest managerial candidate.Nick Cafardo of the Boston Globe reported Saturday that the Nationals intend to seek an interview with Houston Astros bench coach Alex Cora once the ALCS concludes Saturday night. Cora has been linked to every single available job this offseason, despite his lack of...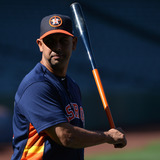 The Boston Red Sox have reportedly worked quickly to decide on a new manager, and it is believed that they are simply waiting for the ALCS to end to officially announce the move.A source told Evan Drellich of NBC Sports Boston that there is "not a doubt" the Red Sox are planning to offer their managerial job to Alex Cora. With the Houston Astros and New York Yankees currently battling...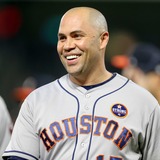 Carlos Beltran has his opinion as to who his former club should hire as their next manager.The Houston Astros veteran slugger told Kevin Kernan of the New York Post on Wednesday that the New York Mets should look into ex-player and current Astros bench coach Alex Cora for their managerial opening."The Mets should look into him, no doubt about it and look how well we have played here...
Alex Cora has had plenty to say about his time with the Mets since he was released by the team last week. He's been making the rounds on sports talk radio, and yesterday he shed some light during an appearance on the Boomer & Carton show on WFAN. Like the professional that he is, Cora had no hard feelings against his former team who released him just before a $2 million dollar...
A tweet from David Lennon on a possible new destination for Alex Cora… lenno212 David Lennon @lenno212: Wouldn't surprise me to see Cora headed to #RedSox. Nothing new on it yet, but we'll see. . Aug 7, 2010 @ 06:37 AM from Seesmic Looks like it's going to be an interesting weekend. Digg this! Share this on Facebook...
After tonight's loss, David Lennon of Newsday provided us with an interesting moment that took place in the clubhouse when Alex Cora took exception to the jovial clubhouse environment after the loss. Another one of those intangibles that doesn't show up in the stats, but could make a positive impact in a different way nonetheless. Hat tip to Bayonne Met Fan Digg this!...
This afternoon, Adam Rubin, Mets beat writer for ESPN NY, had a live chat and one of the more interesting things that came out of it was some information regarding a vesting option that Alex Cora has in his contract.  Q – Doesn't Cora's option vest with 80 starts, not 80 appearances? It's bad enough with 80 starts, you're freaking me out with the 80 appearances thing A – I asked...
MORE STORIES >>
MLB News

Delivered to your inbox

You'll also receive Yardbarker's daily Top 10, featuring the best sports stories from around the web. Customize your newsletter to get articles on your favorite sports and teams. And the best part? It's free!