Royals right-hander Ian Kennedy threw three scoreless innings on Friday, giving up three hits and one walk while striking out two in the Royals' 7-2 split-squad loss to the D-backs. He threw 47 pitches, 29 for strikes.
Royals right-hander Ian Kennedy was in midseason form, at least early on, throwing 10 out of 13 pitches in the first inning for strikes as he fanned the side.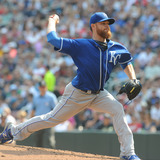 Kansas City Royals pitcher Ian Kennedy has the chance to opt out of the five-year, $70 million deal he signed prior to the 2016 season. This winter will be his only chance to use it, a mechanism many players have negotiated into their contracts so they'll have the chance to make more money or get more years if they perform well enough to justify it.Kennedy hasn't done so — and he...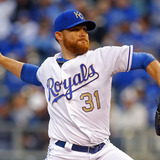 The Kansas City Royals are off to a brutal start to the 2017 season, and things appear to only be getting worse.Ian Kennedy, who has been one of the team's best pitchers this season, has a strained hamstring and could end up on the DL. Kennedy entered Thursday's game against the White Sox with a 2.30 ERA, but that jumped to 3.03 after he allowed four earned runs in 4.1 innings. He...
The Kansas City Royals had won 13 of 15 games entering play on Tuesday only to lose their last two games in one-run, extra-inning fashion to the Yankees. They are now three games back in the Wild Card race and trailing five other teams in competition for two spots. Two weeks ago our playoff odds gave them a less than 1% chance of making the playoffs — and, two days ago, those odds...
DETROIT -- Ian Kennedy pitched effectively into the seventh inning to win for the first since June 26 as the Kansas City Royals beat the Detroit Tigers 3-1 on Monday night.The Tigers lost slugger Miguel Cabrera after four innings to a strained left biceps. Cabrera appeared to injure himself in a first-inning collision with Cheslor Cuthbert at first base, but batted twice before leaving...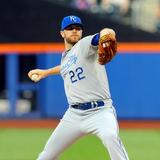 It turns out that a team looking to acquire Kansas City Royals reliever Wade Davis this deadline may have to take on some extra weight in order to do so. According to a report by Jeff Passan of Yahoo! Sports on Thursday, the Royals are attempting to package right-hander Ian Kennedy in any potential Wade Davis deal. Passan also mentions that the Dodgers are a team both with interest...
At 49-51, 8 1/2 games out of first place, the Royals sound like they realize they're probably not contenders this year, and with a few days to go before the trade deadline, they're now listening to offers for their best trade chips. Given the price of relievers these days, Wade Davis is pretty clearly their most valuable asset, and the Royals could expect to get back a significant...
KANSAS CITY, Mo. -- Alex Gordon is back in the Kansas City lineup after missing 30 games with a right wrist fracture and is expected to be there again when the Royals try to salvage the finale of their three-game series with the Houston Astros on Sunday.Manager Ned Yost immediately inserted Gordon in the second hole in the batting order, while dropping shortstop Alcides Escobar from...
Josh Tomlin's win-loss record is a bit deceiving considering he's been downright mediocre in nearly half his outings.The Cleveland Indians are happy he's at least regularly given them a chance to win.That wasn't the case the last time he took the mound, though, and he'll look to bounce back by helping the Indians win a fourth straight game when he faces the visiting Kansas City Royals...
MORE STORIES >>
Royals News

Delivered to your inbox

You'll also receive Yardbarker's daily Top 10, featuring the best sports stories from around the web. Customize your newsletter to get articles on your favorite sports and teams. And the best part? It's free!