Labels can be tough to get rid of in baseball, and Jackie Bradley Jr. knows there's only one way to get rid of his.
Tony Bradley Jr's father responded to the latest report put out by Yahoo! Sports on Friday morning College basketball fans woke up Friday morning with another report exclusive from Yahoo! Sports on the recent FBI investigation. The...
2017 was the year of the triple play for Baltimore. One of the rarest feats in baseball, the Orioles accomplished it twice in two different ballparks almost three months apart. The first was on May 2 at Fenway Park and was a bit unconventional. A popup from Jackie Bradley Jr. ... Read More
Tony Bradley Jr. had a career-night in the G-League on Wednesday putting together an impressive performance. The former University of North Carolina Tar Heels standout had a big night for the Salt Lake Stars in the team's 121-128 loss...
The 2017-18 MLB offseason has been the offseason of rumors for the Boston Red Sox so far. First, it was Giancarlo Stanton. Most of this was probably fan hype, as Stanton's agent came out and said the Sox never even made the Marlins an offer. Eric Hosmer's name was thrown around. Then the Red Sox re-signed Mitch Moreland and that rumor crumbled. The current hot name is J.D. Martinez...
If there's been one fairly easy prognostication this winter, it's that the Red Sox are going to sign one of the expensive free agent hitters available in this class. Dave Dombrowski has historically not been shy about spending big to upgrade his roster, and has also shown a propensity for building rosters around power. The Red Sox ranked 27th in home runs last year. This is probably...
As of this very moment, Jackie Bradley Jr. has logged 1962 plate appearances in the major leagues. That's roughly three full seasons' worth, give or take a hundred. So what do we know about him? Well, he can use a glove like no one else can. That much is certain. Hits to center field only fall in because Bradley allows them to. At this point, hyperbole comes standard when talking...
As the Chicago Cubs retool for the 2017-2018 season, Theo Epstein and Jed Hoyer have made it clear that they will have to be creative in their efforts to bolster the Cubs' current roster. The Cubs' outfield depth has caused a logjam the last few years, but there may be space freed up soon as Kyle […]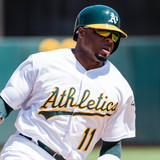 A hero of the 2016 postseason is making his way back to a contender. According to a report, the Boston Red Sox have landed Rajai Davis from the Oakland Athletics. What this means about Jackie Bradley Jr.'s injury remains to be seen. It could mean that the Red Sox at least fear that his injury is worse than originally hoped. It could also mean that Boston is just looking for a little...
Quentin Holmes opens up about adjusting to pro ball, getting help from Jackie Bradley Jr., and learning harmonica in this exclusive interview with Let's Go Tribe There's more to Quentin Holmes than meets the eye. Standing 6-foot-3 and 175 pounds, the Cleveland Indians liked the recently turned 18-year old enough to make him their first selection at pick 64 this past June in the...
MORE STORIES >>
Diamondbacks News

Delivered to your inbox

You'll also receive Yardbarker's daily Top 10, featuring the best sports stories from around the web. Customize your newsletter to get articles on your favorite sports and teams. And the best part? It's free!