The Toronto Blue Jays got a huge season out of first baseman Justin Smoak in 2017, and he is looking to build on that production in 2018. Smoak has been somewhat of a letdown in his career, but realized his potential this past season, as he batted .270 and slugged 38 home runs while driving in 98 runs. These numbers were significantly higher than the numbers Smoak had put up throughout...
Justin Smoak had a career year in 2017, as he was named to the American League All-Star team for the first time, and cranked 38 home runs and hit for a .270 average. The Jays are entering the 2018 season with an air of uncertainty surrounding the team, as they could be lacking both offensively and pitching-wise. Smoak has been a career bust for the most part, but has seen an uptick...
I have followed Justin Smoak's career with interest. Before I was covering major league baseball, I reported on college athletics in South Carolina, first covering the Chanticleers of Coastal Carolina and later Clemson. During this period, Smoak became regarded as one of the best college players in the game while at the University of South Carolina. Mark Teixeira comps were being...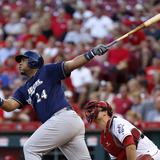 Toronto Blue Jays first baseman Justin Smoak slugged a three-run home run in the first inning of his team's game against the Boston Red Sox, but it was no ordinary home run.Smoak's blast was the 1,070th home run by an MLB player in the month of June — which is an MLB record for any month. MLB hitters are on pace to hit more home runs than in any other season. So, it only makes sense...
There are a couple good stories beginning to emerge in the American League. Just last night, the Mariners crawled their way all the way back to .500, despite suffering through a rash of significant early-season injuries. And, similarly, although the Blue Jays aren't quite also at .500, they're close, despite encountering a similar problem. There's been talk of whether the Mariners...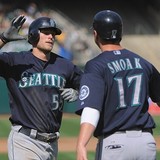 Infield catches don't come any better — or timelier — than Justin Smoak's incredible diving 9th-inning play Friday night.The Mariners first baseman — playing well off the bag with the bases loaded — goes airborne to snag Adian Beltre's screaming liner and then step on first base to turn a unassisted, game-ending double play and save a 6-5 lead against the Rangers.I guess you could...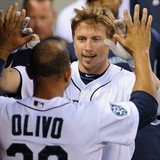 Smoak Bomb There can be a lot said about Justin Smoak, and most of it ever since his arrival in Seattle has been negative. There has been lots of talk about him abandoning his switch hitter status, especially since his power numbers from the right side have been downright laughable. Well that all ends now! Well it at least quells the argument until next year at least. The Mariners...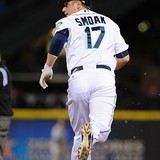 Justin Smoak is enjoying a fine 2013, can Mariners fans say he is putting it together? On July 9th, 2010, after a disappointing not even half of a season with the Seattle Mariners, Cliff Lee (and Mark Lowe) was dealt to the Texas Rangers in exchange for top Rangers prospect, Justin Smoak, Blake Beavan, Josh Lueke, and Matt Lawson. At the time, the Mariners were welcoming Justin...
Timberrrr No everyone, your eyes are not deceiving you. The legend himself, Justin Smoak, has finally arrived. Technically he arrived to the Seattle Mariners in 2010. But anyone who lives near the state of Washington is likely aware of how he has done since joining the organization. Justin Smoak has shown glimpses of the highly touted prospect he was supposed to be, but never kept...
Help on the way? Seattle Mariners 1B Justin Smoak, is being activated from the DL today to join the team for Tuesday's game in California against the Los Angeles Angels of Anaheim. Smoak is hitting .240 this year in 46 games which would be the highest average of his short career.  However, his power numbers have been significantly down, only hitting a homerun every 51.33 at bats...
MORE STORIES >>
Blue Jays News

Delivered to your inbox

You'll also receive Yardbarker's daily Top 10, featuring the best sports stories from around the web. Customize your newsletter to get articles on your favorite sports and teams. And the best part? It's free!